Restaurants
What to know about food availability in Mass. during the coronavirus outbreak
From grocery stores and food banks to restaurants offering delivery and takeout.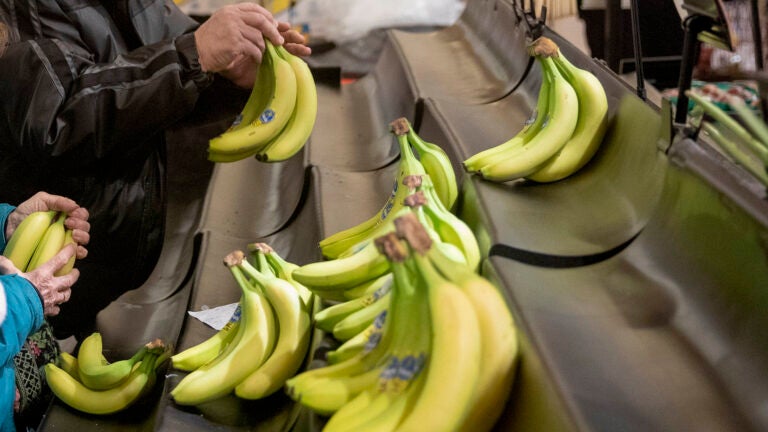 With coronavirus significantly impacting the daily lives of residents across Massachusetts, many are having to pay more attention to how and where they get their food — and just how readily that food is available.
New rules aimed at "flattening the curve" have shut down the state's dining scene. Shoppers are stockpiling groceries. And businesses are making adjustments to address concerns around health and food access, particularly for those most vulnerable to the disease. Despite the restrictions on public life, Gov. Charlie Baker said the bottom line is that access to food will remain "unimpeded right for people in Massachusetts."
Follow our guide for up-to-date information on how to access food banks, grocery store news, and what restaurants can and can't do during this time, plus what city and state officials are saying about food availability during the coronavirus pandemic.
What officials are saying:
Gov. Charlie Baker ordered all nonessential businesses in Massachusetts to close this week and advised residents to stay home as much as possible. But he also stressed that the temporary order does not affect the ability of Bay Staters to go to the grocery store. From farms to supermarkets, businesses involved in the food supply chain have been deemed essential and can remain open under the order. Even liquor stores are still open.
"People need to go to the grocery store," Baker said during a press conference Tuesday, before ticking off other essential businesses and activities that are still allowed.
The order also allows restaurants and cafes to stay open for pickup or delivery orders. Baker, who has has urged residents against overbuying, emphasized Monday that the restrictions do not impede residents' ability to purchase food.
"We want to make clear to people that they will not lose — under this or any other order — access to food and medicine, period," the governor said during a press conference announcing the new measures.
Since older adults are more vulnerable to the coronavirus, the administration also announced this week that grocery stores must provide at least one hour a day of exclusive shopping time for those 60 years or older, along with several other new rules, including a temporary ban on reusable bags. Many local supermarkets had already cut back their general hours in order to provide some form of early morning "senior hours."
Boston Mayor Marty Walsh thanked the stores that have opened early for elderly shoppers during a press conference last week. Amid reports of lines at some stores, Walsh asked that people "stay calm moving forward."
"Everyone doesn't have to go shopping tomorrow morning," he said. "We can spread out over the next several days."
While Boston Public Schools are closed, the city is also partnering with local community groups to provide free breakfast and lunch to students at more than 70 sites around the city. The city also established the Boston Resiliency Fund, a fundraising effort to help those most affected by the disruption caused by the coronavirus. Walsh announced Wednesday that the fund had already surpassed its $20 million goal and had begun distributing grants to local organizations committed to food access, among other groups.
What about grocery stores?
While concerns about the coronavirus have resulted in a national shortage of hand sanitizer and other cleaning products, supermarkets say the food supply chain remains strong. Still, shoppers may continue to see some shelves empty following the unexpected surge in demand.
Greg Ferrara, the president of the National Grocers Association, recently told PBS NewsHour that it was simply taking "a while to get the product flowing through supply chain back to the stores."
"There's plenty of food," Ferrara said. "And there's plenty of food in the pipeline. We're getting to the shelves quickly. It's just going off the shelves as quickly as we get it on there."
The shortages can vary from store to store, and most have placed limits on certain cleaning supplies and paper products, if not food items as well. Stop & Shop spokeswoman Jen Brogan said the most in-demand items are non-perishables, like pasta, pasta sauce, and canned vegetables. Virtually every big grocery chain locally — including Market Basket, Shaw's, Star Market, Whole Foods, Trader Joe's, and Wegmans — has acknowledged the impact of the initial rush of panic-buying on their inventory, but say they're working to get things back to normal.
"We're seeing it start to equal out, and are confident it will stabilize as long as we all prioritize our needs," Wegmans wrote in a recent post on their website.
"There has been a bit of catch up," Kenya Friend-Daniel, a Trader Joe's spokeswoman, told Boston.com, adding that employees are "doing a great job" restocking shelves as quickly as possible.
In addition to providing early senior shopping hours, supermarkets have also begun closing earlier to allow workers more time to unload deliveries and restock aisles. Some are also offering temporary raises and hiring new employees to meet the surge.
"We are deeply grateful to our store associates for their tireless dedication during this critical time," said Teresa Edington, a spokeswoman for Albertsons, the parent company of Shaw's and Star Market.
As a precaution, supermarkets have also temporarily closed most self-service areas, such as hot bars, food sampling programs, and in-store dining areas. To promote social distancing, grocery stores have also put up in-store signage — and, in some cases, checkout lane shields — and implemented stricter hygiene and sanitization procedures. The new rules issued by the Baker administration Wednesday made these steps mandatory.
For specific information on hours, purchase limits, and other changes due to the coronavirus outbreak, click the links below:
Food Banks are open.
Anyone who is experiencing food insecurity can tap into the Greater Boston Food Bank's network of more than 500-plus hunger-relief agencies, which include food pantries, community meal programs, and other food assistance providers across Eastern Massachusetts. 
Food pantries — like the American Red Cross Food Pantry — offer groceries to anyone in need, regardless of where they live.
"We have people that come from outside of Boston. We don't require people to even live within the state," said David Andre, Food & Nutrition Programs Director at the American Red Cross of Massachusetts. "It's based on express needs. If someone comes in and says, 'Hey, I need help,' we don't require any documentation."
Visitors to the pantry can expect to come away with fresh produce, protein, dry products, and additional ingredients like shredded cheese. Andre also said that the ARC Food Pantry has implemented social distancing safety precautions for those waiting in lines, which he said are now longer than usual.
Community meal programs, available at shelters including the Pine Street Inn, cook and serve regularly scheduled meals to walk-in guests, many of whom are experiencing homelessness. Others, like Community Servings, prepare and deliver medically-tailored meals to those living with a life-threatening illness. Additionally, anyone who is facing food challenges can call Project Bread's FoodSource Hotline at 1-800-645-8333, where hotline counselors can screen for Supplemental Nutrition Assistance Program (SNAP) availability and connect callers with resources. 
Interested in donating to the Greater Boston Food Bank? CEO Catherine D'Amato said that the best way to help is through monetary donations, which helps purchase food and keep operations running smoothly.
How restaurants are adapting:
Following Baker's mandated dine-in ban that began on March 17 — and a subsequent ban on nonessential businesses — Massachusetts restaurants across are currently only allowed to serve takeout or delivery, an order that will remain in effect until April 7. In addition to the countless businesses that offered robust takeout and delivery options prior to the pandemic, even more have pivoted to these service models. Here's a regularly updated list. 
Many restaurants are also taking extra precautions to follow guidelines from the Centers for Disease Control and Prevention to limit the spread of coronavirus. Delivery apps like Grubhub, DoorDash, and Caviar now offer an option for contact-free delivery. Brian Moy, owner of Shōjō, Ruckus, and Shōjō at Boston Logan International Airport, launched Chinatown Delivers, offering a selection of dishes from China Pearl, New Dong Khanh, and TeaDo. Moy's concept only accepts credit card payments to eliminate possible contamination through cash. Deliveries are dropped off at the customer's door with a confirmation text, and pickup orders are placed in a closed vestibule to minimize face-to-face contact. 
Jonathan Gilman, chef and owner at Brato Brewhouse + Kitchen in Brighton, told Boston.com that he has experienced issues with purveyors having a limited frequency and stock of products, but that he is "pushing full force to try to expand our delivery and takeout range."
In addition to serving breakfast, lunch, and dinner through takeout and delivery, some restaurants are also selling pantry items and produce, either because they have ingredients that they are trying to deplete or because they've launched a new service. Fox & the Knife now sells homemade pasta and fresh sauces through its new concept, Fox Pasta; Mei Mei is offering a BWH Grocery Package while supplies last; and Island Creek Oysters has made its own oysters — usually designated for Row 34 and Island Creek Oyster Bar — available to the public for the foreseeable future. 
---
Scenes from an eerily empty Boston
---
Get Boston.com's e-mail alerts:
Sign up and receive coronavirus news and breaking updates, from our newsroom to your inbox.