Restaurants
This is where Boston.com readers are ordering takeout and delivery
7 of your top recommended spots for when you can't eat any more boxed mac and cheese.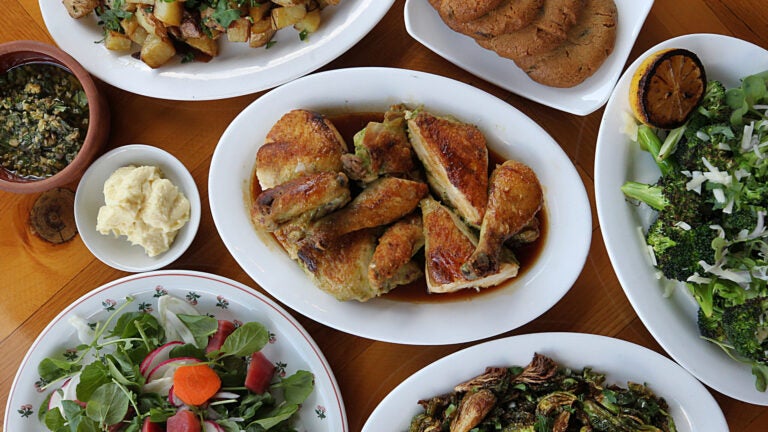 Though many restaurants are struggling, and some have already laid off staff. 
Whether you're motivated by your stomach or a desire to support your local restaurant, there are plenty of establishments providing social distancing-friendly menu options. We asked Boston.com readers for their favorite restaurants offering takeout and delivery. Ahead, we share seven of your top recommended places in and around Boston. 
1. Orinoco
Inspired by family-run eateries in Venezuela, Orinoco's menu offerings include arepas, empanadas, and a wide variety of traditional preparations of beef and pork. Orinoco was the highest recommended spot by readers. Expect to pay between $6 for a lunch sandwich and $24 for a dinner entree.
Orders can be made online and picked up at one of its three locations across Boston's South End, Brookline, and Cambridge, or delivered through DoorDash, GrubHub, Caviar, and UberEATS. 
UNO has almost 30 locations around New England, making it an accessible option for almost anyone craving a Chicago-style deep dish pizza. Not a fan? UNO also offers thin crust pizza, as well as pasta, steaks, seafood, soups, salads, and more. Expect to pay $12-$22 for per pie. 
UNO Pizzeria and Grill accepts online orders for delivery or pickup at one of their locations, or through DoorDash, GrubHub, and UberEATS
3. Alcove
Social distancing doesn't mean you should sacrifice a date night or celebratory dinner at a place like Alcove. Just make it a virtual gathering and Alcove will deliver their mix of New England-sourced ingredients and Mediterranean flavors right to your door. Expect to pay between $6 (for appetizers like rosemary french fries or fried shishito peppers) and $60 (for an entire grilled chicken). 
Alcove offers online orders for pickup delivery through Caviar.
4. Cafe Landwer
Cafe Landwer offers a wide selection of breakfasts, lunches, and dinners, including a variety of styles of shakshuka and other Israeli classics. They also offer a full Shabbat dinner, available for delivery. Expect to pay between $8 (for a small breakfast or a side dish) and $92 (for the full Shabbat dinner). 
Cafe Landwer offers online orders for pickup or delivery through DoorDash, GrubHub, and UberEats. 
Located in Middleton, Mass., JC Grill and Pizzeria offers a variety of subs, pastas, calzones, and salads, as well as (obviously) pizza. Most sandwiches fall in the $7-$10 range, and a large pizza runs about $12-18. 
JC Grill and Pizza offers online orders for pickup or delivery. They are also currently offering a 10 percent discount for online orders. 
Semolina Kitchen and Bar in Medford offers an elevated take on pasta, pizza, and sandwiches, as well as more unique specialties like seared haddock, lamb burger, and mussels. Their menu has been slightly adapted under current circumstances, but is still extensive. Expect to pay between $12 (for a salad or starter) and $26 (for short ribs). 
Call to order takeout or delivery, or you can order online for delivery through GrubHub, UberEats, and Caviar. 
Known as a go-to spot for Fenway/Brighton area college students and its renowned annual chili eating contest, El Pelon offers an extensive selection of Mexican takeout staples. They serve dishes like enchiladas, quesadillas, burritos, tacos, tortas, and platos, as well as a few special tamales and chimichangas. Expect to pay about $3 per taco, or $8 for a burrito. 
El Pelon Taqueria offers online ordering for pickup, or delivery through UberEats, GrubHub, and DoorDash. 
Do you have another suggestion that we should know about? Let us know in the comments below.