Restaurants
Recipe: Chef Will Gilson's turkey meatballs with cranberry-soy glaze
Here's what you can do with that rogue can of cranberry sauce in the pantry.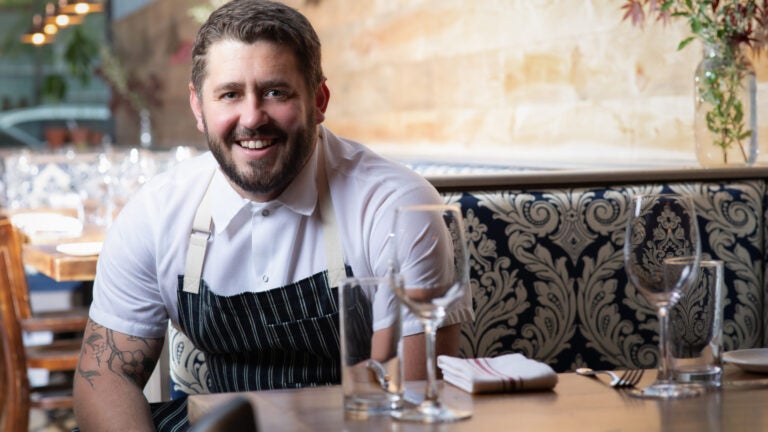 With three new concepts set to open at Cambridge Crossing this summer and a successful Café Beatrice pop-up under his belt, Puritan & Co. chef Will Gilson was poised to have a banner year. Then COVID-19 hit.
Like many of his peers, Gilson chose to shut down his restaurant completely instead of pivoting to takeout or delivery.
"We need to protect our team that works so hard for us," he said. "We need to protect our guests that we love to serve."
Since then, he's been advocating for the restaurant industry to get the government assistance it needs and spending plenty of time at home with his one-year-old daughter.
"I can't wait until we can shake hands, hug, and high five again," Gilson shared. "Really took that for granted for way too long."
This interview has been lightly edited and condensed for clarity.
How are you holding up?
It's been a very difficult few weeks. The hardest part is feeling so paralyzed. Chefs are used to hard work and fixing things. This isn't something we can fix. Take out is an admirable pivot, but it didn't make sense for us. We do our best when we are serving people at tables, and without being able to do that, what we need to do is our part to keep the staff and the public safe.
What do you miss most about being in your restaurant right now?
Like most people, I miss the human contact. I miss seeing my staff. I miss seeing the faces on the guests that are so happy to eat our food and receive our hospitality. I miss the smell of the bread being baked and the sound of a full restaurant with a great playlist. I miss my restaurant family.
How are you keeping busy? 
When the social distancing orders were put in place, we also lost our childcare. So my days have pretty much been occupied by caring for our one-year-old daughter. My wife is still working from home, so when she tags me out, I try to stop listening to the news or getting sucked into Twitter, so I landscape our yard or do home improvement projects. Every time I hear a politician lie, I go build something. At this rate I will have a new house built in no time.
What can locals do to help the restaurant industry right now?
I think if you can support independent restaurants that are doing takeout, then please do that. Gift cards are great, but also know that restaurants are going to need cash flow when they reopen, so maybe if you have bought a gift card, wait to use it until maybe your second visit back. When all this is over, we are going to need the public to come out and support the local independent restaurant community in full force. We miss our amazing guests!
What has been a constant in your fridge/pantry as you've been cooking more at home?
Lots of multi-day meals. Meatballs that are an entrée one day, a sandwich the next, and pizza the day after. Stews that can last a few days and be lunch or dinner. Most days I have to remind myself that I'm not hungry … just bored.
Tell us about this recipe.
This is a good recipe that takes things you likely have in the house and makes a fun meal that can also be snacks or a sandwich the next day. Like most New Englanders, I always have a rogue can of cranberry sauce in the cupboard. The glaze is great on roast meats, too, but I love making a leftover sandwich and pretending it's the day after a holiday, because that's what everyday feels like now.
Turkey meatballs with cranberry-soy glaze
Serves six
Ingredients:
For the meatballs:
1 pound cooked (leftover) turkey, chopped fine (ground raw turkey is a good substitute)
1/2 cup breadcrumbs
1 egg
1/2 cup ricotta cheese
1/4 cup parmesan cheese
1 teaspoon chili flakes
1 teaspoon fresh chopped thyme
Salt and pepper to taste
For the glaze:
1/2 cup Asian sweet chili sauce
1/4 cup canned or homemade cranberry sauce
1/4 cup soy sauce
1 tablespoon brown sugar
Juice of one lime
Directions:
Preheat oven to 400 degrees. Place all the meatball ingredients in a bowl and mix to combine. Let rest for 10 minutes and then shape into two-ounce balls. Place all balls on a greased baking pan and bake for 10 minutes. Remove from the oven and let sit for five minutes.
Place all the glaze ingredients in a blender to mix. Blend until well incorporated and then pour over the meatballs. Return the tray of meatballs to the oven and cook for 10 more minutes. Allow to cool and then serve.