Restaurants
A Waltham pub owner is 'looking for a way to climb out of this hole'
"Nothing in the standard act of doing proper business can prepare you for this" said Michael Coen, co-owner of The Gaff.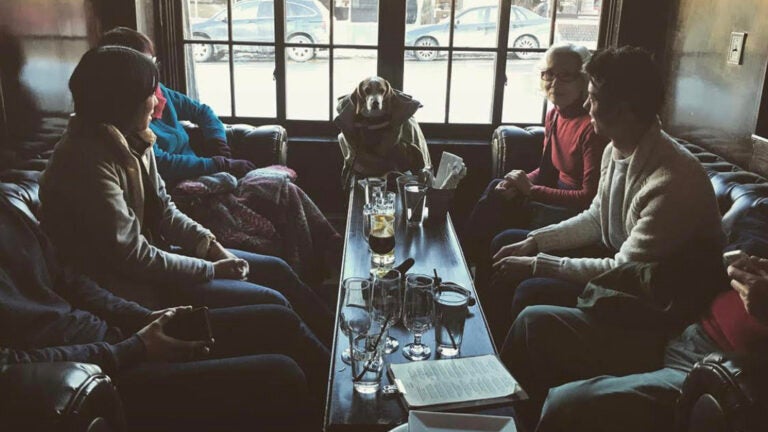 In our "My restaurant's story" series, restaurant owners in the Greater Boston area share how COVID-19 has affected their business. If you're a restaurant owner, you can share your story here.
Michael Coen and his business partner, Stephen Murphy, opened The Gaff in 2009, a compact, 800-square-foot pub on Waltham's Moody Street. Known for its robust craft beer program, The Gaff — which is Irish slang for 'home' — has served as a friendly, timeless hangout for over a decade, a place where friends can share tacos and short rib toasties over a couple of pints. Coen shared what has happened to the pub since it closed due to COVID-19.
Entries may have been lightly edited for clarity or grammar.
Name: Michael Coen
Restaurant: The Gaff, Waltham
My business partner and I had been keeping track of the virus for about six weeks before we were mandated to close. We were preparing by ordering less, possibly offering a more limited menu than our already limited menu, and implementing stricter sanitation standards to our already strict standards. In this business you always need to keep a competitive edge, especially when you've been in operation for almost 11 years — we're no longer the new kids on the block, so to speak.
In about two weeks we went from having a continuously successful business to an empty commercial space. Being as small as we are, we weren't able to switch over to takeout offerings like some other restaurants have done. We just don't have what it takes to do so without a hefty investment, so we closed our doors. Nothing in the standard act of doing proper business can prepare you for this. Our first concern has always been the safety of our staff and patrons. Now we, like all other businesses in the restaurant industry, are looking for ways to climb out of this hole that we were all thrown in.
The hardest part is not seeing all of my staff and customers like I was used to. I've been at the bar pretty much daily, doing little things to stay busy and assist staff as needed. But it's not until you walk into an empty space that you realize that it was the staff and the customers that really made the place what it is. Now the place is just an empty commercial spot that's missing all the charm that made it great.
[The financial loss] is still unknown because we don't have a date that we can return. I'd say the average bar/restaurant in the suburbs will cost anywhere between $10,000-$15,000 per month in business-related expenses just being closed. We gave away all of our food and perishables, which was expensive, and we'll need to restock all of that plus some in order to reopen. Then there's the whole question of: How busy will it be once we reopen?
We need help from our insurance companies, whom we spend a fortune with each and every year. We need help from the state as well. In the 11 years of operation, we've generated millions in tax revenue for the state, and we're a small, 40-person bar — perhaps one of the smallest around. If we're all in this together, then help us out, because we're begging for it!