Restaurants
'Simply devastating': Moonshine 152 owner laid off entire staff, calls for rent freeze
"In a situation like this, quite frankly, I feel that I am failing them," said chef-owner Asia Mei.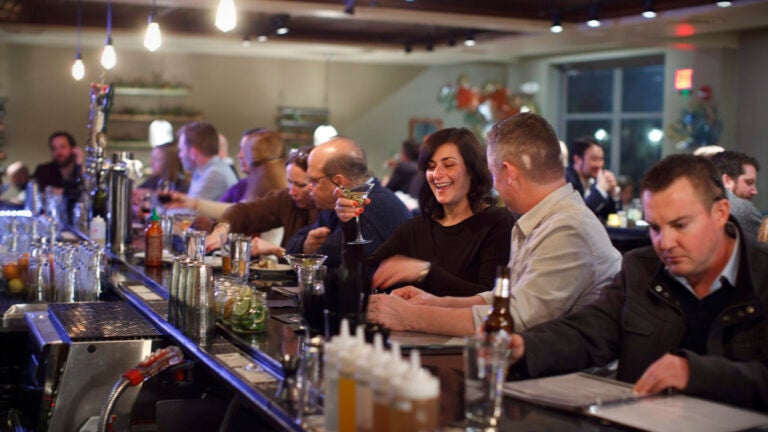 My restaurant's story" series, restaurant owners in the Greater Boston area share how COVID-19 has affected their business. If you're a restaurant owner, you can share your story here.
Asia Mei, the chef-owner of Southie's Moonshine 152, has built a career around bringing people comfort.
In 2003, she blew off her graduation ceremony at Boston College and instead walked into the now-closed Hamersley Bistro looking for a job and Gordon Hamersley put her on the line that night. She worked her way up to sous chef before moving on to other restaurants in the city and eventually opened Moonshine 152 in 2015. The Southie spot became a neighborhood favorite where guests could find Mei seven days a week, serving dinner, weekend brunch, and late-night bites. Her menus blended satisfying flavors with Asian street-food influences—plus creativity and wit, with daily Jell-O shots and brunch specials that nodded to her favorite TV characters.
A few weeks ago, just after her restaurant's fifth anniversary, she closed the restaurant and laid off her entire 25-person staff. Mei spoke with Boston.com as her restaurant sits empty in the face of the coronavirus pandemic.
Name: Asia Mei
Restaurant: Moonshine 152, Boston
What is Moonshine 152's COVID-19 story?  
Moonshine 152 went from celebrating our five-year anniversary in mid-February to gearing up for our most spirited and busiest days of the year around the St. Patrick's Day Parade in Southie. Not only were we flying high and rejoicing in one of Boston's most symbolic times, we were so happy to see that our commitment to the community and industry was finally resulting in recognition that my team deserves because of all our hard work and sacrifice. Then COVID-19 started hitting, and at a rate so fast that within one nightmarish rollercoaster of a week, we ended up closing indefinitely.
On March 17 — what would have been our sixth St. Patrick's Day honoring all of the Boston and Southie traditions — I had to call and lay off every single person on my staff, who I literally consider my Boston family.
What has been the hardest part so far?  
The hardest part has been being ripped from my very close team and 'Southie Moonshiners,' who are everyone from industry employees who recognize the restaurant as a hub for coming together during good and bad times, to any of our die-hard regulars from the community.
I have poured everything I have into Moonshine. I have worked seven days a week for the past five years. I consider myself completely responsible for the well-being of my employees and their livelihoods, and in a situation like this, quite frankly, I feel that I am failing them.
What kind of financial hardship has your restaurant faced?
The financial loss is simply devastating. Everyone knows about the tight margins restaurants work with already, and no small businesses operate with reserves to cover such epic, unforeseen levels of closure. We are talking about losing our entire perishable inventory, as well as the majority of liquor and alcohol product that may have been opened already, or lost because of things like unused draught lines. The bills, utilities, and rent are still rolling through, completely uninhibited by what is going on, and they are significant. There is no help from insurance, and now we are all struggling to compete with every other business in America for what little relief there may be.
What do restaurants need right now?
On the most basic of levels, we need relief that is proportionate and fundamentally mandated from up top. I am an advocate for freezing rent/mortgage both residentially and commercially. I am praying for the proper legislature to be passed so that insurance companies will be held responsible for doing what we had all thought we were paying into them to do, which is to cover us in times of unplanned catastrophe. We also need grants and more accessible forgivable loans. What has been made available will not be enough to get everyone back up and running.
I wrote an open letter to city officials last week regarding my plea for help for small businesses in Boston. If elected officials keep saying we are all in this together, then they really need to show us how. Putting lists of who is doing takeout online is not a real way to help. We all want to do everything we can now, so that we don't have to extend this torture any longer than necessary.
Boston, more than any city I know, prides itself on the individuality, uniqueness, and character that comes with the small businesses it is home to. It celebrates the tenacious spirit that it takes to stay in the game, and so much of Boston is defined by the personality of what our restaurant and bar communities literally bring to the table. In an environment that is so invariably blanketed in fear and self-preservation, we have to do what we can to be the best examples and leaders possible. We have to take care of each other.
<hr>
<h2>Scenes from an eerily empty Boston</h2>