Restaurants
Recipe: Chef Jeremy Sewall's roasted salmon with spicy cucumbers
"It's meant to be simple and delicious," Sewall said.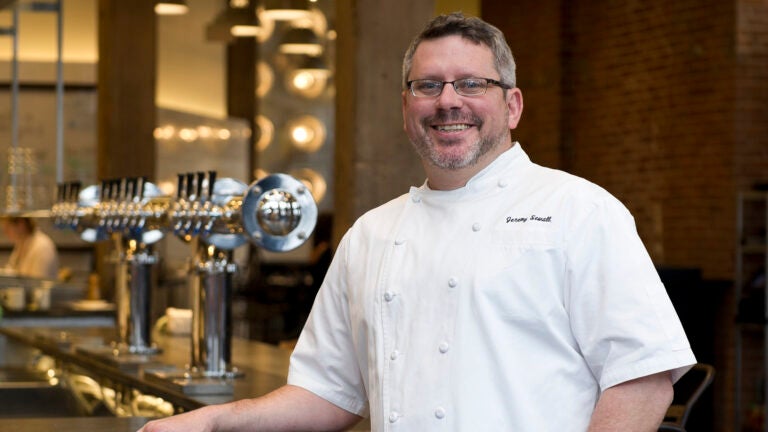 Like so many chefs have been doing over the past few weeks, Jeremy Sewall — chef/owner of Island Creek Oyster Bar and Row 34, both of which are currently closed — has taken to YouTube and Instagram to channel his cooking prowess. There he is, making oyster sliders at home, or walking viewers through a baked oyster recipe. Though his restaurants are known as buzzy seafood destinations, Sewall's at-home recipes are simple and straightforward, made with ingredients that, he says, should already be in your pantry. (He does, however, recommend you order the bivalves from Island Creek Oysters, which started selling its restaurant-bound options to the public after COVID-19 hit.)
"I think all of us in some way are scared," Sewall told Boston.com. "As a dad, husband, and chef in an uncertain industry, I can say all of those things scare me. I try to remind myself and everyone around me: We are better when communities come together to support each other and pick each other up after the fall."
Sewall shared how he's been keeping busy since his restaurants closed, plus a salmon and spicy cucumbers recipe that packs a one-two punch.
This interview has been lightly edited and condensed for clarity.
How are you holding up?
I'm fine, why? Did something happen?
What do you miss most about being in your restaurants right now?
Everything. I mostly miss the people. I have the most amazing staff from top to bottom, some I have seen almost daily for 15 or more years. I miss the excitement of service, cooking food, working through day-to-day problems, and the environment that makes up a restaurant.
How are you keeping busy?
I'm still busy dealing with the business side of things: making sure we are communicating with the landlords, banks, and anyone involved so that we are in the best spot we can be when the time comes to reopen. I still do video meetings and catch-ups with most of the managers and chefs to see how everyone is doing and update any information that might help them through this. Taking care of my family becomes the most important part of each day. Cooking everyday at home has been a real joy; sharing what I love in a different way with my kids is an amazing way to spend a day.
What can locals do to help the restaurant industry right now?
It's so hard to know what to do right now. Gift cards are great and people should definitely support those doing takeout. The most impactful thing you can do is be there for the industry on the other side. When it's safe go out, help the industry get back on its feet — whatever shape it is in.
What has been a constant in your fridge/pantry as you've been cooking more at home?
Soups, I make a lot of soup. My wife, Lisa, bakes a lot. Carbs are back in our house.
Tell us about this recipe.
It's meant to be simple and delicious. Nothing is written in stone in this recipe; you can adjust with what you have if need be. The cucumbers are great as a side on their own. If you have the grill going outside, I would grill the salmon and still marinate it.
Roasted salmon with spicy cucumbers
Serves four
Ingredients:
For the roasted salmon:
4 portions of salmon (5 to 7 ounces each)
1 small shallot minced
1 clove garlic minced
2 tablespoons orange juice
1 tablespoon lemon juice
1 tablespoon olive oil
Salt and pepper to season
For the spicy cucumbers:
2 European cucumbers
1 small jalapeño, seeds removed and minced
¼ cup sliced red onion, very thin
2 tablespoons lime juice
3 tablespoon extra-virgin olive oil
6 small mint leaves, cut thin
1 teaspoon chili flakes
3 tablespoons toasted peanuts, crushed (optional)
Salt and pepper to taste
Directions:
For the salmon:
Mix the shallot, garlic, juices and olive oil together.  Pour the mixture over the salmon and rub on to cover all 4 pieces and let sit for 10 minutes.  Season each piece with with salt and pepper. Place on a baking tray and place in a 350-degree oven for 8 minutes.
For the spicy cucumbers:
Peel 4 or 5 strips out of the cucumber down the length of it but leave a few strips of peel on. Cut the cucumber in half lengthwise and remove the seeds with a spoon, cut in half again then into 1-inch pieces.
Toss the cucumbers with the jalapeño, onion, lime juice, olive oil and season with salt and pepper. Place in a serving bowl and top with the chili flakes, mint and peanuts before serving.