Restaurants
Here's what chefs and restaurateurs are saying as the coronavirus pandemic affects the restaurant industry
From financial losses to how they're staying busy.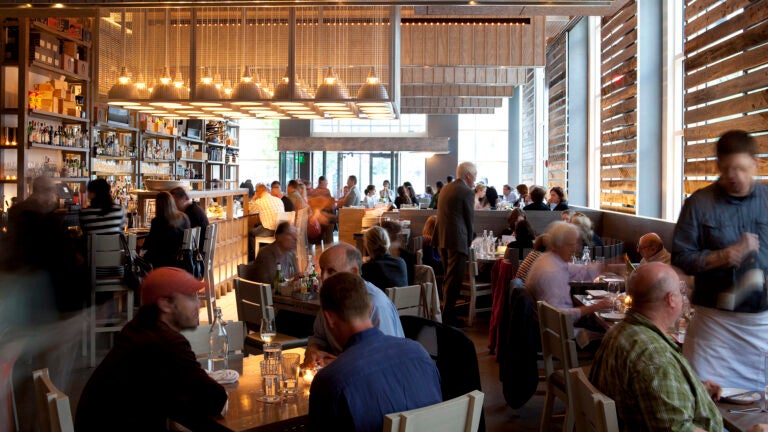 Scroll through Instagram or Twitter these days and you may see another side to the chefs and restaurateurs you've loved for years. Instead of photos touting the newest creations to come out of a restaurant's kitchen, they're showing off their pantry staples and offering instructions on what you can do with yours. They're delivering meals to healthcare workers, Tweeting links to fundraisers for their employees, and detailing how they've transformed their distillery into a hand sanitizer factory.
It is, as Aladdin so aptly put it, a whole new world.
Through their own personal restaurant stories, pantry-friendly recipes, and other Boston.com interviews, these local chefs and restaurateurs have given us a glimpse into how COVID-19 has upended their industry and how they're dealing with the aftermath. Here's what they have to say.
This story will be regularly updated.
"The fees from the delivery services don't make delivery viable. Maybe they'll come down. Maybe there will be some backlash or regulation. The delivery services try to give you their logic as to why it works, but I don't buy it. You can't afford to give 20 or 30 percent off the top to a delivery service. There's no possibility of a profit."
Erin Barnicle, co-owner at Tempo, on remaining positive:
"Over the first few days, tears were shed and fears were all-consuming. But together with our staff, we decided we had one option: Fight! We decided to stay open offering takeout, curbside pickup, and no-contact delivery. We decided to find the positive every day we opened and in everything we did. We soon realized that once we stopped thinking about just ourselves, everyone was facing the same fears. We realized as coworkers, a business, a community, and a nation: We are all in this together."
Tracy Chang, chef/owner at PAGU, on bringing meals to healthcare workers through Off Their Plate:
"My father is a pediatrician and he has a practice in Malden, so it's very familiar to me seeing someone working tirelessly all day long. He barely has time to drink water — and he's like that when there's no pandemic, so imagine how people are during COVID-19! It's nice when there's a meal delivery and people are excited to eat this versus a frozen box. And just hearing the thank yous and whatnot has been really rewarding."
Michael Coen, owner at The Gaff, on the hardest part of his pub's closure:
"The hardest part is not seeing all of my staff and customers like I was used to. I've been at the bar pretty much daily, doing little things to stay busy and assist staff as needed. But it's not until you walk into an empty space that you realize that it was the staff and the customers that really made the place what it is. Now the place is just an empty commercial spot that's missing all the charm that made it great."
Ran Duan, owner at Blossom Bar, on shifting his bar's focus to take-home cocktail mixes:
"We jokingly talked about this as a company before, but it never came to fruition … [Then] me and [bar manager Will Isaza] sat down and analyzed all of our recipes, and within five days we had shot the campaign, shot the video, shot all the photos, shot all the marketing, redefined our recipes, got labels made, and reached out to vendors for bottles. We know times are tough, and we're happy and glad that we can provide a little relief to people with this mix."
"When the social distancing orders were put in place, we also lost our childcare. So my days have pretty much been occupied by caring for our one-year-old daughter. My wife is still working from home, so when she tags me out, I try to stop listening to the news or getting sucked into Twitter, so I landscape our yard or do home improvement projects. Every time I hear a politician lie, I go build something. At this rate I will have a new house built in no time."
"I miss the banter with my bar staff and servers. I miss trying new dishes Chef is experimenting with for a future menu. I miss the trivial, nonsensical, funny conversations with patrons who had become friends. Tapping new kegs, getting new wines, and whiskeys — I miss it all."
"[There has been a] total stop of revenue. We've had no income for weeks and declining income for weeks before that. In addition, the insurance we all pay for by law is declining to cover any losses during this period. My landlord is expecting to be paid 'business as usual.' There's absolutely no way this is feasible."
"We cut [takeout/delivery] prices dramatically, by at least a third in many cases. It's really not a money-making venture. It's more about providing an environment for our employees to keep their head in the game and to give a service to our customer base around town."
Asia Mei, chef/owner at Moonshine 152, on what restaurants need right now:
"On the most basic of levels, we need relief that is proportionate and fundamentally mandated from up top. I am an advocate for freezing rent/mortgage both residentially and commercially. I am praying for the proper legislature to be passed so that insurance companies will be held responsible for doing what we had all thought we were paying into them to do, which is to cover us in times of unplanned catastrophe. We also need grants and more accessible forgivable loans. What has been made available will not be enough to get everyone back up and running."
"There's nothing worse than seeing your staff, who's our family…to just see them worry about where their next meal is going to come from and how they're going to be able to afford to deal with certain simple ways of living. It's just so nice to see the smile on their face coming into work every day now. It's almost like we're saving their lives; meanwhile, we're cooking for heroes that are saving other people's lives. It's just a really gratifying feeling."
"I think all of us in some way are scared. As a dad, husband, and chef in an uncertain industry, I can say all of those things scare me. I try to remind myself and everyone around me: We are better when communities come together to support each other and pick each other up after the fall."
"I think we're a resourceful bunch. We're used to dealing with emergencies, oddly enough, so I think people are pretty creative and inventive, and I've loved seeing what's come from this. I think people will find what it is that's appropriate to their brand and will find another arm to supply some income. That's the good side of something that's been pretty horrific."
Ana Sortun, chef/owner at Oleana, Sarma, and Sofra, on what diners will want when restaurants reopen:
"In my opinion, people are going to want to be out just as much as they were before, but maybe in a place that feels smaller instead of bigger. When you think about experiences, you might want to go out to a place where you can really nestle in with four friends, and it's not a sports bar where you're up against somebody who's sweating. I feel like those small places are going to be jamming, but the big places might not. [Dining] got less and less intimate and more and more food hall-oriented [over the years]. I think it's going to go back to little and comfortable."
Denis Toomey, co-owner at Church St. Brewing Co., on opening a coffee bar and brewery during the pandemic:
"Our goal was to open for full-service days before the announcement of the stay-at-home advisory and the essential business list was announced. Not being able to operate full-service has put tremendous financial strain on the business, our part-time crew and family. The rules sort of contradict each other. People want to support small business but also want to stay home to help avoid the spread of the virus. If the business is having hard times, then we are having hard times at home."
"Start somewhere and then don't give up. Change one thing at a time — don't change everything at once, because you don't have a control at that point. If your bread is too wet, take some of the water out but keep everything else the same. Experiment with one recipe a couple of times. Experience is knowledge; at the end of the day, you just have to practice."
Dave Willis, co-founder and head distiller at Bully Boy Distillers, on the pandemic as a litmus test:
"A situation like this is a fascinating social experiment. In difficult times, people either do good things or they do bad things. It's a litmus test for who you are as a person. When you think about pandemics, it's like you're either a 'glass is half empty' person and you assume that its going to be chaos in the streets and people are going to be looting and doing bad things, or you're a 'glass is half full' person and you assume that people band together and are hopeful and helpful and do what they can. So far, at least, it seems like a glass is half full scenario, where people are helping each other out."