Restaurants
Craving comfort food? Here's what we're cooking and ordering at Boston.com.
On the menu: smoothies, soups, and plenty of beans.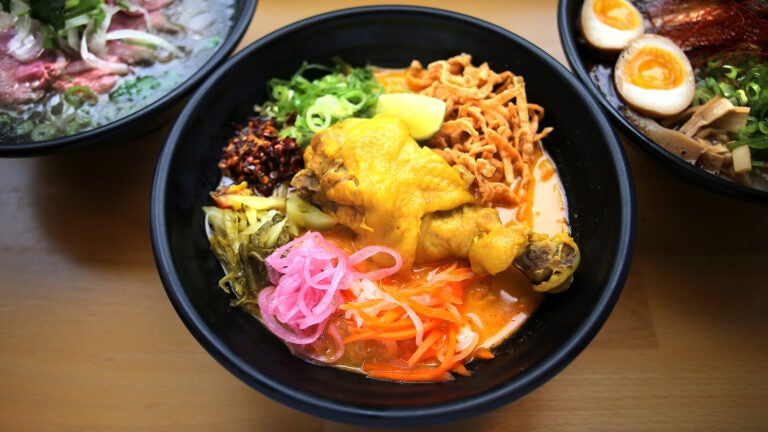 If ever there was a time for comfort food, this is it.
As we all try to adapt to this new and ever-changing landscape we're in, many of us are just starting to tap into our inner chefs: baking bread for the first time, making our own dressings and sauces, and developing a newfound appreciation for the almighty bean. And when we can't seem to make sense of what's in our fridge, we pull out our phones and order from restaurants that are chugging along with takeout and delivery. Tired of your usual recipes and go-to takeout spots? Check out what the Boston.com staff has been cooking and ordering as a source of comfort while we all work — and eat — at home.
What we're cooking:
Being mostly trapped indoors has left me eager to escape to my backyard and fire up the old barbecue grill — so much so that at first I would head out there in a winter coat and hat, huddling up to a bunch of sizzling burger patties just to keep warm. But now that the weather's improved it's become much more pleasant, and on any given night you're likely to find me out there, with our 11-year-old yellow Lab, Penny, parked directly next to me in case an errant spatula flip sends some meat in her general direction. (A likely event.) As to what I'm grilling, marinated chicken breast and Italian sausages have been a common choice, but if they're available I'll always pick the bourbon-soaked steak tips from The Stone Pantry in Georgetown. — Peter Chianca, General Assignment Editor
When times get tough, I turn everything into a bowl. Bowls of overnight oats with peanut butter, almonds, honey, and dried fruit; bowls of bulgur topped with tuna, pickled cucumbers, broccoli, and kimchi; bowls of ice cream and…more ice cream. I've been thumbing through the cookbook "Bowls" from America's Test Kitchen, which came out last year and has a ton of pantry-friendly recipes — including a sweet and sour sriracha-lime vinaigrette. I make a batch of the dressing once a week and drizzle it over almost all of my (savory) bowl creations. — Erin Kuschner, Food Staff Writer
For breakfast, I've been making toast with homemade guacamole (with onion, garlic seasoning, and adobo) topped with a fried egg, parsley, and a lemon squeezed on top. It's the perfect combination of all my favorite foods: avocado, toast, parsley, lemon, and a fried egg is what my mom would make me every morning growing up. It reminds me of her, which brings a lot of comfort. It's also a much healthier alternative than the Eggo waffles I was eating before. — Deyscha Smith, Sports Staff Writer
This New York Times recipe for baked mushrooms and white beans with buttery bread crumbs. I've been trying to avoid going to the grocery store, which means the last time I was at Costco I absolutely loaded up on mushrooms. Pretty much all the other ingredients are pantry staples. Plus, it's easy, yummy, and makes enough for lunch the next day, too! — Madelaine Millar, Community Writer
I'm not much of a cook, and I have yet to find a homemade salad that — to borrow a Marie Kondo phrase — sparks joy, which sounds like a dangerous recipe for an unhealthy self-distancing diet. Thankfully, I recently received a NutriBullet for my birthday, and have become the indoor smoothie king. Most of my smoothies are pretty healthy, but also sweet, and using them as an after-dinner treat has been really helpful to keep myself from stress-eating a gigantic dessert. My recipe varies based on what fruits and veggies I have on hand, but a recent favorite uses a cup of kale, one frozen banana, 1/2 cup of frozen avocado chunks, 1 1/2 cups of vanilla almond milk, and a tablespoon of vanilla protein powder. I occasionally toss strawberries, raspberries, and blueberries in the mix as well. — Kevin Slane, Staff Writer
Two popular meals in our household that work really well right now because they go a long way: pasta fagioli and macaroni and broccoli. The kids love both dishes. I make a big pot for dinner and then we eat the leftovers for lunch. — Kristi Palma, Staff Writer
I've been making Alison Roman's spicy white bean stew with broccoli rabe on a weekly basis. The recipe is straightforward, forgiving, and delicious. If you don't have the exact ingredients, it still turns out great. For instance, I've only ever made it with lemon, not preserved lemon, and other dark, leafy greens—not broccoli rabe. Lately I've been using whatever beans I have handy in my pantry, and I've also started adding some sausage to it—which I highly recommend! It also goes great over grains like rice and couscous.
For baking, I tried the no knead bread recipe from the New York Times. I was intimidated by the steps at first. But even though I definitely made a mis-step during the baking, it still tasted great, even if it looked a little funky. So don't be afraid!
For sweets, I've turned to one of my favorite recipes—my mother-in-law's banana bread. It is one of the easiest, most-satisfying snacks to make. Eating it warm with butter or peanut butter is especially comforting these days.
With her permission, here is her banana bread recipe:
Mix together:
3 or 4 ripe bananas, mashed
third cup butter, melted
1 cup sugar
1 egg
1 teaspoon vanilla
1 teaspoon baking soda
pinch of salt
1 1/2 cups flour
Bake for one hour in an oven preheated to 350 degrees, until the middle bounces back when pushed. — Dialynn Dwyer, Senior Staff Writer
What we're ordering:
Normally I cook, but these days I'm ordering takeout on Sunday night and subsiding well through midweek: super spicy drunken noodles, mango curry, and chicken satay from Pho Basil and family-style red-sauce pasta dinners from Giacomo's. And as a weekend treat, it's croissants, double-chocolate cookies, and whatever else looks good at Cafe Madeleine. — Kaitlyn Johnston, Boston.com Editor
Rice noodle salad with beef from Le's Sushi Bar and Restaurant in Cambridge. Buffalo chicken calzone from Skampa in Cambridge. — Dialynn Dwyer, Senior Staff Writer
I've only ordered takeout once so far, from my favorite neighborhood comfort food spot, City Slicker Cafe. They cook their pizzas extra long so that the crust gets nice and crispy, similar to a South Shore bar pizza. They do a good job with elevating standard American menu fare as well, with their umami burger topped with pecan smoked bacon, roasted portabello mushrooms, sun-dried tomato confit, smoked cheddar, an over-easy egg, and umami sauce—a particular highlight. — Kevin Slane, Staff Writer
I've been DoorDash-ing the basil fried rice with chicken from Thai Spice in West Roxbury. It's a delicious rice dish with chicken, peppers, onion, and basil—and comes in a large portion size, too! — Deyscha Smith, Sports Staff Writer
Lilly's Gourmet Pasta Express on Mission Hill. Their ravioli are amazing (especially the mushroom and butternut squash ones), and they have a really wide selection of sauces. Just the comfort food I need right now! — Madelaine Millar, Community Writer
I've professed my love of Soup Shack plenty of times, and I'll do it again: Both the Khao Soi and the Tom Yum noodle soup are in my regular takeout rotation, whether I'm ordering from the Jamaica Plain or Brookline location. But I've also found some new favorites recently, including the lamb plate from GreCo, which travels quite well, and the hearty kalbitang from Seoul Soulongtang. — Erin Kuschner, Food Staff Writer