Restaurants
Johnny's Luncheonette is feeding some of Newton's most vulnerable residents
Co-owner Karen Masterson shares how the old-school diner started a soup donation program.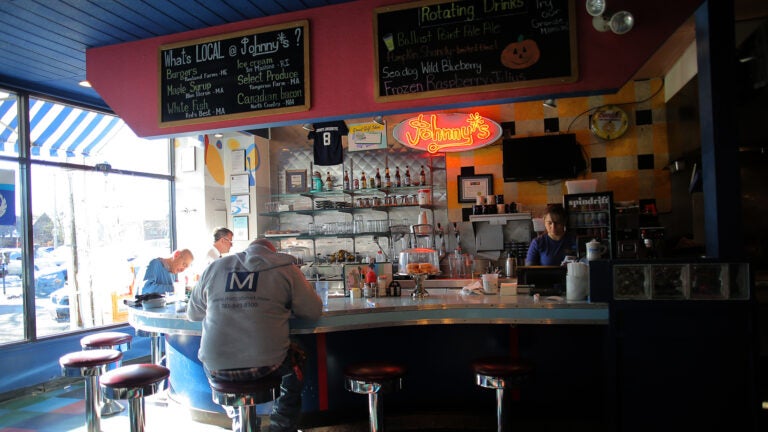 In our "My restaurant's story" series, restaurant owners in the Greater Boston area share how COVID-19 has affected their business. If you're a restaurant owner, you can share your story here.
With its retro vibes, revered matzo ball soup, and dedication to all-day breakfast, Johnny's Luncheonette is the kind of place that draws in diners looking for simpler times. These, undoubtedly, are not simpler times. But Karen Masterson, who owns the Newton restaurant with her husband, Kevin Masterson, isn't letting that get in the way of serving her community.
The diner has already lost "thousands of dollars, with thousands more to come," Masterson told Boston.com, but it has remained open for takeout and curbside pickup and currently offers delivery through DoorDash. (Johnny's also sells beer and wine to go.) Beyond serving its customers, Masterson shared how the beloved diner is also providing Newton's most vulnerable residents with some much-needed comfort food.
Entries may have been lightly edited for clarity or grammar.
Name: Karen Masterson
Restaurant: Johnny's Luncheonette, Newton
What is Johnny's Luncheonette's COVID-19 story?
[Once the dine-in ban went into effect] we immediately thought of some of our most vulnerable customers and began a soup donation program working with local agencies serving our community. We have provided quarts of matzo ball and vegetable soups to the Newton Food Pantry, Newton at Home, Newton Housing Authority, and Newton Community Development Foundation.
Additionally, I began working with a few local Newton residents to coordinate the generosity of local residents to support our restaurant community and feed health care workers on the front lines through Feed the Fight Boston, similar to efforts underway in Washington, D.C. We have drastically reduced staff and hours to focus on takeout and delivery while we navigate this challenging time.
What has been the hardest part so far?
The hardest part has been the uncertainty of how long this will go on for and what the impact will be once we are allowed to reopen.
How have your employees been affected?
We have a mix of employees — some Boston College students went home, and local students are at home with their families. We normally employee roughly 40 people and about 15 of those were hardest hit, with many applying for unemployment.
What do restaurants need right now?
They need help from their landlords; the impact needs to be shared. They need to have financial help structured so it doesn't just prolong the pain and create more hardship six months down the road as we navigate the next 12-18 months of this pandemic. We need the opportunity for some debt forgiveness. If we all just pile on debt to be able to keep our doors open and sales don't return to pre-pandemic levels for months, there will be continued hardship.