Restaurants
It's a great time to support your local farm. Here's how.
If you're feeling uneasy about the grocery store, consider a CSA.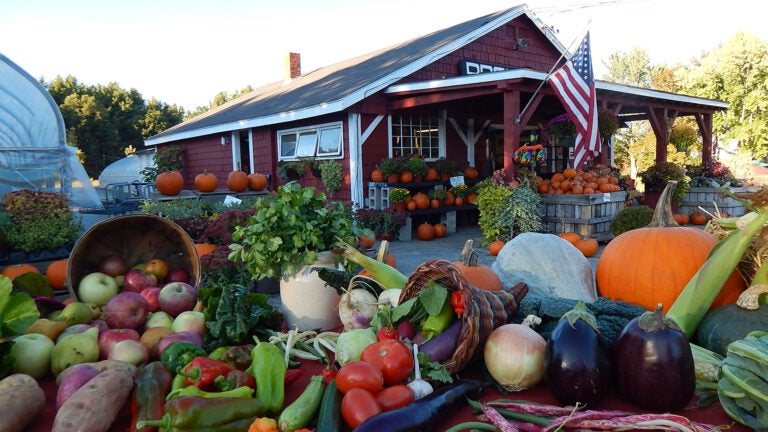 "Farmers are the cornerstone of organized human civilization," Chuck Currie, co-owner and manager of Freedom Food Farm, recently told Boston.com. "We're the basis of the economy. We're taking the land and producing goods out of that land." 
For many of us who consider ourselves food secure — those who can access and afford the food we want and need, when we want and need it — the coronavirus pandemic has brought pause. It's no longer guaranteed that eggs or milk or bread will be available on our next visit to the grocery store, a predicament that many are incredibly privileged enough not to have previously experienced. Trips to Market Basket, Stop & Shop, Whole Foods, and other grocery chains have become weighted with anxiety and long lines. Some grocery delivery services are backed up for weeks. 
As a result, local farms are suddenly in the spotlight as shoppers are choosing to pick up produce at farm stands or subscribe to a community-supported agriculture (CSA) program. CSA subscriptions allow members to pay for farm shares — usually consisting of a set number of boxes of produce — at the start of a season, which are often delivered once a week or every other week.
Many farmers are ready for the sudden shift. 
Dave Dumaresq, founder of Farmer Dave's in Dracut, said that the CSA subscriptions for his farm's spring share, which start in early March, are normally around 300. This week, 500 shares will be delivered.
"People are just paranoid about going to supermarkets, so we're seeing a massive spike in the CSA," he said.
Farmer Dave's is well-equipped to handle the numbers: It has a surplus from last year's fall produce in storage, and Dumaresq said he's able to turn up his greenhouse's thermostat to encourage spinach, lettuce, and kale to grow faster. He's also increased the number of seedlings to be planted over the next few months, and has opened his East Street Farm Stand in Tewksbury early. 
"We also do a lot of home delivery," Dumaresq said. "Usually it's only 10 percent [of the business]; now it's 25 percent."
Freedom Food Farm has also modified its business strategy to keep up with demand. The holistic, organic farm in Raynham previously relied on farmers' markets, which Gov. Baker deemed an essential business, as a major revenue source. But with many markets closing or switching to a preorder format to adhere to social distancing measures, the farm has pivoted to home delivery and pickup orders, using both its own delivery service and partnering with Farm Fresh Rhode Island's Market Mobile service. Currie said that home deliveries are bringing in 10 to 20 percent more business than what they were doing at farmers' markets.
"There was a week or two when sales were a little down while we were trying to figure out how to get our food out to the community," Currie said. "Once we figured that out, sales have actually been higher because there's much more demand. People are trying to avoid the grocery stores, and there's also a lot at the grocery stores that people don't have right now."
Farmers are also adapting to the COVID-19 health crisis by taking extra safety precautions. There is currently no evidence to suggest the virus can be transmitted through food; still, at both Farmer Dave's and Freedom Food Farm, employees wear personal protective equipment, doors are propped open to reduce the touching of door handles, and CSA packaging is continuously disinfected. Dumaresq said he's also planning for the summer season, when pick-your-own options start.
"We're coming up with plans for how to do that safely," he said. "When people come to the farm, we have to develop systems of ensuring how they maintain social distancing. We're going to make sure everyone is wearing masks."
CSAs are not new, of course. But as the coronavirus disrupts our complex food systems, farms provide a shorter, more reliable path between you and your food.
"It's always been the time to support local food systems, but I think right now it's way more important," Currie said. "The local food system is much more resilient compared to the global or national food system we have now. There's just so many different steps that your food goes through before it gets to the grocery store. Local farms cut out all those steps. We're harvesting, we're packaging, and we're selling it to the community right here. And your money stays in the community a lot longer."
It also provides a deeper connection to the cucumber, potato, or eggplant you might have previously plucked from a shelf at Market Basket without much thought.
"As more and more of our food has become imported, people have lost sight of where their food comes from," Dumaresq said. "This is putting it back into the forefront of people's minds."
Dozens of farms across Massachusetts offer CSAs. Here are a handful of places to start:
<hr>