Restaurants
'We are all in this together': Tempo, a Waltham bistro, finds hope in its community
"We decided to find the positive every day we opened and in everything we did," said Tempo co-owner Erin Barnicle.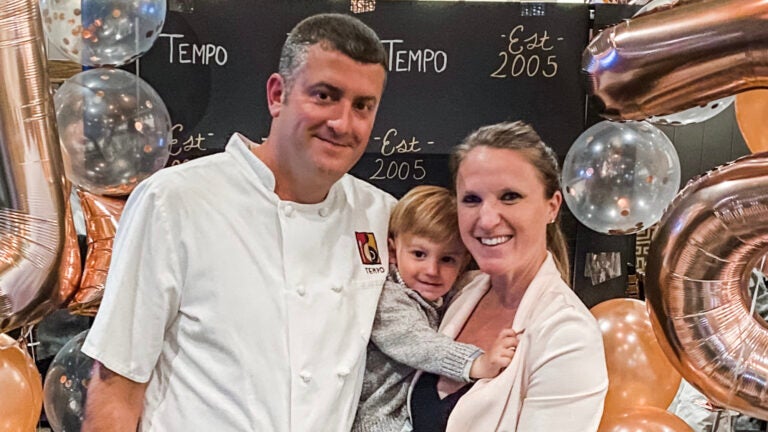 In our "My restaurant's story" series, restaurant owners in the Greater Boston area share how COVID-19 has affected their business. If you're a restaurant owner, you can share your story here.
On February 18, Tempo, a local hangout on Waltham's Moody Street, celebrated its 15th birthday. Co-owner Erin Barnicle told Boston.com that, even after 15 years, diners would often wander into the bistro and, surprised at the packed space, ask if they had just opened.
A month later, everything was quiet.
For the first few days after Gov. Charlie Baker issued the statewide coronavirus dine-in ban, Barnicle, who runs the restaurant with her husband, Nathan Sigel, said that she and Sigel felt paralyzed. Then they sprung into action.
"There's two ways to look at this," she said. "There's, 'oh, woe is me,' or there's, 'we're going to fight, win, and get through this as a community.'"
Now open for takeout and delivery, Tempo has started delivering meals to hospital workers and COVID-19 testing tents — and Barnicle said they've only just begun. She talked to Boston.com about how the community has rallied behind her restaurant and why they're excited for the next chapter.
Entries may have been lightly edited for clarity or grammar.
Name: Erin Barnicle
Restaurant: Tempo Bistro, Waltham
What is Tempo's COVID-19 story?
COVID-19 turned our world upside down.
In the beginning days, we found ourselves laying off staff who have been with us since day one, 15 years ago! We went from a bustling success to wondering how we would ever re-open our doors. Over the first few days, tears were shed and fears were all-consuming. But together with our staff, we decided we had one option: Fight! We decided to stay open offering takeout, curbside pickup, and no-contact delivery. We decided to find the positive every day we opened and in everything we did. We soon realized that once we stopped thinking about just ourselves, everyone was facing the same fears. We realized as coworkers, a business, a community, and a nation: We are all in this together.
How has the community rallied around you?
Quite honestly, it is the community keeping us going. As takeout and delivery took off, we started coming up with things that the community could be inspired to participate in. Kids are at home with nothing to do, so we said, let's use our windows to provide some hope and happiness. So we started having kids drop off artwork and covering the windows. What's more hopeful than that? They're amazing, inspiring, and exactly what you need to go by the restaurant and smile. Our front windows are now called Windows of Hope and Happiness.
There are a tremendous amount of people who are on the front lines who are trying to defend the rest of us against this virus. We have joined with the community and, with the help of their generosity, been able to send hundreds of meals to Newton-Wellesley Hospital and the local COVID-19 testing tent. We started Tempo Cares — a fundraising effort to provide meals for those in our community who need it. There are people in the community who are going above and beyond, and we just wanted to be able to provide something for all of these people. And right now we're working on [donating to] the New England Donor Services. There are people on transplant lists who are sitting in the hospital, and we're working on raising money to provide lunches and dinners for them.
What was it like to celebrate Tempo's 15th birthday and then have COVID-19 hit one month later?
That [day] was a moment of complete and utter happiness and joy and gratefulness, because, holy smokes, 15 years as a restaurant is incredible. It's absolutely an amazing, wild ride we've been on for 15 years. You go from that total rock and roll, awesome, emotional happiness, and then a month later you just want to crawl into a hole and cry. We're not unlike everyone else — the first 24 to 48 hours were the hardest part, the not knowing. I think now, with the whole community wrapped around us like a blanket, we feel excited for being able to open again.
What do restaurants need right now?
We need financial help. The new PPP loan sounds great in theory but has a lot of uncertainty within it in terms of execution. It's changing daily and it has requirements that could be very challenging to meet for it to be forgiven. The unknown of what's to come in the next few months makes it critical that we have financial support and the possibility of debt forgiveness.