Restaurants
Opening a brewery during the coronavirus pandemic? It wasn't part of the plan.
"We are barely staying afloat," said Church St. Brewing Co. co-owner Denis Toomey.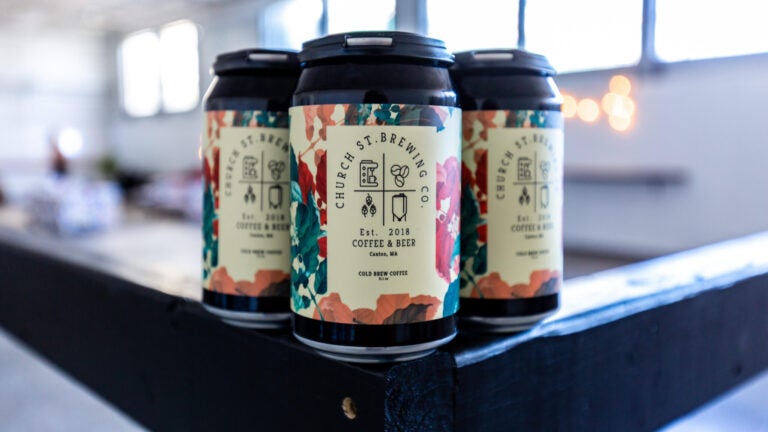 In our "My restaurant's story" series, restaurant owners in the Greater Boston area share how COVID-19 has affected their business. If you're a restaurant owner, you can share your story here.
Denis Toomey, the founder and co-owner of Canton's Church St. Brewing Co., did not exactly think he'd be opening his coffee shop and nano brewery during the global coronavirus pandemic.
He'd been grinding through the coffee business since 2015 when he started making cold brew in his basement and selling it in mason jars at popups. What began as a side hustle became a full-time gig, with a devoted online fan-base, an exclusive permit to import coffee from the Cost Rican town of Asserí and a keg delivery program which saw his nitro cold brew on tap at businesses throughout New England. Next, he and his business partner Amanda Bonanca percolated on expanding into beer and establishing a brick-and-mortar spot. In 2018, they launched a Kickstarter and raised over $21,000 to help transform a former textile mill into a working brewery, coffee shop and events space. The headaches piled up from there—renovations ballooned to over $60,000, with an additional $25,000 for the equipment plus a $10,000 air exchange system that the town of Canton required they install before they could welcome customers as a full-service establishment. Still, they hustled and saved, planning to open their coffee bar and brewery just as Gov. Charlie Baker announced the stay-at-home advisory.
In this time of unpredictability, Toomey and his team have had to be nimble to stay afloat, promoting online orders especially through their Instagram—including the recent "Tiger King"-themed release. Coffee deliveries and "Canday Sundays" where customers can pick up orders in person are the new normal. Toomey spoke with Boston.com as his Canton spot operates as a production facility—canning hundreds of coffees by hand each week—instead of the community hub he hoped it would be.
Name: Denis Toomey
Restaurant: Church St. Brewing Co., Canton
What is Church St. Brewing Co.'s COVID-19 story?  
Church St. Brewing Co. is a coffee bar and nano brewery operating as a manufacturing and production facility. Our goal was to open for full-service days before the announcement of the stay-at-home advisory and the essential business list was announced. Not being able to operate full-service has put tremendous financial strain on the business, our part-time crew and family. The rules sort of contradict each other. People want to support small business but also want to stay home to help avoid the spread of the virus. If the business is having hard times, then we are having hard times at home.
What has been the hardest part so far?  
The most difficulty we've faced is changing our occupancy over to full service. Towns are reluctant to greenlight permits due to COVID-19 and the mandate for limiting group gatherings. Staying at home means less foot traffic. We need that foot traffic to pay off investments we have made towards the shop. Our success also comes from popups. Due to the outbreak we've had events canceled or delayed.
What kind of financial hardship has your business faced?
We are barely staying afloat at the moment. Without running our business at full capacity it's become much harder to make bill payments on time. We've been hearing all these talks about loan forgiveness or rent forgiveness but that's honestly a moral decision. There is no law in place saying that our landlords have to hold back from charging us rent on our space, or banks saying that we no longer have to pay our loans until everything blows over.
What impact has COVID-19 had on your staff? 
Our team is really small. Our pop-up crew is part-time and so is our shop crew. Amanda and I are full-time and we usually can handle most of the workload. Due to the outbreak, we have to carefully decide when we can have our staff on to generate some hours. There hasn't been much to offer. With all our nitro-on-tap accounts either closed or barely operating at minimum capacity, we haven't needed anyone to run deliveries. This also effects the brew house, meaning there isn't as much being brewed for kegs since our accounts aren't ordering kegs. Luckily, due to our new canning program we have been able to give out more hours. Our part-time crew members aren't only employees but they are also family. They have their own bills to pay, food to put on the table, and gas to put in the car.
What do restaurants need right now?
I know what we need and that's more online orders. More can day pick-ups. Folks aren't making money and stimulus checks aren't out yet meaning the consumer is skeptical on spending. This usually leads potential customers to purchase much cheaper options through Amazon or other giant mega stores. As a local, small food-and-beverage business, we need to get super creative. Whether it's offering deals, a unique purchasing experience, or future deals when this ordeal ends, it has to be something bright and refreshing and new to get customers through the doors.