Restaurants
Meal kits are on the rise. Here's where you can find some of the city's best options.
Make your own pizza and assemble your own lobster rolls with these easy-as-pie meal kits.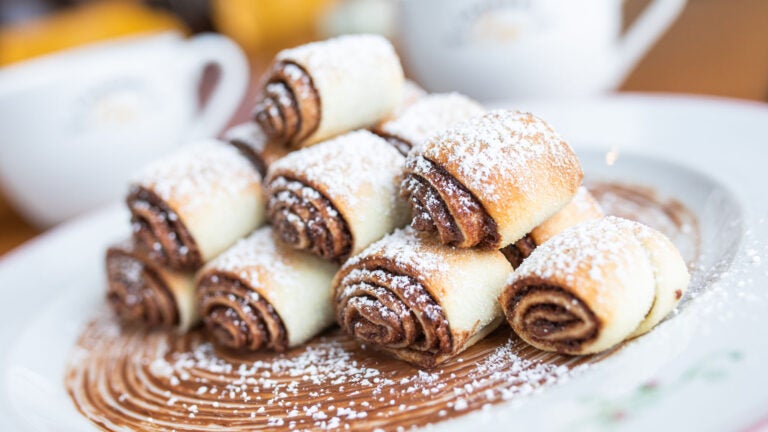 As restaurants navigate a new normal during the coronavirus pandemic, many have had to get wildly creative with takeout and delivery options, offering a selection of not only dishes, but groceries, CSA boxes, and cocktail ingredients to go. And then there are the meal kits, which a growing number of restaurants are now selling alongside their other menu items.
"People have been, for lack of a better term, trained on the idea of what a meal kit is," said Jonathan Gilman, owner and chef at Brato Brewhouse + Kitchen, which offers a selection of kits. "The idea of packaging things like a tailgating meal kit for Patriots season or picking up a beach kit if you're going to the beach. I think those things will carry value now that people have been introduced to this format of product, where you can pick up things that [you can] heat and assemble wherever you are."
The next time you want to assemble your own meal but don't care to venture out to a grocery store, consider these meal kits that range from pizza to brunch to pierogis — and plenty in between.
The Brighton brewpub is all over the meal kit game, offering a variety of options that highlight grilled cheese, buttered noodles, and tater tot nachos. A Nashville hot wings meal kit requires a simple reheat in the oven before tossing in spices, and a family-sized buffalo cauliflower meal kit comes with both blue cheese and buffalo dressing. Keep an eye out for special virtual event meal kits. Past events have included Hell Night and a grill-along, when Brato walks through a meal and beer pairings via Zoom. (190 N. Beacon St., Boston; 617-903-3766)
Family dinners are back. At Cafe Landwer, an Israeli-based eatery, the Landwer's Family Meal kit feeds up to five people and includes falafel, pita, chicken shawarma, schnitzel, vegan stir fry, Nutella rozalach, and three sides of your choosing. Beer and wine are also available, including a great selection of Israeli wines. Everything can be picked up or delivered from Cafe Landwer's Cleveland Circle location. (383 Chestnut Hill Ave., Boston; 617-383-5786)
If brunch is what you're after, Earls Kitchen + Bar has it in spades. Both the Back Bay and Somerville locations offer meal kits for two: avocado benedicts, chocolate chip buttermilk pancakes, chorizo hash, maple granola parfait, and more. And while brunch is normally reserved for weekends, these aren't normal times — break into the brunch kit on a Wednesday if you feel like it. Earls also offers a chocolate chip cookie kit that contains all the ingredients necessary for making two dozen decadent cookies. (800 Boylston St., unit 107, Boston; 857-957-0949. 698 Assembly Row, unit 102, Somerville; 617-666-1790)
Known for throwing raucous, semi-secret parties (and oyster shucking classes), events company and oyster connoisseurs East Boston Oysters have a new caviar pizza kit available for an extravagant, at-home dining experience. The $60 package comes with ingredients — dough, sauce, cheese, oregano — to make two pizzas, plus a two-ounce jar of EBO caviar and a mother of pearl spoon. Available for delivery only.
Sisters Casey and Vanessa White have been selling pierogis out of their shop at Bow Market since June 2018, as well as at grocery stores and specialty shops throughout New England. Now they're offering quarantine Polish meal kits, with options for both pickup and delivery. The $35 kits include two dozen frozen pierogis of your choice, one pound of smoked kielbasa, and your choice of sour cream, sauerkraut, mustard, and/or horseradish. (1 Bow Market Way, Somerville)
Chinese-American restaurant Mei Mei is supplying all the ingredients you need to make your own dumplings at home with a comprehensive dumpling making kit for $25. Its contents include two packs of dumpling wrappers, one quart of vegetarian pierogi filling, a recipe card for pork filling, and folding instructions. Need a little extra help? You can also sign up for a virtual dumpling class. (506 Park Drive, Boston; 857-250-4959)
This Nantucket-founded pizza chain put together craft pizza packages that feature ready-to-bake and make-your-own pies. Within the classic, bestseller, and custom care packages, you'll receive a selection of fan-favorite pizzas along with chocolate brownies and marshmallow bars. Want to make your own instead? The pizza kit care package contains five pizza crusts, housemade tomato sauce, a mozzarella blend, pepperoni, freshly grated grana padano cheese, and oregano. (various locations)
Known for its hefty sandwiches, this North End deli has created a lobster roll kit fit for a quarantine feast. The $214 order includes two pounds of lobster meat, eight New England-style split-top rolls, mayonnaise, roll sleeves, and an instruction card (minimal assembly required). The kits are available for delivery and can be shipped across the country, in case you want to send a quarantined family member a slice of New England. (65 Salem St., Boston; 857-284-7064)
Fans of Sal's Pizza can now make the chain's pies at home — if you're near a couple locations. The North Andover, Billerica, and Chelmsford pizzerias are selling pizza-making kits for $4.99, with each kit containing cheese, sauce, and enough dough to make a 12-inch pie. (328 Boston Road, Billerica; 978-671-9393. 490 Main St., North Andover; 978-689-7374. 296 Chelmsford St., Chelmsford; 978-256-7997)
Some assembly is required with The Farmacy Cafe's build-your-own bowl kits. For $49, each kit contains a selection of ingredients that can make up to four nutrient-packed bowls, with options like brown rice, broccoli, sweet potatoes, pickled onions, shredded beets, and a couple choices of dressing. Deliveries are made on Monday and Thursday afternoons, while pickups can be coordinated at The Farmacy Cafe's Newton location on Monday and Thursday evenings. (880 Walnut St., Newton; 857-313-9008)