Restaurants
Delivery apps charge sky-high commission fees. Toast's new service aims to provide an alternative.
Toast Delivery Services launched Tuesday.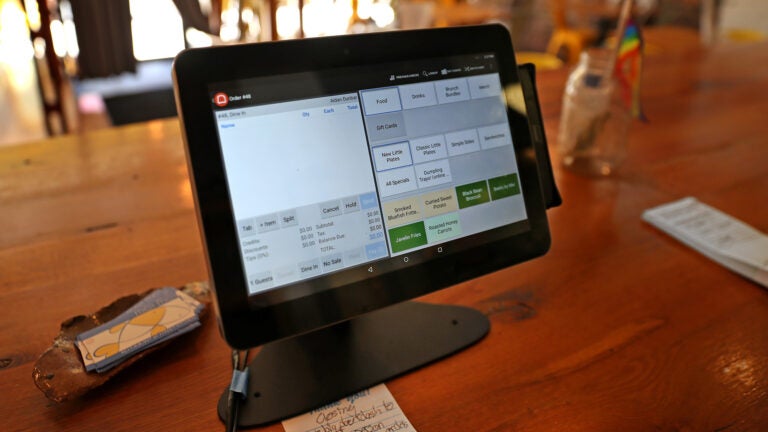 As restaurants have struggled to make ends meet during the coronavirus pandemic, many have turned to offering takeout and delivery in an effort to drum up revenue. But with third-party delivery services like Grubhub and Caviar charging fees nearing 30 percent, a restaurant's ability to make money from orders placed on these apps is greatly impacted.
Boston-based company Toast recently debuted a new delivery system that hopes to put more money into the pockets of restaurants. On Tuesday, the restaurant management platform launched Toast Delivery Services (TDS), which eschews commission fees and instead charges a flat delivery rate.
In a press release, Toast announced that the new service is available to restaurants of all sizes, and does not require the purchase of a Toast Point of Sale (POS) or any hardware. Restaurants interested in offering delivery through TDS have access to Toast's network of local delivery drivers, and will have the ability to accept both phone and online delivery orders. Notably, restaurants pay one flat service fee per order as opposed to a percentage of sales, and can choose to pass on some or all of the delivery fee to the customer. Toast stated that when compared to third party delivery marketplaces that charge a 25 to 30 percent commission rate, "a restaurant processing $5,000 in delivery saves over $600 per month in commission fees with Toast."
TDS delivery fees vary but are always less than $8. The new system currently allows delivery within a five-mile radius of Toast's delivery network.
Toast also launched Toast Now, a collection of commission-free digital channels including Toast Online Ordering, Toast Takeout, and electronic gift cards.
"At Toast, we're hyper-focused on helping the restaurant community not only navigate the COVID-19 health crisis, but also take control of the guest experience so restaurants can thrive when the industry begins to recover," Aman Narang, president and co-founder of Toast, said in the release. "In the last month, we launched two products critical to the industry's success: Toast Now and Toast Delivery Services. Both tools allow restaurants to not only survive in these uncertain times but also prepare for a world where guests will continue to expect a seamless omnichannel experience."
Other delivery apps have made changes to their commission policies during COVID-19. In March, Grubhub suspended marketing commission fees for independent restaurants up to $100 million, but subsequently drew criticism for expecting a complete repayment. DoorDash also pledged relief, first announcing that restaurants who previously partnered with DoorDash and DoorDash-owned Caviar would not pay commission fees for pickup orders, then slashing commission fees by 50 percent on all orders placed through the platforms.
Some cities, though, think more should be done. San Francisco temporarily capped commission fees from third-party delivery providers at 15 percent, while New York City is considering a 10 percent cap. On Wednesday, Boston City Councilors Matt O'Malley, Michael Flaherty, and Ed Flynn introduced a hearing order to discuss a temporary cap on commission fees in Boston.
"I would love to see the governor implement something statewide," O'Malley told Jamaica Plain News. "You've got Newton and Cambridge and other cities looking at it, and then Boston will expand it to more cities."