Restaurants
Celebrate mom with these takeout and delivery specials for Mother's Day
Takeout is the new breakfast in bed.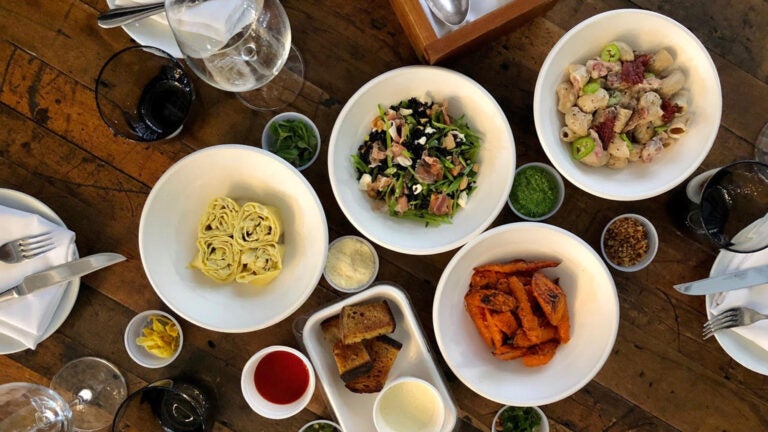 This Mother's Day, May 10, will likely be a far cry from previous iterations you've celebrated in the past. Maybe you're unable to spend the day with the mother figure in your life because of the coronavirus pandemic. Maybe you're quarantined with her, but going out to eat is out of the question. Maybe your only plans are to wave at her from your car.
On a day when restaurants normally see mothers and their families flooding their dining rooms, this weekend will be exceptionally quiet. Instead of pouring mimosas for matriarchs, many are offering Mother's Day brunches and dinner menus for takeout or delivery, to be enjoyed either in-person or sent to your mom across town.
Here are a few options to choose from — note that some require pre-ordering by a certain date.
Aquitaine
Aquitaine's South End and Chestnut Hill locations are offering a prix-fixe Mother's Day brunch for takeout and delivery. For $32, diners will receive a spread featuring a butter croissant with jam, seasonal fruit, smoked bacon, Lyonnaise potatoes, toast, and the choice of one entrée: lobster cobb salad, banana and Nutella French toast, vegetable quiche, Croque Monsieur crepes, or a roast of lamb leg. Mimosa and Bloody Mary kits are also available to add on. (569 Tremont St., Boston, 617-424-8577; 11 Boylston St., Chestnut Hill, 617-734-8400; order by May 8 at 8 p.m.)
Craigie on Main
You could order the coveted "OG" Craigie Burger from Craigie on Main's Mother's Day brunch menu, but there are so many other stellar options to consider as well: the "fancy-pants" bagel plate with salmon pastrami and confit tuna; the tomato and kale shakshuka served with Iggy's focaccia; the whole wheat pancake mix kit that you can make with Mom either in person or over Zoom. Craigie on Main is also selling a Bloody Mary mix — just add vodka or tequila. (853 Main St., Cambridge; 617-497-5511; order by May 8 at 5  p.m.)
Eddie V's
Were you planning to treat mom to an elaborate seafood dinner on Mother's Day? A four-course dinner from Eddie V's might be the next best thing. Available in two-person and four-to-six-person servings ($115–$195), the fine-dining chain includes a shrimp cocktail starter, a classic Caesar salad, and either herb-roasted tenderloin or Chilean sea bass. Truffled macaroni and cheese, grilled asparagus, and au gratin potatoes arrive on the side, while Bananas Foster butter cake ends the meal with a bang. Oh, and there's a special treat for mom, too: hand-dipped chocolate strawberries and a long-stem rose. (122 Belvidere St., Boston; 617-358-9990)
Flour Bakery & Cafe
You could probably order just about anything from Flour and score immediate points — the carrot cake, the sticky buns, the quiche. You could also order a dinner for four ($100), featuring house smoked salmon with spring vegetables, cobb salad, and a lemon raspberry cake with edible flowers. Pickup is available through the Flour app, or you can request delivery via Caviar from Flour's Seaport, South End, or Harvard Square locations. (multiple locations)
Grotto
This sultry Italian spot on Beacon Hill has put together a three-course Mother's Day dinner for $110 (serves four). Choose from a range of appetizers, entrées, and desserts, like cauliflower soup, lasagna bolognese, and house made cookies. Grotto is also selling bottles of wine (limit two per order), which can be added to the prix-fixe menu for $10 per bottle. (37 Bowdoin St., Boston; 617-227-3434; order by May 8 at 6 p.m.)
SRV
While SRV has been closed since the dine-in ban, the South End restaurant is reopening for takeout and delivery just in time for Mother's Day. Its family-style Mother's Day menu ($40 per person) includes house made focaccia and a selection of appetizers, entrées, and desserts, like Italian rice and peas, rigatoni with pork, and tiramisu. Each order comes with a curated Spotify playlist that SRV chef Michael Lombardi hopes will channel his restaurant's vibes. Pickups will be available on May 10 at sister restaurant The Salty Pig. (130 Dartmouth St., Boston; 617-536-9500, order any day in advance between noon and 4 p.m.)
Summer Shack Cambridge
Give your mom the gift of a clam bake with Summer Shack's seafood spread. For $30 per person, she'll receive lobster, clams, corn, potatoes, chorizo, steamers, and shrimp — a veritable feast of the sea that can be picked up on Friday, Saturday, and Sunday between 12:30 p.m. and 7:30 p.m. The Cambridge spot also sells beer, wine, and cocktail mixes — cheers, mom! (149 Alewife Brook Pkwy, Cambridge; 617-520-9500)
Urban Hearth
Fans of Urban Hearth's brunch will find plenty of familiar dishes on its Mother's Day menu. Scoop up pecan sticky buns, a buttermilk biscuit breakfast sandwich, shakshuka, or a wild mushroom tartine — and perhaps a couple pantry items your mom might need around the house, like chicken bone broth and granola. (2263 Massachusetts Ave., Cambridge; 617-682-7295; order by May 9 at 6 p.m.)
Zuma
Contemporary Japanese newcomer Zuma has 50 brunch boxes available for Mother's Day. Make sure your mom gets one by placing an order for this at-home spread, which comes with prawn and black cod dumplings, a choice of two entrées, a shareable dessert, and an optional Champagne or Zuma Junmai Ginjo sake pairing. (1 Dalton St., Boston; 857-449-2500)