Restaurants
The Table at Season to Taste in Cambridge has permanently closed
"For these last four years, I've been the luckiest chef in the city," said chef Carl Dooley.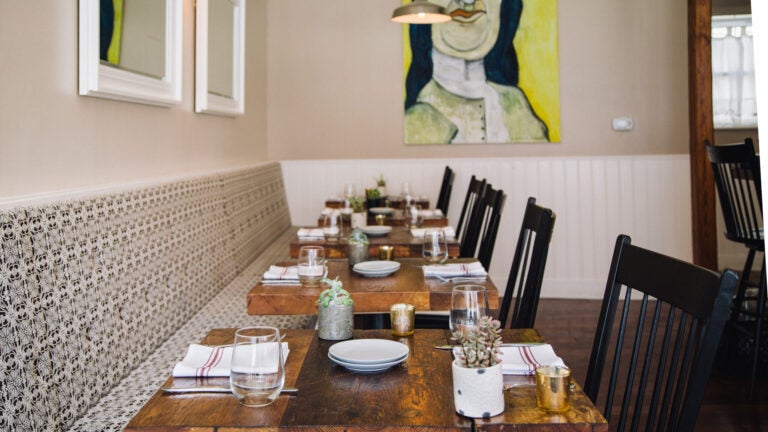 After temporarily closing due to the coronavirus pandemic, a revered restaurant in Cambridge has made the decision to permanently shutter.
The Table at Season to Taste, a charming, 20-seat bôite led by chef Carl Dooley, announced its closure in a press release on Friday, attributing the decision to COVID-19.
"As we try to navigate a new normal for restaurants and all food businesses in the midst of a global pandemic, as business owners we are left to make very difficult decisions," said Robert Harris, the former owner of The Table at Season to Taste and chef/owner at Season to Taste Catering and Season to Go. "In a matter of hours, both my award-winning catering business and restaurant were decimated. As we work to restructure and rethink what catering will look like in the year to come, we quickly gave launch to Season to Go, our new takeout and delivery brand. Sadly, and after much consideration beyond the loss of Season to Taste Catering, we had to shut the doors of The Table at Season to Taste as well. With no business coming into either venue, this is the sad and harsh reality I and the teams I employ all had to face."
Harris went on to say that he will be restructuring the catering business and growing new concepts that are "more in line with what the dining public is seeking in terms of pricing." Season to Go currently offers takeout and delivery from 5 p.m. to 9 p.m., Tuesday through Saturday.
Dooley, a "Top Chef" finalist and two-time James Beard Awards nominee, told Boston.com that the situation was bittersweet.
"I think, first and foremost, I'm really disappointed and saddened by the closure of the restaurant," he said. "At the same time, I realize these are challenging times we're in and am just focusing on celebrating what our team has accomplished. For these last four years, I've been the luckiest chef in the city."
Dooley said that while he thinks restaurants are going to face a tough time in the short term, communities will once again build up the small, independent restaurants that they know and love. He'll be taking this time to enjoy family life and to think about what kinds of projects he'll be tackling in the future, sharing that he feels excited for what's to come.
"Our food was about paying respect to the food histories that we were interested in and doing our best to honor those," he said. "I loved the food that we made at The Table and am looking forward to recreating that in the future."
The Table at Season to Taste opened in January 2016, and focused on highlighting seasonal ingredients through prix-fixe menus and wine pairings. Critics were enamored by Dooley's food, pastry chef Mary Edinger's desserts, and wine director Jesse Eslin's pairings. The restaurant repeatedly landed on OpenTable's list of the top 100 restaurants in America.
"The best memories at the restaurant are just the relationships we built with our guests, whether it was people celebrating a birthday and staying till 1 a.m. and drinking Fireball with the team," Dooley said. "People put their trust in us."