Restaurants
Recipe: Grandma's skillet-roasted chicken thighs from chef Anthony Caturano
Caturano's grandmother would often have this dish on the stove at home.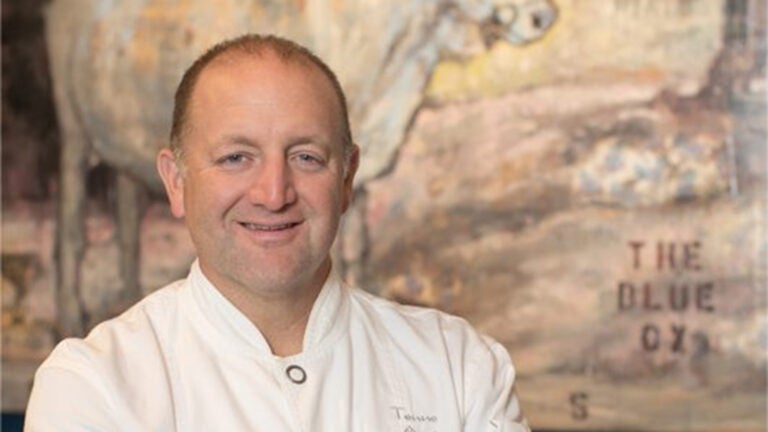 Chef and owner Anthony Caturano, like so many other restaurateurs impacted by the coronavirus pandemic, had to watch business at his three restaurants — Prezza in the North End, The Blue Ox in Lynn, and Tonno in Gloucester and Wakefield — crawl to a complete stop once the shutdown went into effect. But unlike a vast number of his peers, he didn't immediately pivot to takeout, telling Boston.com that he felt the risk simply wasn't worth it at the time.
Now he's back in the game: Caturano reopened his restaurants recently with takeout and, in the case of Prezza, began offering delivery as well.
"With the PPP [Paycheck Protection Program] money, we decided [takeout] would be a great way to ease back into being open," Caturano shared in an email. "Initially, we felt as if doing takeout would be too costly and the learning curve would be tough to adapt to. Now that we are open and doing it, things have been relatively smooth for us."
The chef said that text messages from his restaurants' regulars promising to come back have helped him get through this difficult time. He's also been spending time with his two young children, going archery hunting, and putting his new smoker to work. Caturano shared what else he's been up to since COVID-19 hit, plus a simple recipe for his grandmother's skillet-roasted chicken thighs.
This interview has been lightly edited and condensed for clarity.
How are you holding up?
It's been OK. I always try and look at the positive side.
What do you miss most about being in your restaurants right now?
I miss the camaraderie of the guests and the team we put together. We were just getting to a great point in the management and structure of the restaurants. The feedback from the guests each night was really great to hear, either in person or in messages they would send. I was so proud of everyone at each spot.
How are you keeping busy? What have you been doing to keep yourself grounded?
I have been spending a lot of time with my family. My wife and I have a two-year-old and a five-year-old. My day starts with a workout in the basement at 6 a.m. Then I make everyone breakfast, check some emails, do some things around the house, and then try and get on the phone with managers or people that are helping us get through all of this. I do a lot of archery hunting as well, so I have been shooting my bow a lot. I should be ready for the Olympics by the time this is over — too bad that got pushed off a year as well.
What has been a constant in your fridge/pantry as you've been cooking more at home?
Right before this happened I bought a new Humphrey's smoker — they're a small company in Maine. So I have been doing a lot of barbecuing at home and making a lot of things with venison. I harvested a few deer this year, so I have been making everything from smoked sausage to bolognese with it.
Tell us about this recipe.
My grandmother used to watch me after school on Wednesdays. We would spend Sundays at her house with the whole family, and when I was older I lived with her for a short time after I opened the restaurant. Although this isn't her exact recipe, I remember coming to her house and often she would have this dish on the stove. It wouldn't last long. From time to time I make this for myself or the kids.
Grandma's skillet-roasted chicken thighs with potatoes, lemon, and thyme
Serves two to three people.
Ingredients:
5 chicken thighs
2 smashed garlic cloves
1 sliced onion
1 cup of white wine
8 small red or yellow potatoes
1 lemon, cut into quarters
2 sprigs of thyme
Directions:
Sear five chicken thighs in a large cast iron skillet over a high flame. Add the garlic and sauté lightly, then add the onions and sauté with the chicken thighs. Deglaze the chicken thighs with white wine and cook down.
 Add the potatoes, lemon, and thyme to the skillet.
Roast everything in the oven at 375 degrees until the potatoes are tender. Remove from the oven and serve right in the pan or transfer to a platter.