Restaurants
Barra opened just a few weeks before the shutdown. Here's how the Somerville newcomer is coping.
"We're positive and happy when things go well, but the big struggle is financial," said Barra co-owner, Paola Ibarra.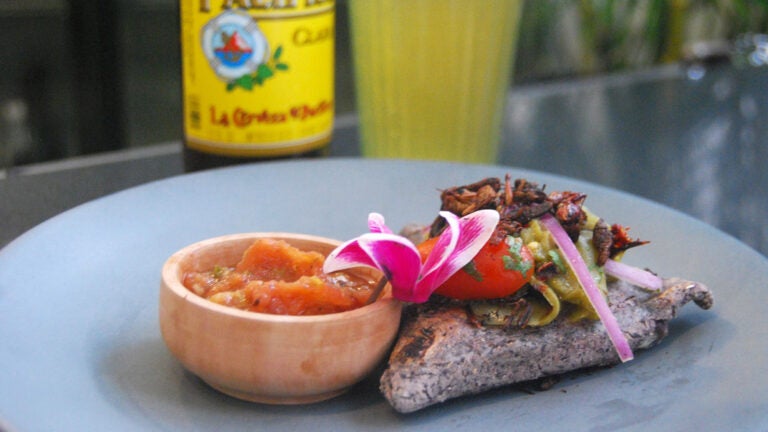 In our "My restaurant's story" series, restaurant owners in the Greater Boston area share how COVID-19 has affected their business. If you're a restaurant owner, you can share your story here.
Talk about unfortunate timing.
Paola Ibarra and Yhadira Guzmán opened Barra, a tiny, Mexico City-inspired bar in Somerville, in late February. The compact space fit 24 people, and focused on traditional Mexican fare utilizing local ingredients and contemporary techniques: esquites with clams, pumpkin tamales topped with homemade ice cream, and aguachile with fish, citrus, and avocado. Agave-based liquors filled the shelves, and were poured into margaritas rimmed with house salt and malverdes made with sotol, mint, cucumber, and yuzu.
Then, well, COVID-19 struck. Less than a month into its operations, Guzmán and Ibarra, who also designed the bar program at nearby Peruvian restaurant Celeste, were forced to close their doors and reconsider their options. The new business owners have since launched Barra To Go from their takeout window, offering enchiladas, chilaquiles, and kits like a beer, guacamole, and chips bundle. They also started selling homemade blue corn tortillas and cocktail mixers, a project that they had thought might come further down the line but has been sped up in the name of economic survival.
Boston.com spoke with Ibarra on what it has been like operating during the pandemic as a new business, and what she thinks a realistic opening might look like.
Name: Paola Ibarra
Restaurant: Barra, Somerville
Entries may have been lightly edited for clarity or grammar.
How has the community rallied behind you after being open for such a short time? 
[The community] has been crucial — a lot of our customers have been either people that we know or who have walked by and been curious. Fortunately, people have been coming back. We [recently] started delivery services; it expands our reach beyond the local community. We started using Toast; it came up with a new [delivery] option. They have a flat rate and monthly service fee, which was good for us because we still don't know the volume of delivery that we're going to have. The percentages that the big companies were charging by themselves were totally prohibitive to us.
Were you able to apply for the Paycheck Protection Program or any other loans?
We did apply to everything, but [the PPP] asks for your taxes and payroll from last year, so we have been rejected because we don't have the necessary documents. We haven't received help from anybody; we're managing to stay afloat just from our day-to-day operations. We're positive and happy when things go well, but the big struggle is financial. 
As a new business, do you feel that you are at more of an advantage or disadvantage compared to restaurants that have been around for a while? 
I  think we're all in the same boat, but we don't have enough operating financial background to get us through. Our staff that was so happy and excited about this new project are not with us right now, people don't know us that well — they think we're a bar because of the name and size and everything, but they don't know about the whole experience here. It's the same situation for everyone, but we have no financial aid and we're not that well-known. We're also building a name and just growing this from scratch. 
Do you think that reopening in May is realistic?
I don't think so. In my mind, I'm projecting two months from now. We're trying to adapt to this going forward if it [takes that long], which I'm totally for, but also welcoming the abnormality that is going to include a lot of what we're doing already. Some of the practices like the window curbside that we've been doing, having people just show up at the window — we hope those practices are allowed to stay. Maybe have more outdoor seating. We thought about having the window and serving fresh tortillas every day as a tangential project in the very beginning, and it's awesome that it's happening. It would be good if it stays.