Restaurants
Kowloon will debut its carhop and drive-in movie theater on June 25
"Never in my wildest dreams did we ever think this would happen," said Kowloon owner Bob Wong.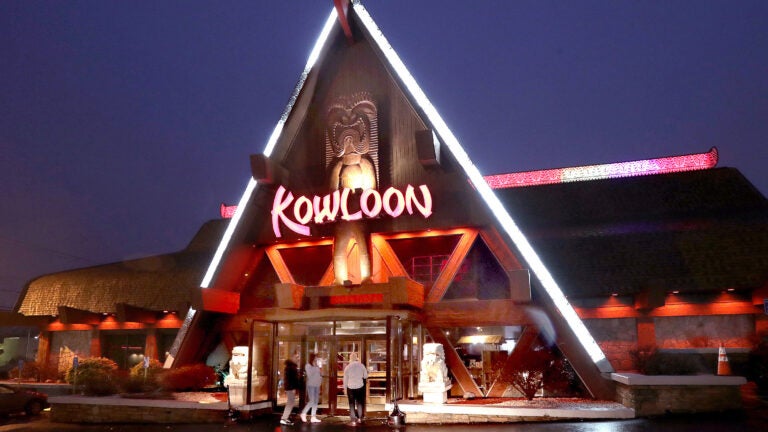 Longtime Route 1 dining destination and pu pu platter purveyor Kowloon has weathered the coronavirus pandemic like so many of its restaurant peers, offering takeout and delivery while its dining room is closed. On June 25, the Saugus restaurant will transform its parking lot into a drive-in movie theater and carhop, an interactive experience that will kick off with a grand opening concert featuring The Platters.
Kowloon's carhop and drive-in will be located in its expansive parking lot, which already includes a seasonal tiki bar that launched last year. An outdoor dining area has been set up with umbrella-covered tables, alongside a turf area where guests can bring their own blankets and lawn chairs. The drive-in theater section will feature a a 22-foot high, 40-foot wide movie screen and plenty of space for cars, with a movie schedule coming soon.
Guests who are frequenting the dining area, drive-in, and carhop will all be able to order from Kowloon's full menu, from egg rolls and salt and pepper shrimp to Singapore street noodles. Scorpion bowls, Mai Tais, and other cocktails will also be available.
"Never in my wildest dreams did we ever think this would happen," Bob Wong, who owns the restaurant with his siblings, said in a press release last month. "We are adapting and will keep going."
While a complete programming schedule has yet to be released, Kowloon has already booked Rock & Roll Hall of Famers The Platters, who will perform live in concert at the restaurant on June 25 at 6 p.m. A rain date is scheduled for June 26. Family movie nights, concerts, and sports games will all be part of Kowloon's entertainment lineup.
Kowloon joins a growing list of restaurants that have launched outdoor dining in Phase 2. Gov. Baker previously announced that indoor dining would be incorporated in Phase 2 at a later date, but has not yet revealed when that might be.