Restaurants
Recipe: Baker Daisy Chow's sourdough banana bread
The Breadboard Bakery owner is elevating quarantine's favorite baking project.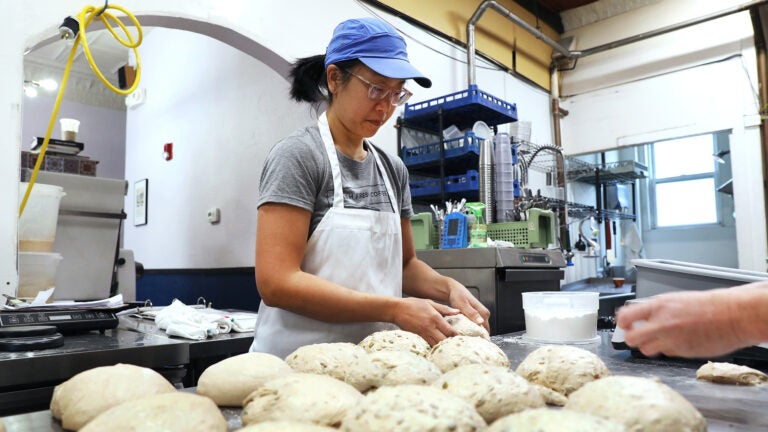 Pre-coronavirus pandemic, you might normally find Breadboard Bakery owner Daisy Chow in the open kitchen behind the Arlington bakery's counter, kneading dough to make sourdough bread or mixing batter for her chocolate wacky cake. These days, she's bringing her baked goods out to customers who have placed curbside orders online. (Arlington suspended pickup service inside restaurants, and only allows curbside pickup or delivery.)
Despite the shift, Chow, who opened Breadboard Bakery in November after a successful pop-up at Cutty's and a 15-year-stint at Clear Flour Bread, said that her day-to-day routine hasn't changed much.
"I go to work every single day, come home, eat half a bag of potato chips — we accept chips as tips, by the way — eat real food while watching an episode of something, and [fall] asleep," she said.
While everyone has been perfecting their own banana bread at home, Chow shared her sourdough version — based on a recipe from The Clever Carrot — with Boston.com, plus a few tips on what locals can do to help the restaurant industry right now.
This interview has been lightly edited and condensed for clarity.
How are you holding up?
I'm really tired. These days I get to sleep in a little, but I still work seven days a week.
What do you miss most about business-as-usual at your bakery right now?
I miss my entire staff. With a reduced staff in a small space, we can only produce so much every week. We used to have fun testing, baking, and eating, but now we bake with purpose.
How has takeout been going?
We've switched to a preorder model, which has helped with efficiency and meeting demand. As an added bonus, there's no food waste. It's actually been really great, and I wouldn't mind keeping this model up for a while.
What can locals do to help the restaurant industry right now?
For those businesses that are open right now, please read and follow their rules regarding pickup and takeout. Each business is managing the situation differently, and the rules are a reflection of their physical space, different towns' regulations, and number of employees free to help with locating orders (usually one). You'll get your food faster and more safely.
What has been a constant in your fridge/pantry as you've been cooking more at home?
Long-lasting root vegetables and dried beans. I've always loved heirloom varieties of beans, and Misty Brook Farm grows some amazing beans in Maine. We're really into yellow eye beans right now.
Tell us about this recipe. 
It's my style because I like using up stuff, and it's pretty flexible. I bake this in my toaster oven.
Sourdough banana bread
Ingredients:
2 very ripe (beyond eating), blackened bananas
230 grams brown sugar (or 200g granulated sugar + 30g molasses)
3 grams vanilla (a quick glug will do)
2 eggs
120 grams active 100 percent sourdough starter (starter fed with a one-to-one ratio of flour to water)
240 grams flour (you can use all-purpose, spelt, sifted/bolted flour, pastry flour, or you can substitute in 50 grams whole wheat or rye if you want)
7 grams baking soda
3 grams salt
125 grams oil
50 grams milk (oat, soy, or almond is also fine)
Directions:
Preheat oven to 375 degrees. Grease a 9×5-inch loaf pan with butter, shortening, or pan spray. Make sure you get the corners and up the sides really well. For insurance, you can make a parchment sling, 9×18 inches, to line your pan.
Combine flour, baking soda (make sure there are no lumps), and salt in a bowl. Set aside.
Combine bananas, sugar, oil, and vanilla in another bowl. Beat with a wooden spoon until the bananas are small lumps and the mixture looks creamy. Add eggs and sourdough starter; combine well.
Add the flour mixture to the banana mixture. Add milk and mix until just combined. Pour into prepared pan.
Turn oven down to 350 degrees and bake for 60 to 70 minutes until a toothpick comes out clean. Cool in the pan for 20 minutes, then transfer to a wire rack to cool.