Restaurants
Farmers' markets are slowly starting to open. Here's what to expect.
Wear a mask, leave your cash at home, and pre-order when possible.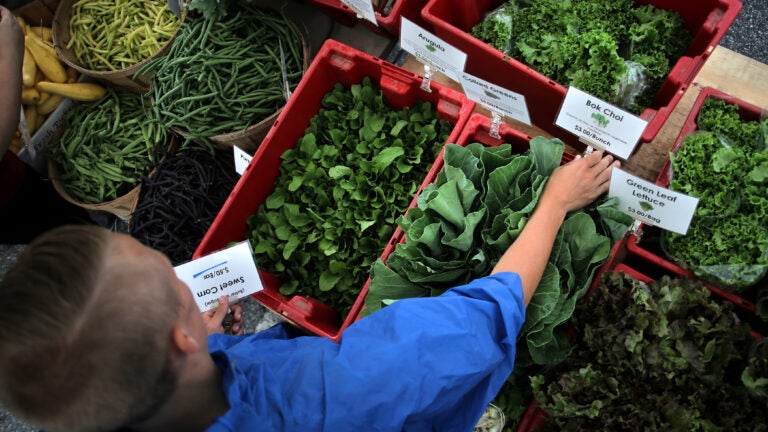 Along with grocery stores, restaurants, packies, and farm stands, Massachusetts deemed farmers' markets an essential business at the onset of the coronavirus pandemic. But as market season approaches, what exactly will shopping outdoors with your favorite vendors be like?
We turned to Mass Farmers Markets, which constructed a list of best practices for markets looking to reopen amid the pandemic by working with the Massachusetts Department of Agricultural Resources and the Department of Public Health. Based on their guidance, here's what shoppers can expect:
Keep your distance. Social distancing measures of standing six feet apart will be encouraged, and vendors will be spaced out more to reduce crowding. There may also be capacity limits and visual cues that indicate one-way corridors and other spacing restrictions.
Say goodbye to samples. Vendors will eliminate samples to reduce the risk of contamination.
Don't touch the produce. Similar to meat and seafood counters at grocery stores, shoppers will need to point at what they want to purchase instead of picking it up, and vendors will handle each product until a payment is made.
Limit your reusable bags. You can bring reusable bags, but market staff and vendors won't handle them. Instead, they'll provide bags for use.
Wash your hands. Expect to see portable hand washing or hand sanitizer stations. All market staff will also be required to wear disposable gloves.
Leave cash at home. Cash transactions will be minimized, and vendors will wipe down credit card readers and point-of-sale systems between transactions.
Wear a mask. Shoppers are asked to wear a mask for the entire time they're at the market. All market staff will be required to wear masks.
Stay home if you're sick. Anyone displaying symptoms of COVID-19 may be asked to leave the market.
Mass Farmers Markets, which recently relaunched its three locations in Central Square, Copley Square, and Davis Square, also encourages shoppers to schedule visits by reserving time slots online. A handful of their vendors allow shoppers to place online orders which can then be picked up at the market.
"We were very actively engaged in thinking through this," said Edith Murnane, executive director of Mass Farmers Market. "I think we have been particularly good in thinking through visual market rules as well as our shopper guidelines — we're in the midst of having that translated into five or six different languages."
Meanwhile, the Roslindale Village Main Street Farmers Market, which opens for the season on June 6, will turn into a grab-and-go market, and will request that shoppers limit their market time to 15 minutes and pre-order ahead of time when possible. Somerville's Union Square Farmers Market, which opens on Saturday, asks shoppers to sign a pledge that lists requirements such as wearing face masks, reserving time slots, and leaving "furry friends at home unless they're service animals."
The bottom line: Treat a farmers' market like you would any other essential business at the moment, taking care to protect both yourselves and those around you.
These farmers' markets are currently open for the season. Check with each market for specific guidelines and protocols.
Boston Public Market outdoor market: Mondays, Wednesdays, Fridays, and Saturdays from 11 a.m. to 3 p.m. (100 Hanover St., Boston)
Central Square Farmers Market: Mondays from noon to 6 p.m. (76 Bishop Allen Drive, Cambridge)
Charles River Farmers Market: Fridays from noon to 6 p.m., Saturdays from 10 a.m. to 3 p.m. (1 Bennett St., Cambridge)
Copley Square Farmers Market: Tuesdays and Fridays from 11 a.m. to 6 p.m. (Dartmouth & Boylston St., Boston)
Davis Square Farmers Market: Wednesdays from noon to 6 p.m. (Day St. & Herb St., Somerville)
Haymarket: Fridays from 3 a.m. to close, Saturdays from 4 a.m. to close (Blackstone St. between Hanover St. and North St.)
Union Square Farmers Market: Saturdays from 9 a.m. to 1 p.m. (66-70 Union Square, Somerville)