Restaurants
We asked, you answered: Here's what Boston.com readers need to feel safe dining at a restaurant
A coronavirus vaccine is not the No. 1 priority.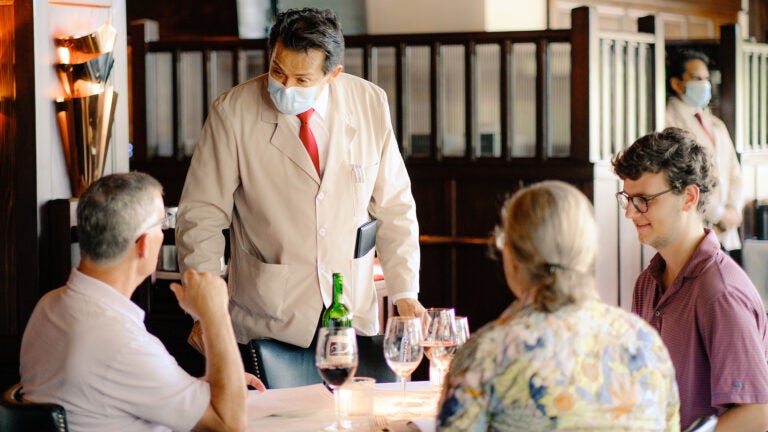 As the state begins its recovery from the coronavirus pandemic and restaurants start to prepare for a Phase 2 opening, we wanted to know: What precautions would make you feel safe enough to dine at a restaurant again?
Over 2,700 Boston.com readers responded to our poll, voting for safety measures that included disposable or digital menus, temperature checks for restaurant employees, and hand sanitizer stations. Here's how the official results shook out:
Tables spaced at least six feet apart: 11%
Hand sanitizer stations: 11%
Disposable or digital menus: 10%
Restricted dining room and/or table capacity: 9%
A vaccine: 9%
Eliminating self-service stations: 9%
Face masks for restaurant employees: 9%
Temperature checks for restaurant employees: 7%
Face masks for employees and diners: 6%
Temperature checks for employees and diners: 6%
Mandatory reservations: 6%
Mandatory reservations with a time limit: 5%
Other: 2%
The results indicated that while a coronavirus vaccine was an important factor, more readers would feel safe with precautions like tables spaced six feet apart, hand sanitizer stations, disposable or digital menus, and restricted capacity. It also revealed that while face masks for restaurant employees would be appreciated, diners themselves were less willing to don masks while dining out.
Readers also shared their own insights into what they would need to feel safe. Many suggested outdoor seating only, a prospect that restaurants will soon be able to take advantage of — the Boston Licensing Board recently approved an emergency measure that allows restaurants to add outdoor seating once the dine-in ban lifts. Other suggestions included plastic table dividers, increased cleaning and disinfecting protocols, improved air filtration systems, contact tracing, contactless payment, disposable cutlery, and one-way aisles.
There were also plenty of readers who either said that it was too soon to dine at a restaurant and that they will be staying away until they feel safe, or that restaurants should open now and they're ready to dine out regardless of safety precautions. "Absolutely nothing would make me feel safe at a restaurant right now," wrote a member of the former group, while a member of the latter said that "No changes needed. Restaurants should open now with NO restrictions."
Both groups will be able to exercise their decision when Phase 2 begins and restaurants are allowed to reopen.