Restaurants
This weekend: Stock your fridge for Memorial Day picnics and barbecues
Plus, the food news you may have missed this week.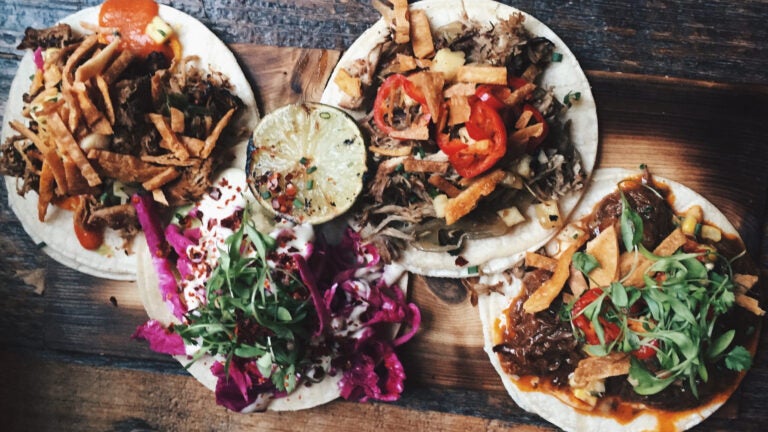 We're all eating a little differently these days: Cooking at home more. Ordering takeout. Buying beans in bulk. And that's the way it's going to be for a while, at least until the Massachusetts dine-in ban lifts and it's safe to start eating at our favorite restaurants again. In the meantime, here's what's been going on in Boston's restaurant world recently, plus a few ways to enjoy some of our region's best restaurants and bars from the comfort of your own home.
Here's what you may have missed this week:
This week was all about Gov. Charlie Baker's four-phase reopening plan, which has restaurants reopening in Phase 2 — and bars opening in Phase 3. Here's what restaurant owners had to say about that.
A flurry of closures happened this week, including Coda Bar & Kitchen, Cuchi Cuchi, and Dante. Artú also announced that it will be closing on May 30. Can't keep up with all the closings? Here's a list of restaurants that have shuttered amid the coronavirus pandemic.
Need to elevate your banana bread this weekend? Try baker Daisy Chow's version.
When restaurants are allowed to reopen their dining rooms, what would make you feel safe? Let us know by taking our poll.
Netflix & Swill:
While I patiently wait for "Space Force" to come out on Netflix (May 29!), I'm going to hold myself over with "The Lovebirds," a comedy that starts streaming on Netflix Friday. It stars Kumail Nanjiani ("The Big Sick") and Issa Rae ("Insecure") as a couple that finds themselves swept up in a murder mystery, and, well, hilarity ensues. What are you watching this weekend?
As for Memorial Day weekend drinks, my inbox wants you to know: It's officially the start of rosé season. And to be honest, I guess we could all use something pink and bubbly to make us feel a little better right now. While you're stocking up for the three-day weekend, consider ordering a bottle of the good stuff from a local wine shop. At Violette Wine Imports in Cambridge, pick up a cheerful bottle of Travis Tausend Agori Rosé. Swing by Somerville's Rebel Rebel for Scribe Winery's Pét Nat Rosé (or better yet, order ahead to make sure you secure a bottle). In Jamaica Plain, Streetcar Wines — my neighborhood go-to — is selling a bunch of great options, like a 2018 Las Jaras Rosé and, if you really want to diversify, a rosé sampler pack with six different bottles. Pour yourself a glass, find a stoop or porch to sit on, and revel in the fact that summer is almost here.
Eating and cooking alone, together:
One of the challenges of taking time off or celebrating a holiday while sheltering in place is that it certainly doesn't feel like taking time off or celebrating a holiday. I've had to remind myself multiple times this week that Monday is Memorial Day, I have a three-day weekend, and, well, what am I going to do about it? As usual, I'm going to turn to food — a picnic, maybe, or a small barbecue in the front yard. And restaurants are here to help with that. The Backroom at Moody's has a baby back ribs dinner in the lineup; orders should be placed by 5 p.m. on Friday. Charlie's Kitchen offers a family-style Memorial Day menu with seafood combos and burger packages for four (order by 3 p.m. on Friday), while Loco Tequila & Oyster Bar in Southie has put together a Summer's Not Canceled kit with oysters, street corn, marinated steak to make a dozen carne asada tacos, chips and salsa, guacamole, and a bottle of rosé. Missing Guy Fieri? Pick up Guy's Big Block Party package at Guy Fieri's Tequila Cocina, which includes four fajita dinners, chips, guacamole, salsa, crazy corn, churros, and Mexican soda.
Another cooking show on IG Live? Ok, but hear me out — this one's for charity. Blue Dragon chef Ming Tsai rounded up a few celebrities — Reese Witherspoon, Paris Hilton, José Andrés, and others — to virtually join him in his kitchen to cook and raise money for the Boston-based charity, Family Reach. Tune in to his Instagram on Sunday at 4 p.m. when the first guest chef, José Andrés, will kick things off.
Now here's a cool revamp: A long-closed grocery store has taken over the lounge at Café du Pays — at least in spirit. After originally opening in 1916, the grocery store changed its name to Vincent's in 1925 and proceeded to survive two world wars and the Great Depression. Now Vincent's Grocery is back and setting up shop at Café du Pays in Cambridge, where customers can purchase groceries, beer, and wine, plus prepared items like poutine and hot dogs.