Restaurants
Read the guidelines for Massachusetts restaurants reopening in Phase 2
Outdoor dining will begin at the start of Phase 2, while indoor dining will come at a later date.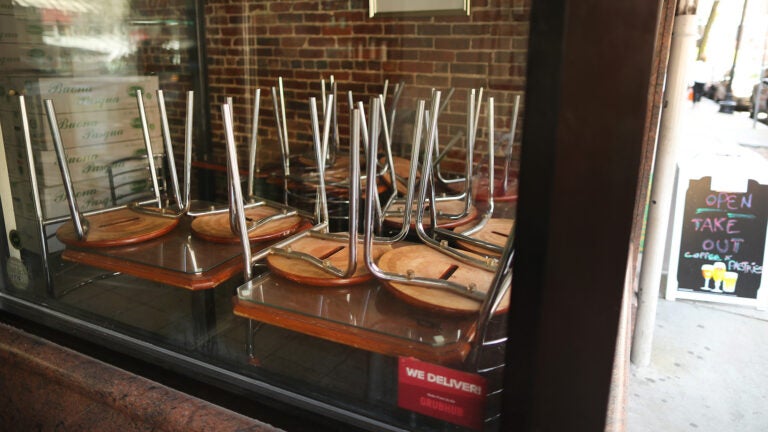 Gov. Charlie Baker and Lt. Gov. Karyn Polito announced industry-specific guidelines and a checklist Friday for all restaurants that will be opening in Phase 2 of the state's four-phase reopening plan. Restaurants will be allowed to start offering outdoor dining at the start of Phase 2, which could begin on June 8 at the earliest. Indoor dining will follow at an unspecified date within Phase 2, subject to public health data.
Restaurants will have to adhere to a checklist that includes social distancing, hygiene, staffing and operations, and cleaning and disinfecting. Here are some of the checklist guidelines that restaurants will have to follow:
Tables must be positioned at least six feet apart from all other tables and any high foot traffic areas;
The size of a party seated at a table cannot exceed six people;
Restaurants may not seat any customers at the bar, but bar areas may be re-configured to accommodate table seating that complies with all other COVID-19 safety requirements;
Directional hallways and passageways must be established for foot traffic if possible, to minimize contact;
Work schedules and staff meal and break times should be staggered, regulating maximum number of people in one place and ensuring at least six feet of physical distancing;
Face coverings for all customers and workers are required at all times, except where an individual is unable to wear a face covering due to medical condition or disability (customers may remove face coverings while seated at tables);
Alcohol-based hand sanitizers with at least 60 percent alcohol should be made available at entrances, exits, and in the dining area;
Self-serve, unattended buffets, topping bars, drink stations, and other communal serving areas must remain closed;
Menus must be one of the following: 1) paper, single-use menus disposed after each use, 2) displayed menu (e.g., digital, whiteboard, chalkboard), 3) electronic menus viewed on customers' phones / mobile devices;
Utensils and place settings must be either single-use or sanitized after each use; utensils should be rolled or packaged. Tables should not be pre-set to reduce opportunity for exposure;
When possible, reservations or call ahead seating should be encouraged; managers must ensure that diners waiting for tables do not congregate in common areas or form lines;
Restaurants will be allowed to maximize outdoor dining space, including patios and parking lots where available, where municipal approval is obtained.
A restaurant, hotel, and tourism reopening group within the state's original reopening advisory board was formed to help create the checklist along with other industry-specific guidelines.
"I just want to acknowledge the sacrifices that so many people in the restaurant and lodging industries have made since the start of the fight against COVID-19," Polito said. "Your restaurants and businesses make up the fabric of our commonwealth and define our economy and our communities."
According to Baker, the decision to proceed with outdoor dining ahead of indoor dining was reached after receiving guidance from public health officials indicating that outdoor dining offers better ventilation and gives restaurant staff a chance to get comfortable with the new layout of tables spaced six feet apart. Baker also said that colleagues in other states that started with outdoor dining first shared positive feedback.
"And it is spring," he added.
Polito said that the administration is working with their partners in the legislature to streamline the local permitting process for outdoor dining.
Restaurants also have to adhere to the state's general business requirements, which includes submission of a COVID-19 control plan template and displaying a compliance attestation poster that's visible to workers and visitors, as well as displaying additional employer and worker posters.
Some members of the restaurant industry took issue with the lack of an official indoor dining opening date.
"We are appreciative to have the beginning of our re-opening process and we certainly understand the need for continued good data," said Bob Luz, president and CEO of the Massachusetts Restaurant Association, in a press release. "Regulations, standards and proposed next steps are welcomed, but what restaurateurs in the State of Massachusetts still need is a firm opening date. The Massachusetts food and beverage industry is the second largest private employer and has been closed for more than 75 days. Restaurateurs need time to work with suppliers to restock perishable inventory, employees need to be notified about returning to work and there needs to be sufficient time to conduct other due diligence to ensure restaurants can open effectively."
Read the full checklist here: