Restaurants
Here are 60+ Black-owned restaurants to support in the Greater Boston area
Many are still open for takeout and delivery.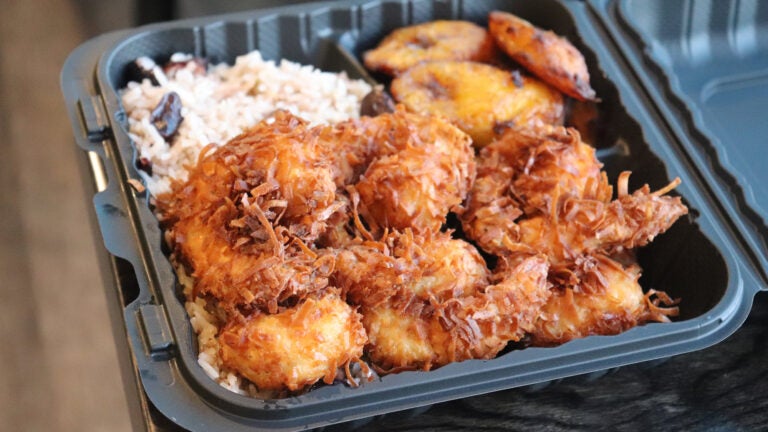 As rallies and vigils continue in Boston and across the country to denounce the killing of George Floyd, protest police brutality, and support the Black Lives Matter Movement, many people are choosing to show their support by putting money behind Black-owned businesses and restaurants.
Boston's Black community has been disproportionately affected by COVID-19, leaving the city's Black restaurant owners facing a public health crisis and its economic fallout amid a nationwide reckoning for racial justice.
Want to support Boston's Black-owned restaurant community with your dollars? Here's a list of places to start.
* Restaurants denoted with an asterisk are currently offering takeout or delivery. Did we leave any out? Please let us know in the comments or by emailing [email protected].
Allston
Rock City Pizza*
Dorchester
50Kitchen*
Antonio's Pizzeria*
Auntie Vie's Bakery Cafe*
Bon Appetit*
Bred Gourmet*
Cesaria*
Clarke's Cakes & Cookies*
Country Kitchen*
Down Home Delivery*
Family Affair Restaurant & Catering*
Irie Jamaican Style Restaurant*
Island Style Jamaican Restaurant*
JP Roti Shop*
Levi's Restaurant and Lounge
M & M BBQ*
Murl's Kitchen*
Natif Natal Restaurant*
Next Step Soul Food Café
Oasis Café*
Oasis Vegan Veggie Parlor*
One Family Diner*
Ripple Cafe*
Singh's Roti Shop*
Taste of Eden*
Vaughan Fish & Chips
Wingz & Tingz*
Yelu's*
Downtown
Savvor Restaurant & Lounge
East Boston
Tawakal Halal Café*
Hyde Park
D Coal Pot*
Farah's Cafe Restaurant*
Las Vegas Seafood Restaurant*
Wingz & Tingz*
Zaz Restaurant*
Jamaica Plain
Blue Nile Restaurant*
Ethiopian Cafe*
Exodus Bagels*
Jamaica Mi Hungry*
Mattapan
Au Beurre Chaud Bakery*
Blue Mountain Jamaican Restaurant*
Cafe Juice Up*
Caribbean Flavors*
Golden Krust*
Las Vegas Express Restaurant*
Le Foyer Bakery
Pit Stop Barbecue*
Prestige Cuisine
Shea Butter Smoothies
Roslindale
Obosá
R&S Jamaican Restaurant*
Roxbury
Ashur Restaurant*
Dayib Cafe
District 7 Tavern
Fasika Cafe*
Food for the Soul*
Fort Hill Bar + Grill
Ideals Sub Shop*
Maxine's on St. James*
Nos Casa Café
Silver Slipper*
Soleil*
Suya Joint*
Top Mix*
South End
Darryl's Corner Bar + Kitchen*
Lucy Ethiopian Cafe*
MIDA*
Slades Bar + Grill
Wally's Cafe Jazz Club
Multiple locations
Ali's Roti
Devonish Kitchen*
Discover Vegans*
Flames Caribbean Restaurant
Fresh Food Generation
Jamaica's Best Restaurant (West Bridgewater location closed, Brockton location open)*
Only One Jamaican Restaurant*
P&R Jamaican Restaurant*
Larry J's BBQ (Boston location closed, Revere location open)*
Greater Boston
Asmara* (Cambridge)
Bistro 781 (Waltham)
Brother's Kafe Kreyol (Everett)*
Bytes Cafe (Cambridge)*
Fasika Ethiopian Restaurant (Somerville)
French Press Bakery & Cafe (Needham)*
Highland Cuisine (Somerville)*
Infused Kreyol (Malden)
Karibu (Waltham)*
Neighborhood Kitchen (Medford)*
Oggi Gourmet (Cambridge)*
Petsi Pies (Somerville)*
Pikliz International Kitchen (Somerville)*
Puritan & Co. (Cambridge)*
Rhythm N' Wraps (Brookline)*
Sunrise Cuisine (Somerville)*
The Coast Café (Cambridge)*
The Little Crêpe Café (Cambridge)*
Tipping Cow Ice Cream (Somerville)