Restaurants
How restaurants are supporting Black Lives Matter and the recent protests
Even while struggling due to COVID-19, these restaurants are donating, hosting talks, and supporting protestors.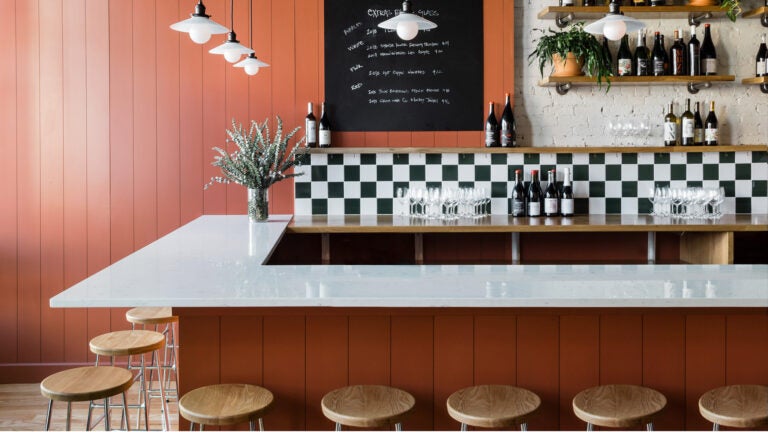 The coronavirus pandemic has crippled the restaurant industry, resulting in a number of permanent closings around the Boston area. Despite Phase 2's imminent start date, the industry has already lost an estimated 8 million jobs and an estimated $80 billion in revenue as of the end of April.
Still, restaurants have long been a source of fundraising and community support, and the latest peaceful rallies and vigils held in protest of police brutality and support of Black Lives Matters are no exception.
The following Boston restaurants and breweries are contributing to Black communities and causes by donating, hosting events, and providing food and water to protesters — even while their own businesses are struggling.
The Brighton brewhouse has hosted virtual beer dinners since the beginning of the coronavirus pandemic, but its latest event comes with a side of community discourse. Brato has partnered with local bishop John M. Borders for a dinner table talk on Sunday, in which Borders will facilitate a discussion centered around racial justice. Tickets are $60 and include a dinner package for two, a 32-ounce growler, and a $15 donation toward Lawyers for Civil Rights Boston, which utilizes legal action, education, and advocacy to fight discrimination on behalf of immigrants and people of color.
Black Sabbath meets Black Lives Matter on Curio Coffee's new t-shirt, which was designed to raise funds for the ACLU of Massachusetts. Pre-order the Cambridge coffee shop's t-shirts now, and they'll become available in a few weeks.
In a recent Instagram post, Dorchester Brewing Co. and its in-house restaurant, M&M BBQ, shared that they were "incredibly saddened by recent events and the deaths of George Floyd and all other Black Americans who have been unjustly killed. Our hearts go out to the families, friends and communities impacted by this incredible loss." To honor these lives and to fight social injustice, the brewery pledges to donate $2 from every crowler sale through June 17 to the Louis D. Brown Peace Institute, a Dorchester-based organization that serves as a healing center for families and communities impacted by murder, trauma, grief, and loss.
South Boston wine bar Gray's Hall will host a barbecue night on Friday in support of the Southern Poverty Law Center, an organization that uses advocacy to fight hatred and bigotry and seek social justice. Diners can place an online order through Gray's Hall's website for plates of pulled pork and brisket, a quarter rack of ribs brushed with Gray's barbecue sauce, macaroni and cheese, and cornbread, along with a selection of beer and wine to-go. Alongside their food order, diners can place a donation to the center, which Gray's Hall and sister restaurant American Provisions vows to match. Orders can be picked up at Gray's Hall on Friday starting at 5 p.m.
Throughout the week, Mei Mei chef/owner Irene Li has made donations on behalf of staff members to organizations of their choosing, including National Bail Out, The Loveland Foundation, and Black and Pink. "The money is coming from a fund that I'd saved for our next expansion project, but we've had to cancel some plans, and our business needs a just and equitable world to expand into," she shared with Boston.com. In addition to the donations, Mei Mei is also running a special through next week: Diners who send a receipt of their $100+ donation to any organization can add a dozen oranges to their Mei Mei takeout order. Receipts and order numbers can be sent to [email protected]
For every person who signs up for one of Rebel Rebel's wine classes in June, the Somerville wine bar will donate to Black and Pink Boston, a national prison abolition organization that offers support for incarcerated LGBTQ and HIV positive people. Sunday's class is all about Riesling, and the bar pledges to talk about the racism that revolves around sweet wine.
Head to Newton on Sunday for Sycamore's pop-up Sandwich Shoppe, held from 11:30 a.m. to 1:30 p.m. The one-day event will feature a small menu with items like sweet pea falafel and grilled lamb sausage, with all proceeds going toward the National Urban League.The pop-up is available for walk-up orders and accepts cash only.
South Indian food spot Vaanga couldn't afford to repair damage from any potential protest break-ins at its Water Street location in downtown Boston. It did, however, want to support the cause. On Tuesday, the restaurant put boxes of food and water below a sign outside its windows, which read: "Please don't break in. All we have is 'food' inside and we are leaving some 'meals' for you below this sign." Despite the looting and vandalism that occurred in downtown Boston Sunday night, Tuesday's protests were peaceful and didn't result in any destruction at Vaanga.
Need to stock up on breakfast goods? From Friday to Sunday, Somerville shop Vinal Bakery will donate 50 percent of its English muffin pack sales to the Boston Black Hospitality Coalition, an organization formed to raise awareness of the disproportionate effect the coronavirus pandemic has on Black-owned restaurants. "We know firsthand how a restaurant can create community and shared experiences," the bakery wrote in an Instagram post. "We want to actively support Black hospitality leaders in their mission to do the same."