Restaurants
Here's what dining outside on Moody Street in Waltham will look like next week
"It's better than nothing," said Joco's owner Jonathan O'Connor.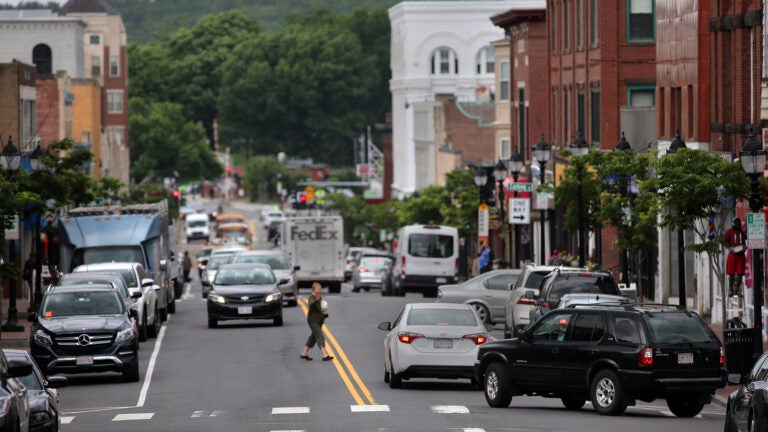 While Gov. Charlie Baker won't make an official announcement regarding Phase 2's start date until Saturday, restaurants are already gearing up for a potential June 8 opening when they will be allowed to offer outdoor dining service (indoor dining will follow at a later date). So where are all those patio tables going to fit when everyone is suddenly dining al fresco?
One city has decided to open up its streets. On Tuesday, the Waltham Traffic Commission approved a temporary closure on Moody Street between Crescent/Pine Streets and Maple/High Streets, starting the week of June 8 and continuing through November 1.
The closure is an effort to help restaurants and small businesses serve customers while indoor spaces are still shuttered, turning one section of Moody Street into a pedestrian-only thoroughfare. A detailed map of the street closures indicates that while on-street parking will not be available, public and private parking lots will still be open. Other changes include bus reroutes, detours, and Walnut Street becoming a two-way street between Adams and Moody Streets.
The city also compiled a list of Moody Street restaurants that are currently open for takeout and delivery, and will be adding a list of restaurants offering outdoor dining in the near future.
Jonathan O'Connor, owner of Joco's at 450 Moody St., said he would be taking advantage of the opportunity. He said that the city is giving everyone the space in front of their storefront area plus a section of the street, which includes parking spaces. For Joco's, this means four tables seating four people at each, for a total of 16 people able to dine outdoors — roughly 10 percent of the pub's normal capacity.
"I think it's a great opportunity," O'Connor said. "It's better than nothing."
Check out the map below for a detailed description of the changes.