Restaurants
This weekend (and beyond): Support Boston's Black restaurant community
Plus, the food news you may have missed this week.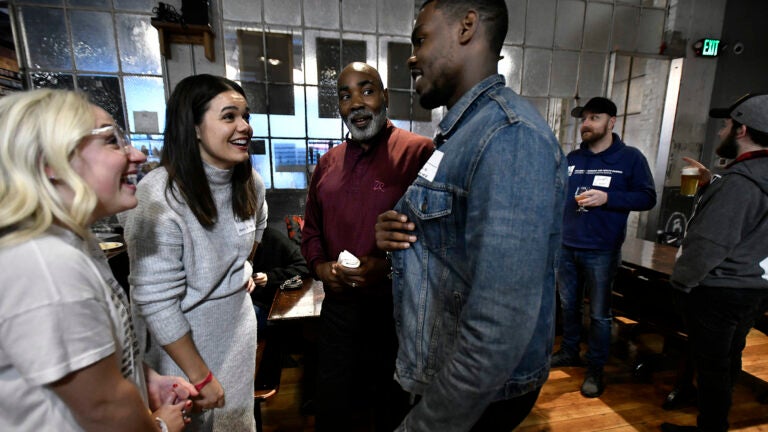 While restaurants are preparing to open their outdoor dining spaces in Phase 2 next week, today's weekend food roundup will focus on the recent protests and nationwide call for racial equality and social justice, and how you can help support Boston's Black restaurant community.
Here's what you may have missed this week:
This past week was marked by protests and vigils denouncing the killing of George Floyd, protesting police brutality, and supporting the Black Lives Matter Movement. Those looking to support the Black community with their dollars should take a look at our list of Black-owned restaurants, which is growing by the day.
Even while struggling due to COVID-19, some restaurants in Boston are still doing their part to support the Black Lives Matter Movement. These restaurants are donating, hosting talks, and supporting protestors.
Local business owners react after their shops were vandalized, looted Sunday night. "I'm totally for free speech, and we should be able to voice our opinions, but not to the point of hurting," said Anna Barounis, owner of Giorgiana's.
Earlier this week, Massachusetts breweries, beer gardens, wineries, and distilleries were added to Phase 2. Meanwhile, bars were pushed back to Phase 4.
So what will outdoor dining during Phase 2 look like? Moody Street in Waltham has released a plan to reconfigure the city's bustling thoroughfare.
Netflix & Swill:
You may have seen them pop on your Instagram, Twitter, and Facebook pages this past week: A bevy of anti-racist resource lists, with many featuring the Netflix documentary 13th, among other books, movies, and podcasts. The award-winning film from Ava DuVernay explores racial injustice in the United States, and posits that slavery has been allowed to continue in this country through a variety of tactics, including mass incarceration, the prison-industrial complex, and a war on drugs that disproportionally affects minorities. It is impactful, it is important, and I am watching it again this weekend.
Dot Day is usually held the first weekend in June, a celebration of Dorchester marked by a community parade. While this year's parade is cancelled due to COVID-19, Dorchester Brewing Co. is highlighting the occasion with free delivery (with a $35 minimum) on Saturday. The brewery is also donating $2 from every crowler sale from now until June 17 to the Louis D. Brown Peace Institute, a Dorchester non-profit supporting families that have lost a loved one due to violence (in-house restaurant M&M BBQ will match the donation). So here's the move: Order a Dorchester Day pack ($25), which includes a DBco bandana, trucker hat, t-shirt, and a beer glass, then add a crowler to your order. Throw in an order from M&M BBQ, like a rack of pork ribs or crispy jumbo wings. And when the brewery is allowed to reopen its rooftop patio, come back for more.
Eating and cooking alone, together:
https://www.instagram.com/p/CA6KlTRgnvN/
You may know Claudiane Philippe from her stunning Instagram feed @nailthecocktail, where she highlights vibrant cocktails and her always-on-point manicures. Her latest at-home cocktail creations are a tribute to Black men and women killed by police, with each photo accompanied by a recipe for the drink and a photo of the victim. Scroll through her feed to find tributes to Philando Castile, Sandra Bland, Atatiana Jefferson, and Breonna Taylor, who would have turned 27 on Friday.
Make it a point to stock up on English muffins this weekend: On Friday, Saturday, and Sunday, Somerville spot Vinal Bakery will donate 50 percent of its English muffin pack sales to the Boston Black Hospitality Coalition, a local organization that formed to raise awareness of the disproportionate effect the coronavirus pandemic has on Black-owned restaurants.
Read this: Chef and cookbook author JJ Johnson wrote a powerful piece for Esquire this week on the importance of putting your money where your mouth is — namely, if you believe that Black Lives Matter, spend money at Black businesses. He addresses the need to support these restaurants long after the protests have subsided, and to reconsider the culinary rut you may be in. "Ask yourself, where do you eat?" Johnson wrote. "Are you eating in the same (white) neighborhoods again and again, or are you seeking out businesses in new, diverse neighborhoods?…When you purchase delicious food or amazing clothing or hair products or anything else made or sold by black people, it keeps our businesses from failing, allows us to build our values into society, allows our kids to have a place to start from that isn't zero. It is simple."