Restaurants
These Boston restaurants have officially reopened for outdoor dining
It's beginning to feel a lot like summer.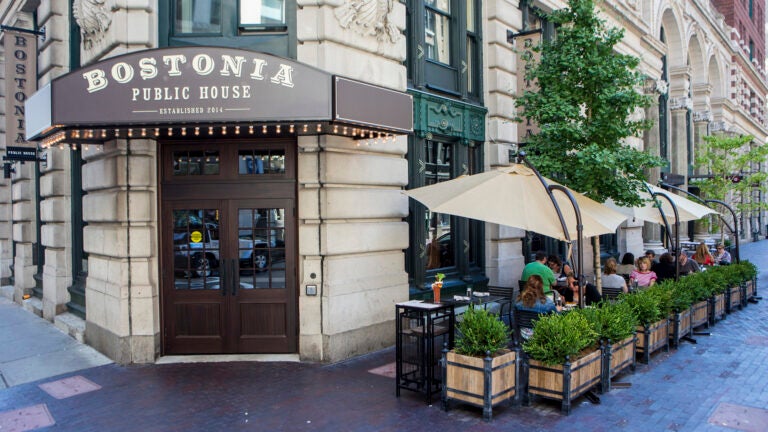 Nearly three months after Gov. Charlie Baker suspended dine-in services due to the coronavirus public health crisis, restaurants are now allowed to open for outdoor dining during Phase 2, which began Monday.
Baker announced the news Saturday, and will give the go-ahead to relaunch indoor dining at a later date in Phase 2 once public health data indicates a continued positive progression.
Breweries, beer gardens, wineries, and distilleries are also allowed to open Monday, provided they offer seated food service under retail food permits issued by municipal authorities, and all establishments must follow guidelines that includes social distancing, hygiene, staffing and operations, and cleaning and disinfecting.
Can't wait to start brunching on your favorite patio? Here are the local restaurants that have just opened their outdoor spaces for al fresco dining.
This list will be continuously updated as more restaurants open their patios. 
Boston
753 South Restaurant
Roslindale's neighborhood bar and restaurant 753 South is now offering outside dining on Tuesdays through Sundays from 5 p.m. to 10 p.m. (753 South St., Boston)
Alcove
Take in a view of the Zakim bridge from Alcove's patio, which opens Tuesday at 5 p.m. Reservations only. (50 Lovejoy Wharf, Boston)
Alibi
Located within the Liberty Hotel, Alibi boasts a cheerful outdoor patio that opens at 3 p.m. on Monday. (215 Charles St., Boston)
Anoush'ella
The Mediterranean standby has officially opened its patio at its South End location, serving sangria, brown rice bowls, and more. (35 W. Newton St., Boston)
Aquitaine
French restaurant Aquitaine has opened its South End patio and is requesting that guests make reservations via phone or website. (569 Tremont St., Boston)
Barlow's
Enjoy hearty comfort food on the patio of this Fort Point standby from noon to 10 p.m. (241 A St., Boston)
Blackmoor Bar & Kitchen
Dive into burgers, sandwiches, and pizzas at this Charlestown staple, which offers outdoor seating from 4 p.m. to 10 p.m. Reservations are highly encouraged, and seating is limited to an hour and a half at each table. (1 Chelsea St., Boston)
Bostonia Public House
Reservations are encouraged for the downtown hangout's patio, which is now open daily from noon to 9 p.m. Before you go, be sure to read the restaurant's opening protocols here. (131 State St., Boston)
Brato Brewhouse & Kitchen
For the first time since opening in October, Brato Brewhouse & Kitchen in Brighton will debut its patio on Wednesday at 4 p.m. Guests must make a reservation, which come in 90-minute increments, by e-mailing [email protected] (190 N. Beacon St., Brighton)
Buttermilk & Bourbon
Chef Jason Santos's Southern hot spot in the Back Bay has opened its patio from 11 a.m. to 9 p.m. daily. Chicken and biscuits, anyone? (160 Commonwealth Ave., Boston)
Cafe Landwer
Both locations of this charming cafe have opened their patios, with seating up to four people available from 9 a.m. to 4 p.m. (900 Beacon St., Boston; 383 Chestnut Hill Ave., Boston) 
Chickadee
The next time you find yourself in the Seaport, head to this Mediterranean-inspired destination at the Innovation and Design Building for a seat on its breezy patio. (21 Drydock Ave., Boston)
Coppa
This cozy Italian enoteca in the South End is now accepting reservations for patio seating starting Monday at 4 p.m. (253 Shawmut Ave., Boston)
Coppersmith
While the Southie restaurant and bar is set to close later in the year, you can still dine al fresco on its rooftop deck and in its parking lot, which has been transformed with tables, tents, and a new summer menu. Reservations can be made via phone or OpenTable. (40 W. 3rd St., Boston)
Cunard Tavern
East Boston's Cunard Tavern has opened both its sidewalk patio and rooftop deck for al fresco snacking and sipping. Make a reservation (only 90-minute blocks are currently allowed) by messaging the restaurant on its Instagram or Facebook pages. (24 Orleans St., Boston)
Dillon's
Drink a cold one on the patio at Dillon's a Back Bay favorite that is now accepting reservations. (955 Boylston St., Boston)
Dorchester Brewing Co.
Settle in for a beer or two at this Dorchester hangout, where making a reservation is highly recommended (check the brewery's website for a capacity counter to see how much space is left). Food and drink can be ordered via phone once you've secured a table. (1250 Massachusetts Ave., Boston)
La Voile
Both locations of La Voile — one in the Back Bay, one in Brookline — have opened their patios from noon to 2:45 p.m. and 5 p.m. to 9:45 p.m. Diners can make a reservation online. (261 Newbury St., Boston; 1627 Beacon St., Brookline)
Lola 42/Lola Burger
At Lola 42 in the Seaport, diners can nosh on sushi while taking in some sunshine on its 48-seat patio. Around the corner at sister restaurant Lola Burger, an outdoor patio fills up the entire block, where customers can order burgers and foie gras fries. (Lola 42: 22 Liberty Dr., Boston; Lola Burger: 11 Fan Pier Blvd., Boston)
Lolita
Lolita's Fort Point location has returned with margaritas and waterfront dining views, with walk-ins available starting at 11 a.m. (253 Summer St., Boston)
Lulu's
Stop by for a drink at Lulu's in Allston, where you can call to reserve a table on its spacious back patio. (421 Cambridge St., Boston)
Mare Oyster Bar
Head to the North End for al fresco oysters, crudo, and scallops at Mare, which will open its patio from 4 p.m. to 11 p.m. daily. Reservations required. (223 Hanover St., Boston)
Metropolis
Call or reserve online to secure a table outside of Metropolis, a South End bistro and wine bar. (584 Tremont St., Boston)
Mother Anna's
Dig into a bowl of ravioli and a glass of wine on the patio at Mother Anna's, a storied North End institution serving hearty Italian cuisine. (211 Hanover St., Boston)
Paris Seaport Bar & Creperie
Head to this Seaport patio for crepes and cocktails, 11 a.m. to 11 p.m. daily. Reservations are encouraged, walk-ins are welcome. (60 Seaport Blvd., Boston)
Petit Robert Bistro
This French hangout in the South End has added a parklet to its outdoor patio for even more space, and is accepting both reservations and walk-ins. (480 Columbus Ave., Boston)
Saltie Girl
Newbury Street's Saltie Girl is taking over sister restaurant Met Back Bay's outdoor space to offer plenty of patio seating, starting at 5 p.m. on Wednesday. Reservations are required and can be made through OpenTable or by e-mailing [email protected] (281 Dartmouth St., Boston)
Sterling's
The spacious patio at this downtown hot spot is now open, serving pretzels and clam chowder and cold pints of beer. (60 State St., Boston)
Stillwater
In search of your first frosé of the summer? Stillwater has it, and is now serving the summery beverage on its patio for the first time since the Chinatown/Leather District restaurant opened in late August. (120 Kingston St., Boston)
Tasty Burger
Late-night favorite Tasty Burger has opened its Fenway patio with burgers, fries, beer, and wine, plus a safety pledge to all of its customers. (1301 Boylston St., Boston)
The Blarney Stone
This Dorchester bar will open its tree-covered patio starting at noon on Monday, with reservations encouraged. (1505 Dorchester Ave., Boston)
The Fours
Missing sports bars? The Fours has opened its patio at all locations, including one in downtown Boston. (166 Canal St., Boston)
Toro
The South End's award-winning tapas bar is now serving paella and cocktails on its patio from 4 p.m. to 9 p.m. daily. Email [email protected] to make a reservation. (1704 Washington St., Boston)
Trattoria il Panino
Open daily from 4 p.m. to 11 p.m., this Italian restaurant will serve homemade pasta and espresso martinis on its sidewalk patio in the North End. (280 Hanover St., Boston)
Yellow Door Taqueria
Starting Tuesday at 4 p.m., Yellow Door's South End location will open for dinner service on the restaurant's street-facing patio. Parties of two will only be seated at this time, and reservations can be made via phone or OpenTable. (354 Harrison Ave., Boston)
Cambridge
Cambridge Brewing Co.
The brewpub opens Monday at 4 p.m. for dinner, with lunch starting on Tuesday. Reservations are encouraged but not required. (1 Kendall Square, Cambridge) 
Moona
Dubbed Moona Oasis Patio, Moona's new outdoor space is a tribute to the now-closed Inman Oasis in Inman Square. The patio holds roughly eight to 10 tables, and features a canopy, bar cart, and new food and drink items. While Moona isn't taking reservations, diners can call ahead for the restaurant to hold a table. Open Monday starting at 4 p.m. (243 Hampshire St., Cambridge)
Naco Taco
Craving tacos? Order a few on Naco Taco's cozy outdoor patio, which opens Tuesday at 4 p.m. (297 Massachusetts Ave., Cambridge)
Russell House Tavern
Russell House will kick off its outdoor dining service starting at 4 p.m. Monday. (14 JFK St., Cambridge)
Summer Shack
Not only is Summer Shack's Cambridge patio officially open (they've set up shop in the parking lot), but they launched a new sushi program for all your sushi and sashimi needs. (149 Alewife Brook Pkwy, Cambridge)
Greater Boston
Dryft
Reservations are encouraged at this swanky Revere spot, though seatings are limited to 1 1/2 hours per group and a maximum group of six people. Outdoor dining launches at 3 p.m. Monday. (500 Ocean Ave., Revere)
Frank
This will be the first time the Beverly restaurant and market has debuted its outdoor patio since it opened in November. The patio opens at 11 a.m. (112 Rantoul St., Beverly) 
Steel & Rye
Guests are seated on a first come, first serve basis at Steel & Rye, which just opened its outdoor patio for al fresco drinking and dining. (95 Eliot St., Milton)
Tavolino
Settle into the patio at Tavolino's Patriot Place location for homemade pastas and freshly baked breads on Mondays through Fridays from 4 p.m. to 9 p.m. and on weekends from 1 p.m. to 9 p.m. (274 Patriot Place, Foxborough)
The Porch Southern Fare & Juke Joint
Medford's Southern food spot has opened its outdoor patio to guests craving fried chicken and corn hush puppies. Reservations can be made by phone or website. (175 Rivers Edge Dr., Medford) 
Tuscan Kitchen
While Tuscan Kitchen's New Hampshire location has been open for a while, its Burlington outpost opens Monday. Call the restaurant day-of to be added to the seating list. (2400 District Ave., Burlington)