Restaurants
Restaurants are closing due to COVID-19. These restaurateurs are opening new concepts anyway.
"The mindset of a successful restaurateur is divided into equal parts of ambition, creativity, fear, and naïveté," chef Will Gilson said.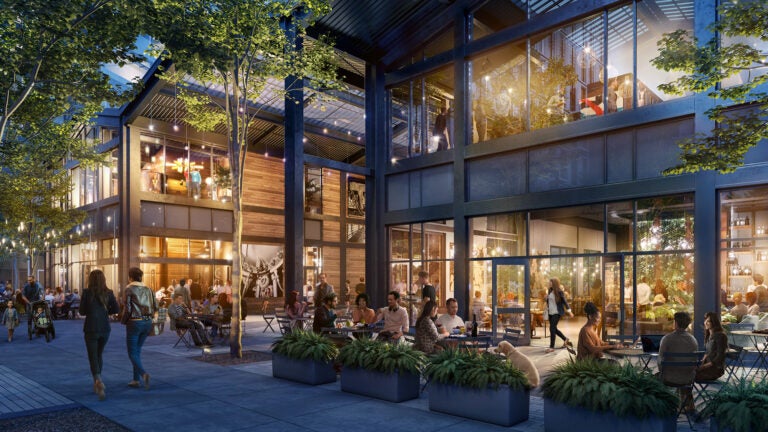 To hear Jason Santos talk about his upcoming project, B & B Fish, you may never guess that the world is in the midst of a pandemic. 
The chef, who currently owns Boston hot spots Citrus & Salt, Abby Lane, and Buttermilk & Bourbon, has tapped into his love of fried fish, scallops, and whole-belly clams to open a new seafood shack in Marblehead, a 1,000-square-foot space scheduled to debut this summer.
"I love seafood," said Santos, who's opening the restaurant with Buttermilk & Bourbon chef Jeff DeCandia. "I've never met a fried clam I don't love. We're taking the stereotypical seafood items and then trying to make it better — and keeping with our Buttermilk & Bourbon brand, we're also doing beignets, soft serve, fried chicken, pork belly. For me, it's all of my favorite things in one space."
B & B Fish, which will feature roughly 20 seats inside and 30 seats on the outdoor patio, seems relatively conducive to pandemic dining. The counter-to-table concept won't have servers. Its close proximity to the beach lends itself to a takeout run before settling in for a picnic on the sand. It has ample outdoor space. But as restaurants continue to close and local experts predict losing at least 25 percent of restaurants in the Boston area, it begs the question: How can restaurateurs open a new concept during this climate? 
We spoke with a handful of chefs and owners with summer projects in the works to find out how their plans have changed, what ables them to continue moving forward, and the mentality behind taking such a huge risk during a pandemic.
'What exactly are we opening now?'
Puritan & Co. chef and co-owner Will Gilson was supposed to debut three new concepts at Cambridge Crossing in June. The projects include The Lexington, a rooftop bar with a private dining space and a menu featuring bar-centric food. Geppetto will focus on Northern Italian cuisine with New England seasonal ingredients and nods to local nostalgia, like corned beef incorporated into pasta dishes. And Café Beatrice, which is helmed by Puritan's pastry chef Brian Mercury and was introduced as a pop-up last year, will serve as an all-day cafe, offering casual fare from breakfast sandwiches and lunchtime salads to pizza. 
Then the pandemic hit, halting construction. Gilson said that the team is now looking at a late September date, but that what they had initially envisioned might be considerably different than what debuts at the tail end of summer.
"What exactly are we opening now?" Gilson said. "I think that a lot of what we're trying to figure out, through the hard work that we're doing here at Puritan … is that, depending on what the world is like at the end of September, we have to do something very similar [at Cambridge Crossing]. We're obviously hoping that there might be some version of miracles that happen from now until then, where we would actually be able to have guests dining in the space. But until that is allowed and we start to phase people into the dining room [at Puritan] and see how they respond to it, it's very hard for us to know what we're going to be looking at."
Gilson said the uncertainty trickles down to decisions such as furniture material in the new dining room, where he's now asking questions like: Is something padded or with cushions going to be easily cleanable for the foreseeable future? 
Ran Duan is facing the same predicament. The owner of Blossom Bar in Brookline and the Baldwin Bar at Sichuan Garden II in Woburn is in the midst of building out Ivory Pearl Bar, a seafood-centric restaurant in the former Grassona's Italian space in Brookline. It was scheduled to open in mid-May, but with construction suspended until recently, Duan said they are now looking at another four to six weeks until opening. 
With Ian Maschal (Eventide Fenway) at the helm as executive chef and an innovative cocktail program that Duan said will feature cocktails mimicking wines, the restaurant is poised to be more upscale than the takeout and delivery concepts that are now part of many diners' everyday food options. 
"Are we going to open up, are we going to do takeout only, are we going to do limited seating, or are we going to do more like a grocery store, which is very popular right now with a lot of restaurants?" Duan said. "I think that the hardest thing right now is we just don't know."
Restaurateurs with upcoming projects that already conform to the current takeout and delivery service models — like B & B Fish — seem to be a more turnkey solution. Santos said that his seafood shack "screams takeout place," and that it lends itself to a post-coronavirus world.
Avi Shemtov's upcoming restaurant also seems poised for the restaurant industry's new normal. The owner of The Chubby Chickpea food truck, Tapped beer truck, and Simcha, a modern Israeli restaurant in Sharon, recently took over a former deli spot next to Simcha, where he plans to open A La Esh in August. The concept, which he's launching with Chubby Chickpea chef Kyle Crusius, revolves around Southern barbecue with an Israeli slant: think smoked turkey shawarma, smoked hummus, and fermented banana pudding. He's also tapped pit master Brendan Burak to lead the barbecue program.
"You know why I'm opening A La Esh?" Shemtov said. "Because it's super takeout friendly, and it has great margins. It's super universal. People will travel for it. And with Brendan and Kyle on my team, I know we can be one of the best in the country."
Shemtov said that while A La Esh, which will have a "down South, gritty, and charming" vibe, will eventually offer indoor seating, he envisions the restaurant will still be doing no-contact takeout when it opens in August.
Opening a restaurant is expensive. Where's the funding coming from now?
The upheaval of the restaurant industry and an increase in permanent closures has underlined just how slim the margins are for operating restaurants. So how are restaurateurs still spending money on new projects?
Santos said that strategic planning and saving has given him some padding.
"You might be in a situation where you never had that opportunity to save money, but if you are making decent money and you don't have money saved — kind of shame on you," he said. "My three restaurants thankfully do very well, and we have a decent amount of money in the bank, so we're able to pay some of the staff and keep going versus living check to check."
Some smaller restaurants, like Shemtov's 38-seat Simcha, haven't experienced economic turmoil as harshly as restaurants that are used to filling hundreds of seats — multiple times over — each night.
"Simcha can operate at 70 percent of its revenue by doing pickup and delivery only, and can keep everybody paid," Shemtov said. "On a busy Saturday night, the dining room fills two and a half times. So on a busy takeout night we're able to get pretty close to replicating a busy in-house night."
And while Duan said he is close to going over Ivory Pearl Bar's operating budget, his company's tropical Blossom mixers, which were conceived of and developed within four days at the start of the pandemic, have been a saving grace, allowing Duan to rehire staff and keep some substantial revenue coming in. His bars are smaller, too.
"We're very lucky that most of our restaurants are little cocktail bars," he said. "We're under 100 seats, you know? It's definitely going to be a little easier for us to control payroll and juggle our expenses to make it work. When you operate a huge restaurant, it gets harder and harder."
'Some of this decision is reckless'
To forge forth and open a business while your industry is floundering takes confidence — and, in Santos's case, rest.
"This is the most rested I've been," Santos said. "I know this is a horrible thing going on, but I'm still going to try to be positive about it. I have the time now."
He said that every business is a leap of faith and "some of this decision is reckless," but that everyone needs to change with the times, a sentiment echoed by Gilson.
"The mindset of a successful restaurateur is divided into equal parts of ambition, creativity, fear, and naïveté," Gilson said. "It's not fair to do a wartime comparison, but anytime you look historically at how something is fought and won, it's lots of small efforts that create a summation of victory or loss. I think that's where we're at right now — looking at our entire industry like, are we trying to fight the big fight upfront, or are we trying to fight some small battles so we can start chipping away at sort of a larger enemy here?"
Gilson said that in order for the industry to thrive going forward, there needs to be teamwork, honesty, and transparency about what it's going to take.
"I'm as excited for anybody else as to what it's going to be like to open a new restaurant," Gilson said. "It is daunting, it is scary, and I hope that people will come out."
For all the damage the pandemic has caused the restaurant industry, some feel that this paves the way for a rebirth of sorts. Shemtov, whose Chubby Chickpea food truck turns 10 this month, said he hopes restaurateurs use this time to diversify, so that when another crisis occurs, all their proverbial eggs aren't in one basket.
"In our industry, it's always seen as the sexy thing to do to go open the 150-seat restaurant right downtown," Shemtov said. "I think you need to diversify. I want to cook for a living and I want to run an elegant sit-down restaurant where you come in and have a meal that changes you personally. In order to do that, I need to sell a lot of sandwiches off of a food truck. I need to pour a lot of beer off a beer truck. I need to cater a ton of corporate catering. I need to now sell takeout barbecue until this is over, and then I need to sell fast casual barbecue. And those are the ways I can achieve what I want. If you are a chef or owner or restaurateur, and you want that elegant cocktail bar that serves caviar in downtown Boston, by all means, let's rock. I want to see that. But from a business perspective, find new ways to bring in revenue that [offers] higher margins."