Restaurants
Here's what it's like to dine out at a Boston restaurant in Phase 2
Patience and flexibility are key.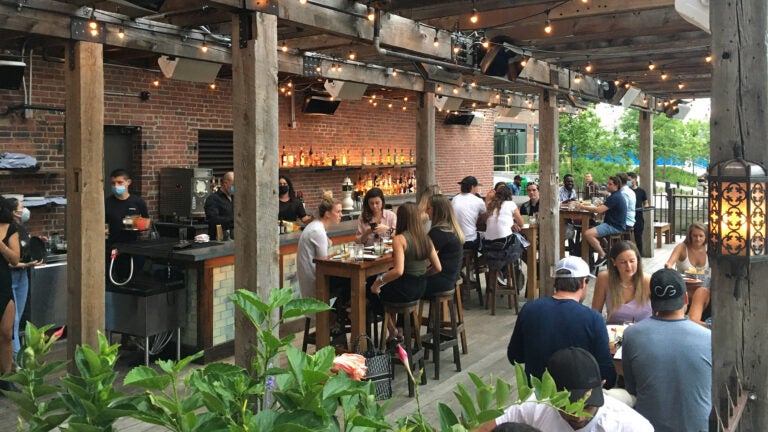 "Two-hour wait," my boyfriend texted me on Tuesday night as I made my way toward Lolita in Fort Point, where we had agreed to meet for dinner. "It'll probably be less." He is, I should point out, an eternal optimist.
As Phase 2 kicked off on Monday, restaurants began opening their outdoor spaces for dine-in service for the first time since March 16. I was ready. After months of takeout, delivery, and home cooking, I missed poring over a menu and ordering dishes that could turn my entire day around. And I was curious: What exactly does "going out to eat" mean right now?
It means having patience, to start. A lengthy line formed outside Lolita, which does not currently accept reservations, while groups of young couples and friends waiting for a table spilled onto benches and the boardwalk outside the waterfront restaurant. There are ways to pass the time — some guests kept their appetite at bay by ordering takeout drinks and bites until their phones pinged; some, like us, chose to wander around the Seaport for a while — but two hours can seem like an eternity when you're hungry. Still: I had waited for almost three months. What was a couple more hours?
Once our table was ready, we slipped our masks back on and were shown to our scrubbed-down seats. Some things were familiar: a warm smile from the host (at least, I think she was smiling from underneath her mask), silverware wrapped in a freshly rolled napkin, margarita-filled glasses clinking, perfectly-seared steak wrapped in warm tortillas and a shallow tureen of creamy queso that I could never make in my own kitchen. Other aspects were reminders of the world we are now living in: the host's explicit directions that we had to wear a mask whenever we weren't sitting down, the automatic hand sanitizer station at the entrance, the brief feeling of panic I felt when the paper check came and I wondered if I should touch the pen. 
Momentary panic aside, it felt exhilarating to be doing something that had been such a big part of my life before COVID-19 hit. Tables near us lit up with laughter. Music filtered throughout the patio before drifting off toward the water, a trio of outstanding salsas were scraped clean, and the jalapeño in my margarita left my lips delightfully numb. As our masked server checked in with us to ask about another drink, then left the disposable menu "just in case you change your mind," I felt like the basics — great food and great service — could still thrive during Phase 2 dining. It's the other little things that change the experience.
Some of you felt the same way. We asked readers to share their experiences dining outdoors this week, and results were mixed. 
"It was really nice!" wrote Maria, a reader who had visited Russell House Tavern. "I was a little apprehensive, worried that it might be really strange. But it felt so nice to be outdoors and enjoy a meal in the company of other people, even if they were six feet apart and wearing masks. It was a really nice evening out, the servers and staff were fantastic, and I felt safe."
Another reader, Monica, had given Trattoria Il Panino a try, and wrote, "My boyfriend and I were very eager to experience an outdoor dining experience again; however, our reservation ended up being pushed back by nearly an hour and a half due to parties prior to us taking the time to enjoy their own experience. While I do not fault anyone, I think the restaurant industry will really have to rethink their original business models, because one won't be eager to go out to eat if they make a reservation for 7:30 and aren't seated until 9…"
In a Facebook comment, reader Kelly Ashe said that she had eaten out twice at "local chain-type restaurants" so far, with varying experiences.
"First place used folding tables, ate on real plates, real utensils, beverages in glasses," she wrote. "Second place was served plastic forks/knives/napkin like you get from a food truck. Appetizers show up literally in a to-go bag, drinks in clear plastic solo cup. I thought that was odd."
Restaurants will continue to reopen throughout Phase 2 as the city ramps up its approval for outdoor dining permits. It would be wise to have patience and flexibility as they do. After months of empty kitchens or dining rooms filled with takeout orders, these establishments are pivoting yet again to a model of service that only vaguely resembles their pre-coronavirus operations. Is it ideal? No. But it's a start.