Restaurants
'The math doesn't add up': Chef Tony Maws asks diners to go beyond patio dining
"Friends, I have a problem and I really need your help," Maws wrote.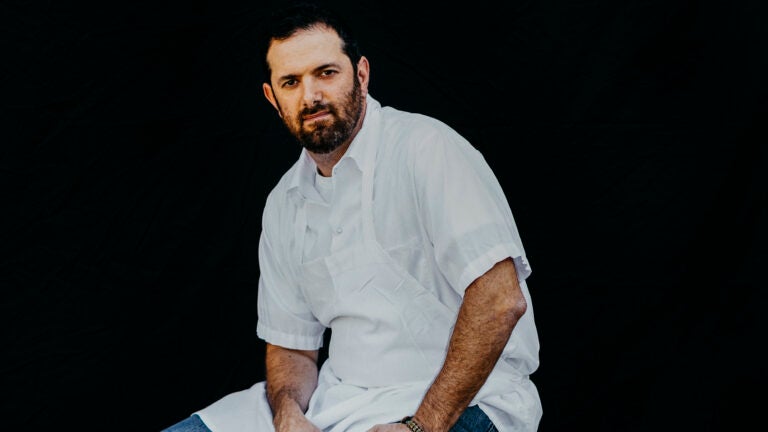 As scores of restaurants reopened this week with outdoor dining spaces, it may have been easy to think that the city was on a path toward "normalcy." Tony Maws wants you to know: Not so fast.
Maws, the chef/owner of Craigie on Main in Cambridge, shared a message in the restaurant's newsletter Friday afternoon detailing the continued struggle that restaurants face, even when allowed to operate their patios.
In addition to ordering takeout and delivery (and even frequenting patios), the chef asked diners to call their congressman and senators and advocate for the Independent Restaurant Stabilization Fund, a $120 billion fund that would provide resources and support to the industry. He also suggested contacting local legislators to ask for rent relief tax credit, an extension on the moratorium on evictions, and reform on Business Interruption Insurance — asks that have also been made by the Massachusetts Restaurant United Coalition, an organization comprised of independent Massachusetts restaurant professionals who are advocating for the support and rebuild of restaurants during the coronavirus pandemic. Maws is the director of the MRUC.
Read the full letter from Maws below:
Friends, I have a problem and I really need your help. Phase 2 in Massachusetts began this week, allowing outdoor dining for restaurants. Great news for those who have patios and for those in towns that have eased restrictions for sidewalk and street access. Here's the thing I'm asking you to hear: This is simply not enough to save independent restaurants. Yes, of course, please visit your favorite places because any revenue is certainly better than zero revenue. Order takeout. Sit on a patio. Sit on a patio in one place and then order takeout from another spot too! Please, and thank you!

But this is not enough. Nope. The math doesn't add up. We restaurants are still operating at a fraction of our normal volume. In the plainest terms: This means we remain unprofitable and still cannot pay our bills. You might not want to hear the "woe is us" because the sad and sorry tales are relentless, and they're everywhere. I get it. But independent restaurants — like Craigie, all over Massachusetts, and the country — are fighting for our lives. And when we say fighting, we mean we are working harder than ever to survive, and we greatly need your help. You may not realize it, but your voice is as powerful as your appetite right now, and we hope you'll use your voice. You, our loyal and amazing patrons, are our biggest hope.

If you want independent restaurants to be part of your communities and town centers, here's what you can do:

• Continue ordering from your favorite restaurants. The big ones. The small ones. Fancy ones and not-so-fancy ones. We restaurants are all in this together, and we're asking you to join us, show solidarity, and tell everyone with your dollars that independent restaurants mean something to you.

• Call your members of Congress and senators, the ones in D.C., and tell them we appreciated the extension on PPP terms and now we need to pass the $120 billion Independent Restaurant Stabilization Fund, which would give us the resources and support we need for the challenging months — and years — ahead.

• You can find out how to contact your senator here and how to find your Congressperson here.

• Call the Governor and your local legislators and tell them Phase 2 is not enough to save independent restaurants. We are asking them to consider:

– Creating a rent relief tax credit for landlords of small, local businesses (like restaurants!)
– Suspending state payroll and meal taxes for independently-owned restaurants
– Extend the moratorium on evictions through December 31, 2020
– Reform Business Interruption Insurance

You can find who your local legislators are right here.

And you can reach Governor Charlie Baker's staff on (617) 725-4005.

So much is happening in our world right now, and there is so much to care about. So many people are hurting. I get that. I feel it too. Remember what we talked about when this all started: Restaurants are centers of your communities. We've been here for you when you needed us. Now we really need you. Please consider using your voice for just a few minutes — your voice is powerful. Thank you.