Drinks
This weekend: Pammy's in Cambridge launched an anti-racist library
Plus, the food news you may have missed this week.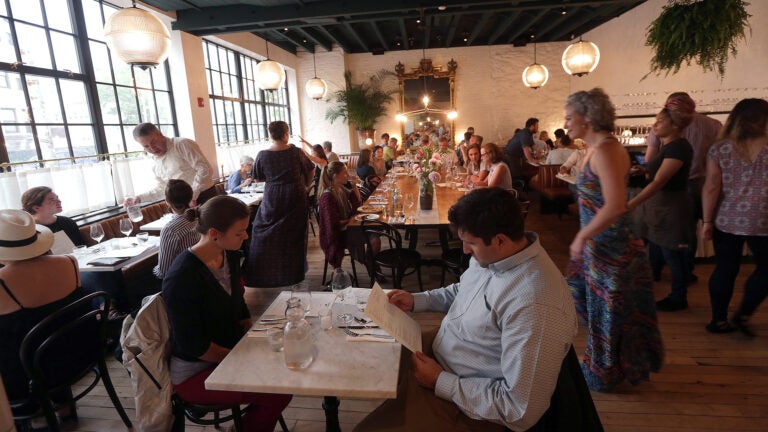 We're all eating a little differently these days: Cooking at home more. Ordering takeout. Now that Phase 2 has launched, though, some of us are starting to venture out and dine on patios. Whatever your comfort level, here's what's been going on in Boston's restaurant world recently, plus a few ways to enjoy some of our region's best restaurants and bars from both the comfort of your own home and out in the world.
Here's what you may have missed this week:
The big news? Restaurants reopened their outdoor dining spaces as Phase 2 kicked off on Monday — here's a growing list of patios that are now open. The City also announced that they have increased outdoor dining options; more than 200 restaurants have already been approved for full or conditional outdoor expansion.
Speaking of patios, I gave one a try in the Seaport to see exactly what "going out to eat" means right now. It was…interesting.
Of course, as some restaurants reopened, others have closed. Both Conor Larkin's Grill & Tap and Comedor announced this week that they have permanently shuttered, though for very different reasons.
Black restaurant owners have banded together to stay afloat amid the pandemic. "We are disproportionally affected in terms of health, finances, instructional organizations, and so the only way we're going to be able to get any support is if we work together," said Frank Poindexter, who helps manage Wally's Cafe.
The recent protests and renewed focus on the Black Lives Matter movement have also shown a spotlight on how some restaurants have lacked diversity and equality within their establishments. Over the weekend, Tatte employees petitioned for 'tangible actions' supporting Black communities — and were met with some favorable results.
Believe it or not, a handful of restaurateurs are still planning to open new concepts this summer. Here's what a few of them had to say about debuting a restaurant in these uncertain times.
Netflix & Swill:
Yes, movie theaters are still closed, so unless you're visiting one of the drive-in movie theaters now open in Massachusetts, your big-screen opportunities are limited. Thankfully, there's some quality entertainment dropping this weekend. On Friday, Spike Lee's new movie, "Da 5 Bloods," follows four Black Vietnam War veterans as they return to Vietnam — both to search for the remains of their fallen squad leader and to uncover buried treasure that they hid years before. "Knives Out" also hits Amazon this week, one that I'll definitely be watching because — true story — when I saw it in theaters last year, the fire alarm went off about 30 minutes before the movie ended and I never rewatched it to find out the ending.
And to drink this week? Let me introduce you The Koji Club. Hospitality professional and advanced sake pro Alyssa DiPasquale recently launched this virtual pop-up centered around Japanese sake, with weekly kits that include virtual tastings via Zoom. Kits are sold at Somerville wine bar Rebel Rebel for $79, and include 300mL bottles of sake and one bottle of beer (hello, sake bombs!). Each meeting, held Fridays and Saturdays, will have DiPasquale guiding attendees through the bottles, accompanied by some basic sake knowledge and pairing tips. Keep an eye out on The Koji Club's Instagram page for its new summertime sake kits.
Eating and cooking alone, together:
A new sweet shops debuted this week from local pastry chefs Joshua Livsey and Kerry Loria. Dubbed Macs by Josh Ganache, the online shop specializes in decadent macarons, which can be ordered in boxes of 12. Flavors include caramel passion fruit, strawberry basil, malted mocha, and lavender yuzu, and can be ordered by e-mail at [email protected] "We are adamant about aligning our concept with our personal values and actively seeking ways to better our community," the company shared in an Instagram post. To that end, it will be donating a portion of the proceeds from each box to The Loveland Foundation, which provides mental health services to Black women and girls.
At Pammy's, guests now have access to more than just bucatini and meatballs for pickup and takeout. The Cambridge trattoria put together an anti-racist library, where guests can check out titles related to anti-racism and social justice on Tuesdays through Saturdays from 4:30 p.m. to 8 p.m. Food orders aren't necessary — you can just swing by and pick up a book, though the restaurant does require you to follow social distancing rules. Have a few books you'd like to add to the collection? Pammy's is accepting literary donations as well.
The Urban Grape's weekly virtual wine class, Clink Progressively, usually focuses on, well, wines (surprise!). But on Friday, the South End wine shop will join forces with Lamplighter Brewing Co.'s co-founder Cayla Marvil to chat about beer and brewery life. The Zoom webinar will revolve around four beers (register for the 6 p.m. class and place your order here), but there have also been hints that guests will get a glimpse into Lamplighter's next chapter, which includes a joint micro distillery, brewery, and taproom opening in Cambridge.