Restaurants
Bakers Against Racism launched Monday, selling sweets for a cause
"The civil rights movement that is happening right now is something we cannot take pause on," Nicole Walsh, co-owner at Clear Flour Bakery, said.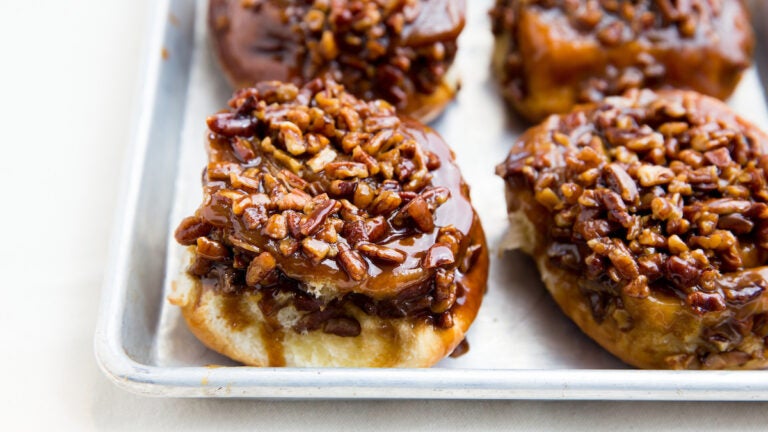 As the past few weeks have shown, there is more than one way to contribute to the recent civil rights movement in support of racial justice: Protesting. Donating. Educating yourself and others.
Add to the list: Baking.
Paola Velez, pastry chef at Washington, D.C. darling Kith/Kin, founded the online bake sale Bakers Against Racism with the simple idea that bakers could sell desserts starting at 2 p.m. on Monday for pickup on Saturday, donating proceeds to any organization that supports racial equality and combats racism. The idea caught fire, and has grown into a global initiative that now includes over 2,400 participating bakers.
While there isn't a database listing every bakery involved, a handful of Boston-area bakers have pledged their participation. Order cakes, cookies, biscuits, and more from these bakeries, restaurants, and baking groups that are donating proceeds to local and national organizations fighting racism and inequality:
Benedetto/Giulia
Benedetto pastry chef Renae Connolly has prepared a tempting menu to benefit The Food Project, featuring sweets like flourless chocolate cake, tiramisu, toasted almond tart, and strawberry rhubarb pie. Orders will be accepted until 5 p.m. Wednesday, with pickup taking place on Saturday at sister restaurants Giulia in Cambridge. E-mail your order to [email protected] and send payment via Venmo to @RenaeConnolly.
Big Heart Hospitality
Dee Steffin Chin, pastry chef for Big Heart Hospitality (Fool's Errand, Orfano, Sweet Cheeks Q, Tiger Mama), is contributing to the bake sale by making the late, legendary New Orleans chef Leah Chase's butter cake with strawberry compote for $8. To place an order, shoot her an e-mail at [email protected] with your name, phone number, the number of cakes, and at which Big Heart Hospitality restaurant you would like to pick up the order on Saturday. Proceeds will go toward the Marsha P. Johnston Institute.
Bondir
Chef Jason Bond's cozy Cambridge bôite is donating sales from its entire baked goods section to Violence in Boston. Loaves of sourdough, grapefruit meringue tarts, chocolate croissants, and more are all included in the bake sale, though customers can also make a separate $50 donation to the cause. Note: Pickups for the bake sale will take place on Sunday instead of Saturday.
Breadboard Bakery
Over in Arlington, Daisy Chow is offering three bake sale items: Rosemary olive sourdough, dark chocolate cookies, and buttery biscuits. Pre-orders are available until 2 p.m. Thursday (or until the goods have sold out).
"We've been quiet on social but very busy in real life just keeping things afloat, but once I saw this bake sale was happening, it was a no-brainer to participate," owner Daisy Chow told Boston.com. "All the proceeds will go to Black Girls Code — because all of us at Breadboard understand the foundation of a good education and exposure to science and technology — and the Maine Community Foundation's People of Color Fund. We wanted to support this smaller non-profit that is well organized and is doing active, good work."
Camberville Bakers Against Racism
A group of home bakers and professional chefs have teamed up to create their own online bake sale, with proceeds benefitting The Okra Project and the Boston Black Hospitality Coalition. Peruse a decadent menu that features chocolate fudge brownies, raspberry pistachio pound cake, vanilla eclairs, vegan lemon and blueberry scones, and more, all available for pickup Saturday at the Cambridge School of Culinary Arts.
Clear Flour Bakery
At this beloved Brookline bakery, a $25 Bakers Against Racism box comes packed with a banana bread teacake, a mini coconut bundt cake, six salted chocolate hazelnut shortbread cookies, and a baby sourdough boule. Pickup is on Saturday between noon and 4 p.m., and 100 percent of the proceeds will go toward The Okra Project and Black Lives Matter Boston.
"We've decided to participate because baking is how we express ourselves," said Clear Flour Bakery co-owner Nicole Walsh. "It's what we do, and we are always looking for ways to help the community and causes we feel strongly about. The civil rights movement that is happening right now is something we cannot take pause on. [We're] baking a small difference into the world, one cake or loaf at a time."
Flour Bakery & Cafe
There might not be a more famous sticky bun than the ones at Flour Bakery & Cafe. Pre-order up to four buns for Saturday pickup at Flour's various locations; a portion of the proceeds will go toward Black Lives Matter Boston.
Mamaleh's
Mamaleh's, a Jewish deli in Kendall Square, is selling halvah chocolate chunk banana bread, with proceeds benefitting the Boston Black Hospitality Coalition. Customers can also choose to donate directly to the coalition on Mamaleh's Toast page.
Oleana, Sarma, and Sofra
The sister restaurants have collaborated to produce 200 cookie boxes, available for pickup on Saturday at Sofra. Each box is $12 and includes six assorted cookies, with proceeds benefitting The Loveland Foundation and Black Lives Matter Boston. Order yours by e-mailing [email protected] with the number of boxes you would like and your phone number.
Puritan & Co.
Pastry chef Brian Mercury has put together a $10 pastry box that includes red zen sugar cookies, raspberry and orange marmalade breakfast bread, and a chocolate caramel crunch cookie sandwich. Call the restaurant at 617-615-6195 to order a box; proceeds will go toward Violence in Boston, an organization that focuses on providing comprehensive victim services in communities of color.