Restaurants
Patio, meet parklet: One South End restaurant gets creative with its outdoor dining
"It's definitely going to be a lifesaver this summer," Loic Le Garrec, owner of Petit Robert Bistro, said.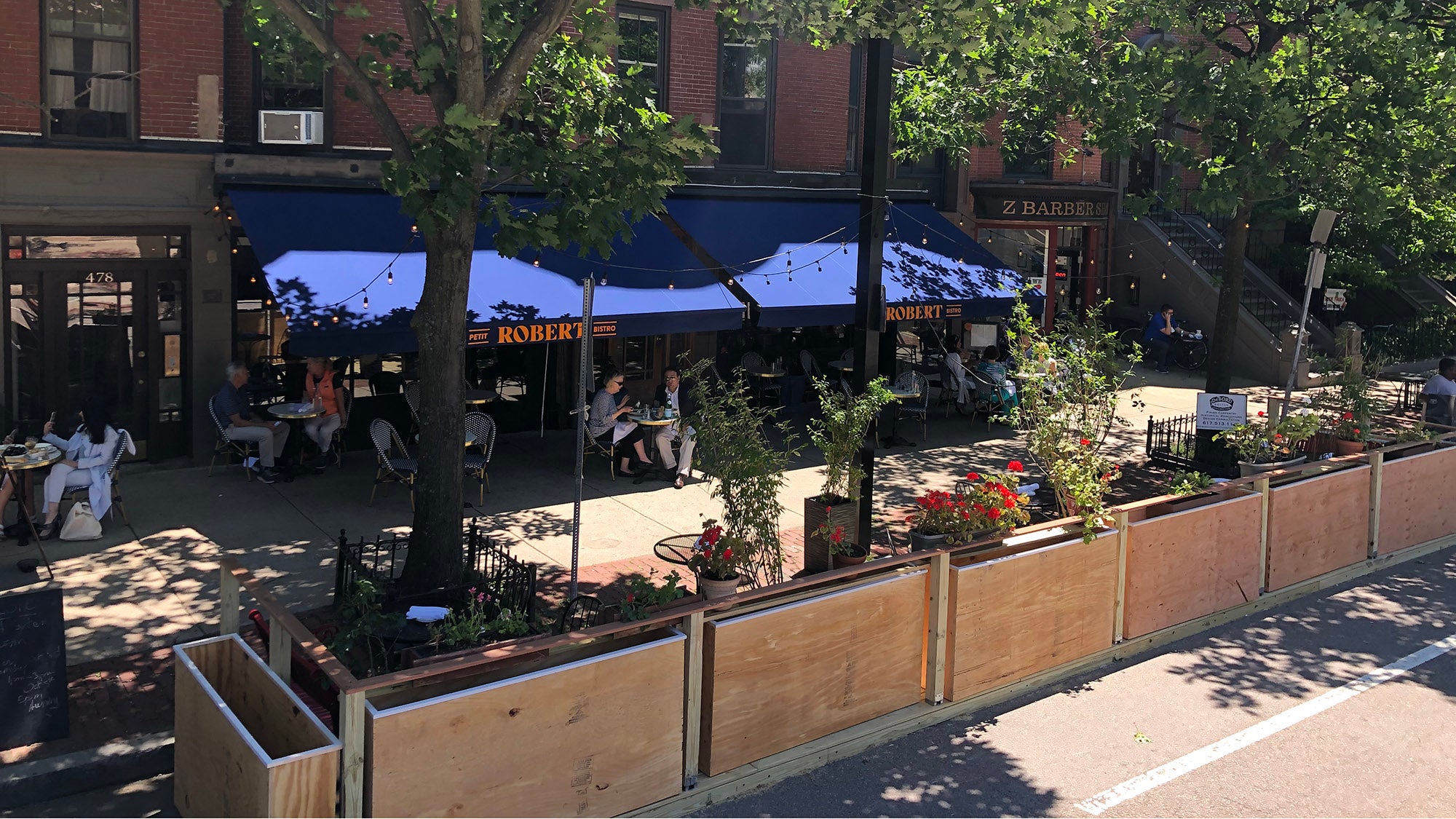 In an effort to create more space for outdoor dining, restaurants across Boston have spilled into streets, parking lots, and lawns. Loic Le Garrec, owner of the South End's Petit Robert Bistro, took another approach: He built a parklet.
"About a month and a half ago, I heard that there was a rumor that the city would let us extend the patio," Le Garrec said. "I remembered that in Paris and in Montreal, there's a lot of decks like this on the street. So we were like, oh, instead of parking the cars we could have a beautiful deck with umbrellas and lights and people would love it."
Le Garrec and his team sketched out a floor plan and submitted it to the City through a new, accelerated application process that invites restaurants to expand their outdoor dining space. Once his application was approved on June 6, Le Garrec got to work. He tapped a carpenter in his neighborhood to design the parklet, gathered a couple of people to help him build the structure, and five days and $3,500 in materials later, it was complete.
Surrounded by planters and a painted wooden barrier, the parklet juts out into the street across from the French bistro's original patio, with a sidewalk dividing the two. It holds roughly 20 seats while the patio holds 16 — seats which Le Garrec said have been constantly filled since they reopened for outdoor dining (Petit Robert is accepting both reservations and walk-ins).
"It's been very busy and people have been thrilled to be outside," he said. "Since day one, we're completely packed, we turn people away. I wasn't expecting something like this."
So far, Le Garrec has not had to pay a fee to install the parklet, though he said he might be charged later ("We're going with the flow"). The City of Boston does have a parklet program, but some of its rules — no table service or alcohol consumption allowed on the parklet, for example — have been waived for restaurants wanting to use a parklet as an outdoor dining space. A City of Boston Transportation Department representative shared that, so far, Petit Robert is the only restaurant that has utilized a parklet, likely because many restaurants are more interested in erecting an outdoor dining space as quickly as possible, and have chosen to use one of the more simple barriers (metal fencing, jersey barriers, heavy planters, etc.) that would only take a few hours to set up.
Still, Le Garrec said he has heard from a handful of restaurateurs who want to see his floor plan and use it for their own establishment. And with no expiration date set for the parklet, he's hoping to keep it up for as long as possible.
"It's definitely going to be a lifesaver this summer," Le Garrec said. "This extra extension is really going to save us. And it's really comfortable — it feels like you're somewhere in Europe."