Restaurants
This weekend: Project Paulie is spreading the love with lasagna
Plus, the food news you may have missed this week.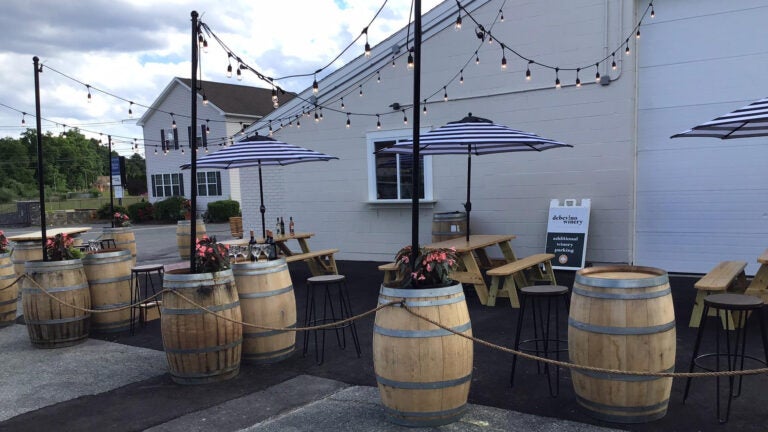 We're all eating a little differently these days: Cooking at home more. Ordering takeout. Now that Phase 2 has launched, though, some of us are starting to venture out and dine on patios. Whatever your comfort level, here's what's been going on in Boston's restaurant world recently, plus a few ways to enjoy some of our region's best restaurants and bars from both the comfort of your own home and out in the world.
Here's what you may have missed this week:
Throughout the week, restaurants and bakeries across Boston have taken part in Bakers Against Racism, a massive virtual bake sale, with proceeds going toward organizations dedicated to social justice. There's still time to place an order for cookies, pies, cakes, and more, all available for pickup on Saturday.
We spoke with French Press Bakery owner Jay Spencer, who talked about how Black businesses need economic opportunity — and more recognition.
Dave Andelman resigned as CEO of Phantom Gourmet on Tuesday, after receiving backlash from comments he posted on Facebook that mocked the recent protests against racial injustice and police brutality.
Magic Hat, a pioneer in Vermont's craft beer industry, announced that it was leaving its Burlington digs. The brewery will be sold to Zero Gravity Craft Brewery.
The closing announcements kept coming this week — Backyard Betty's, Bar Boulud, Belly Luna & the Milky Way, and New Saigon Sandwich have all permanently closed.
New patios to check out this weekend:
As Phase 2 chugs along, patios are continuing to pop up across the city. This week is no different — here are five recently-opened outdoor dining spaces to lounge on this weekend.
Debevino Winery: Hoping to sip wine on a patio somewhere? Debevino Winery in Walpole just opened their outdoor space, a wine barrel-filled patio offering charcuterie boards and frozen wine slushies.
Jamaica Mi Hungry: Located across from the Jackson Square T stop, Jamaica Mi Hungry serves fall-apart jerk chicken and coconut shrimp. Its new patio outside includes a smattering of tables and chairs in the sun, where you can wash down your plate with a pineapple soda.
Lily P's: Fried chicken spot Lily P's opened their spacious Cambridge patio this week, and is now taking reservations Thursday through Saturday from 4 p.m. to 8 p.m.
Trina's Starlite Lounge: Come by for dinner and drinks on Trina's patio, now open Thursday through Saturday from 5 p.m. to 9 p.m. The Somerville haunt also recently debuted Starlite Snack Shack, a takeout window housed in the adjacent Parlor Sports space where customers can order rosé and soft serve ice cream.
Woods Hill Pier 4: Owner Kristin Canty and chef Charlie Foster will debut the patio at Woods Hill Pier 4 in the Seaport for the first time on Friday, serving a new all-day menu that includes lobster popovers, a WHP4 burger, and a lavender bee's knees cocktail.
Eating and cooking alone, together:
Nicky Bandera has been cooking sheets of lasagna for her hospitality industry friends ever since the pandemic first hit, a sort-of virtual hug comprised of tomato sauce and mozzarella. Since the cooking endeavor, dubbed Project Paulie, began, Bandera has made more than 1,000 lasagnas for unemployed waitstaff in Massachusetts and Rhode Island, as well as bartenders, owners, dishwashers, and undocumented workers. Now her lasagna can be yours: Project Paulie is selling Lasagna Love Packs, comprised of a lasagna dinner and a signature cocktail made by cocktail blogger Nail the Cocktail. Each package is $35 and can be ordered for pickup on June 23, or delivered within the Metro Boston area. Proceeds will be donated toward The Loveland Foundation and Color of Change.
Restaurants may be struggling right now, but pop-ups are still happening. Exhibit A: On Sundays and Mondays from 11 a.m. to 7 p.m., those who stop by Rifrullo Cafe in Brookline will be rewarded with Mas Maiz, an arepa pop-up that launched last weekend. In addition to his corn arepas, Colombian chef Juan Carlos Perez serves plates of flank steak with rice and beans, ground beef with plantains, and shrimp with jalapeño salsa.
Friday is Juneteenth, a day celebrating the emancipation of slaves in the U.S. on June 19, 1865. We've rounded up a number of ways to commemorate the holiday over the next few days, but may I also encourage you to frequent even more Black-owned restaurants this weekend? Neighborhood Kitchen in Medford has a special Juneteenth plate available for $15, while Darryl's Corner Bar & Kitchen in the South End is celebrating with a virtual music marathon starting at noon on Friday on their Instagram page — listen in after placing a takeout order for catfish strips or country fried wings.
Watch this: You've seen Padma Lakshmi host "Top Chef" for years. You've read her cookbooks (maybe her memoir, too!). Now, the talented doyenne is taking us through a tour of American food on "Taste the Nation," her 10-episode series on Hulu that launched Thursday. Lakshmi heads to South Carolina to cook and eat with the Gullah Geechee community, direct descendants of West Africans who were brought to America and enslaved in the 1700s. She spends time with Thai immigrants in Las Vegas, gets to know a Peruvian enclave in New Jersey, and eats her way through El Paso, Texas, all while deconstructing what exactly it means to eat "American food."