Restaurants
Chinatown's restaurants declined first. The neighborhood might be the last to recover.
"It won't be until next year that we will see some sort of bouncing back," said Su Li, owner of Su Su Gourmet.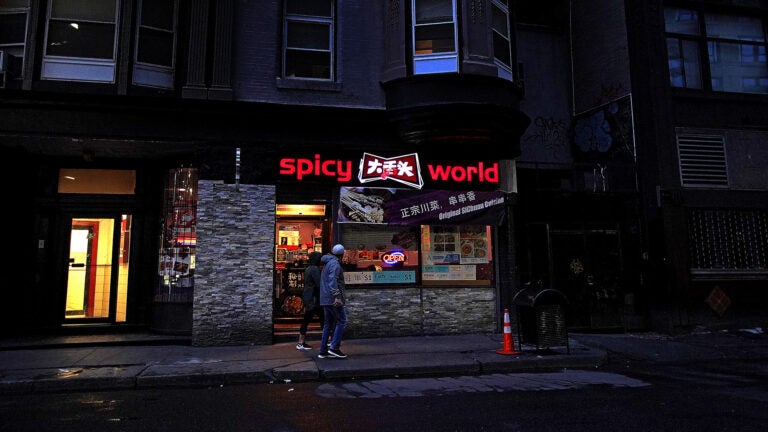 At 700 seats, Hei La Moon is one of the largest banquet halls in Boston's Chinatown. Pre-pandemic, the expansive dining room filled with guests beckoning to roving dim sum carts, each one loaded with tins of shrimp har gow, pork shumai, and sponge cake. 
Now, the banquet hall sits empty. Owner Albert Leung said that revenue had dropped to 10 percent of what he would normally make before he closed his restaurant in March. He doesn't know if Hei La Moon will ever reopen.
Across Massachusetts, a glimmer of dining normalcy has started to emerge as restaurants expanded outdoor dining spaces in Phase 2 and, as of Monday, reopened their dining rooms for reduced inside service. But Chinatown hasn't been able to reopen as easily. Numerous people interviewed for this story tick off the reasons why: The neighborhood's reputation as a dining destination — one where people sit down and eat, not order takeout and leave — has kept diners away during the pandemic. Its narrow streets make outdoor dining nearly impossible. The absence of students means the absence of clientele. Commission fees charged by delivery apps cut into their profits.
Although restaurants are closing across Boston and the state as a result of the coronavirus, Chinatown seems to be suffering uniquely. The neighborhood experienced declines in dining before other parts of the city — when Gov. Charlie Baker ordered restaurants to pivot to takeout and delivery in the final week of March, some Chinatown restaurants had already been slow for weeks. The culprit was attributed to racist stereotypes and early misconceptions about COVID-19's transmission.
Because of this, many experts and observers expect it will take longer for the neighborhood to recover, leaving Chinatown's restaurant owners to wonder: Will their businesses survive at all?
'It's not worth it'
Restaurants in the North End, Back Bay, and other areas of the city have spilled into parking spots and lawns in an effort to increase their dining space. Now that the state is in Phase 2B, the outdoor tables remain in many places as indoor dining reopens with reduced capacity due to social distancing. Chinatown restaurant owners say that quickly adding outdoor dining just doesn't work on the neighborhood's tight streets. 
"It's definitely not feasible in our area because everything is so compact," said Gloria Chin, the co-owner of modern Asian cafe Double Chin. "The sidewalk space is very limited. There's so much car traffic. Even if it were an option, it wouldn't be very enjoyable for the customers. I just feel like the physical neighborhood isn't really meant for outdoor dining, which is really unfortunate."
Fan Huang, who owns the compact Szechuan restaurant Spicy World on Beach Street, gave it a shot. His wife helped him apply for the paperwork to expand outdoors, and then he measured the space he'd be allowed to use. 
"If we do outside seating, we can only put like two or three tables," Huang said. "It won't be helping us a lot because we have a small place. A lot of people who do business in Chinatown have the same issue. We can't do a lot of outside seating. We'd have to hire a chef, waitstaff, and then we don't know how business will go. So it's not worth it."
It's not just Chinatown's set-up that discourages outdoor dining. Even with larger restaurants like Hei La Moon, running food from the back of the restaurant, across an expansive dining room, and out to a handful of tables doesn't make sense. 
"By the time I'm able to get the meals outdoors, food will have cooled down and the meals won't be hot anymore," explained Leung. "If I try to do outside seating, how many tables would I realistically be able to set up on the sidewalk? It's a long walk. Our waiters are probably unwilling to make the long trips back and forth."
While Boston City Councilor Ed Flynn, who represents District 2, agreed that implementing outdoor dining is difficult in Chinatown because of its pedestrian foot traffic and tightly packed streets, he said that he's open to having conversations about closing down certain streets on the weekend.
"I've talked informally to some Chinatown restaurants, and we still have to plan and think about what impact it would have and how we would go about doing this," Flynn told Boston.com. "It's something I would support, but we also have to make sure that we work closely with the various city departments, such as traffic and transportation, the police, fire, inspectional services — just so we make sure everything is up to par."
From dine-in to takeout
Chinese food has long been a popular takeout and delivery option, but Boston's Chinatown is a dine-in destination, a place where people meet for dim sum and group dinners. As office buildings emptied out and people ordered from Chinese restaurants closer to their own homes, restaurants in Chinatown suffered. 
"I think we're unique in that we're not really a residential neighborhood, so from an economic standpoint, it's harder to generate revenue," Chin said. "I feel like if you're in South Boston or Beacon Hill or neighborhoods where people live, people would go to their neighborhood pizza shop or whatnot. Whereas Chinatown is a place people come to late at night or on the weekends. It's kind of like they're making a trip out of it."
Commissions fees on delivery apps have forced many Chinatown restaurants to rethink whether delivery is worth it. Huang, who partnered with Uber Eats to deliver food from Spicy World, said delivery has not been successful for them, even with companies expanding their delivery area.
"Chinatown is usually not a takeout place," he said. "[Now], if we want more customers, we have to contact a delivery company, and they charge a [high] percentage… I've worked for restaurants for more than 15 years, and usually the delivery company only delivers two or three miles [from the restaurant]. But right now, they go all the way to Allston from Chinatown. But between Chinatown and Allston, there are thousands of restaurants."
In addition to the loss of downtown workers, Chinatown has also seen a decline in one of its biggest clientele: The city's student population.
Su Li, who opened Su Su Gourmet on Tyler Street in 2014, said that Chinatown businesses had shifted to catering to a younger generation in recent years. But local universities' transitions to online classes, as well as travel restrictions for those coming to the U.S. from China, have reduced the number of students frequenting Chinatown. 
"Because of this economy and newly implemented policies, we have lost out on a huge population of clientele," Li said. "Boston is one of the cities that hosts the highest academic institutions. We're really hoping that after the pandemic, the Boston mayor will advocate for more students coming back to Boston so that we're able to enjoy this population again."
Bob Luz, president and CEO of the Massachusetts Restaurant Association, said "there's no doubt" that students make up a substantial portion of the neighborhood's customers.
"The higher education world in the Greater Boston area does rely a lot on the population of Asian students from overseas that are going to school here," he said. "And certainly Chinatown is a comfortable spot for them."
He also pointed out that Chinatown restaurants, with their early morning closing times, feed a significant number of Boston's restaurant industry community.
"Our folks work into the night," Luz said on Monday. "[Chinatown is] where they go to grab a bite to eat. When they haven't been working for 97 days now, that's missing from that world."
A double pandemic
Many of what Chinatown's restaurant owners are asking for are consistent across the industry: Rent abatement. Loans. Better access to PPE.
But there's another hurdle to overcome, too.
Chinatown tour guide and culinary consultant Jacqueline Church said that the neighborhood is still recovering from the racist sentiments that crippled businesses starting in January.  
"The problem is that we're living in this time of a double pandemic," Church said. "We have this pandemic of the coronavirus, but we also have, essentially, a pandemic about racial inequality. All of those issues come to bear on this neighborhood simultaneously. We have a double burden of being a neighborhood that's dependent on a largely immigrant population, and that is also feeling the brunt of the racism that is endemic in the rest of society."
In February, hoping to ease coronavirus fears, Mayor Walsh's Office of Economic Development debuted a social media campaign to encourage residents and visitors to frequent Chinatown's businesses and restaurants. City Councilor Michelle Wu and Quincy City Council President Nina Liang, as well as Boston councilors Flynn, Annissa Essaibi George, and Kenzie Bok, organized a dim sum brunch at China Pearl Restaurant to show their support for the neighborhood. When asked whether a campaign to return to the neighborhood would be useful in Phase 2, Li said that it would be helpful for the City to let people know that it's safe to come to Chinatown.
Flynn acknowledged that he's been talking to some residents about a "welcome back" campaign, but that he wants to make sure the timing is right. He said he knows that Chinatown restaurants have been disproportionately impacted.
"I think they're going to have a more difficult time than other restaurants in various neighborhoods," he said. "The challenges facing Chinatown businesses are great. In addition to [inadequate] space for outdoor seating and student customers, there's also a lot of racism that the AAPI [Asian Americans and Pacific Islanders] community faced during this pandemic. … It hurt their businesses. They've been hit really hard financially by the pandemic and the racism."
Every owner who spoke with Boston.com doesn't foresee any real bounce back coming until 2021, if at all.
"A lot of restaurants and businesses in the area live off of volume, since a lot of the price tags on food here are definitely lower than the prices at most other restaurants in other neighborhoods," Chin said. "So I feel like the only thing that can really help the businesses here is volume, and I don't foresee that as a very feasible option until it starts to look better on the COVID-19 end."
Li, whose restaurant has been open for takeout throughout the pandemic, echoed that feeling.
"I feel like, personally, for the rest of the year, business will be poor and Chinatown will not be able to recover," Li said. "It won't be until next year that we will see some sort of bouncing back."