Restaurants
Seis Pies, a burrito pop-up, lands in Somerville this week
Place your order for a President Macho Verde burrito.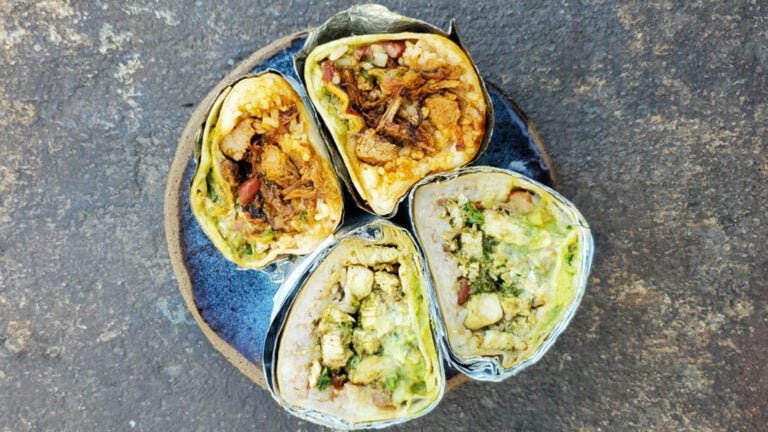 Ania Zaroda and Michael Gurevich, owners of Mike & Patty's in Bay Village and Hot Box in Somerville, were gearing up for the launch of their second Mike & Patty's location in the upcoming High Street Place, a massive food hall that was scheduled to open downtown in March. Tim Maslow, chef at the now-closed Whaling in Oklahoma, had joined on to do some menu consulting. Then the coronavirus pandemic hit.
"We were really into it; we were on a very fast pace to get [the new location] done," Gurevich told Boston.com. "All this went down, and it was obviously a nightmare for a lot of people in a lot of ways. So we basically started talking about different things we could do."
A burrito concept was born: Seis Pies, which translates to "six feet" in Spanish. Launching Wednesday, Seis Pies will operate within Hot Box from 5 p.m. to 8 p.m. on Wednesday and Thursday for the next two weeks, with the goal to segue the concept into a ghost kitchen — an online, delivery-only restaurant — afterward. Maslow has created a succinct menu of three burritos, including the President Macho Verde (chicken), La Huasca (chili-braised pork), and No Mames (vegetarian), with each burrito featuring house-made sauces and house-made, 14-inch tortillas. 
"It's a really challenging time for everybody — everyone is kind of hurting, so rather than let something like that negatively affect us, we wanted to turn it around and use it to channel our artistic, creative juices and create a new concept in the midst of this depressing time," Gurevich said.
Pre-orders will begin on Tuesday through Hot Box's online menu, and will be available for pickup at the Somerville roast beef and pizza shop located within Bow Market. Fifty burritos will be available each day.
Gurevich shared that profits from this week's burrito sales will be donated to Amplify Latinx, a Boston-based organization that works to increase Latinx representation, civic engagement, and economic opportunity in a variety of industries.
"We're trying to do more of this type of stuff," Gurevich said. "[Our businesses] were already takeout from the get-go, and we were kind of already doing a lot of the platform [concepts]. So we've been trying to develop pop-ups, different concepts, just playing around. That's kind of the future anyway."