Restaurants
The Lexington at the Picnic Grove in Cambridge Crossing will bring lobster rolls and patio vibes to East Cambridge
The breezy summer concept debuts July 16.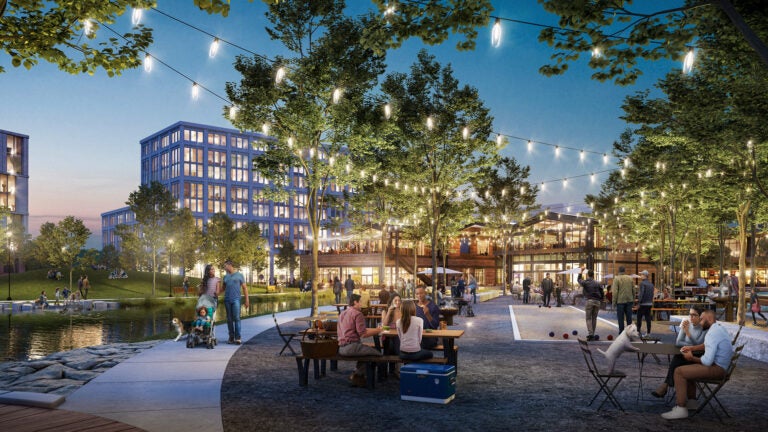 Puritan & Co. chef Will Gilson was supposed to launch three new concepts — The Lexington, a rooftop bar; Geppetto, an Italian restaurant; and Café Beatrice, an all-day cafe — at the East Cambridge development Cambridge Crossing last month. The coronavirus pandemic, of course, had other plans, and in June the chef told Boston.com that his team is looking toward a late September opening date.
In the meantime, Gilson and Puritan & Co. pastry chef Brian Mercury are launching The Lexington at the Picnic Grove in Cambridge Crossing, a sort-of test run for what's to come. Debuting July 16 at 219 Jacobs St. in Cambridge, the outdoor dining experience will run throughout the summer, offering socially distanced patio seating for up to 80 guests. The menu is a hit list of summer stalwarts: grilled chicken wings, bacon-wrapped scallops, buttered lobster toast, hot dogs, burgers, tacos, lobster rolls, and desserts like a sundae cup and pistachio Rice Krispie treats. Gilson and Mercury will be testing out special menu items that they hope to eventually fold into The Lexington's rooftop bar menu. Beer and wine will also be available.
As for his other upcoming concepts at Cambridge Crossing, Gilson previously told Boston.com that they might look considerably different than what his team had initially envisioned, and that he'd be seeing how people respond to indoor dining at Puritan & Co. — and now, perhaps, outdoor dining at The Lexington at the Picnic Grove.
"I'm as excited as anybody else as to what it's going to be like to open a new restaurant," he said. "It is daunting, it is scary, and I hope that people will come out."
The Lexington at the Picnic Grove will operate on Thursdays and Fridays from 4 p.m. to 8 p.m. and Saturdays and Sundays from noon to 8 p.m. Reservations are required and can be made by calling 617-615-6195.