Restaurants
This weekend: A massive summer patio lands in the Seaport — gelato cart included
Plus, the food news you may have missed this week.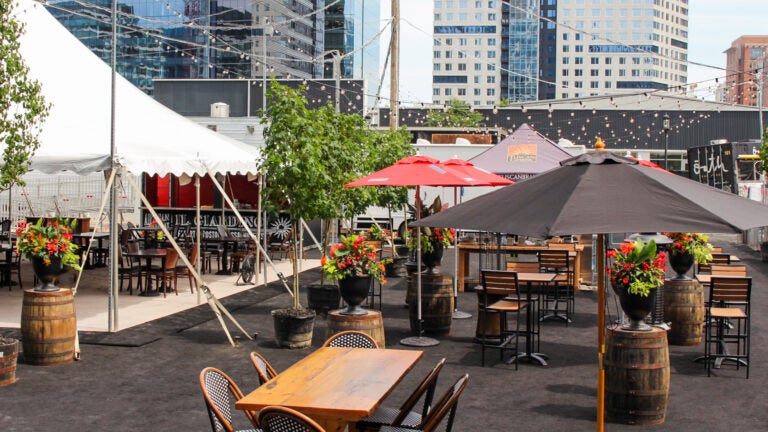 We're all eating a little differently these days: Cooking at home more. Ordering takeout. Now that Phase 3 is well underway, though, some of us are starting to sip cocktails on patios and enjoy indoor dining again. Whatever your comfort level, here's what's been going on in Boston's restaurant world recently, plus a few ways to enjoy some of our region's best restaurants and bars from both the comfort of your own home and out in the world.
Here's what you may have missed this week:
TJ and Hadley Douglas, owners of the South End wine and spirits shop The Urban Grape, have created an award that is poised to change the (very white) face of the wine industry. Here's everything you need to know about The Urban Grape Wine Studies Award for Students of Color.
Thinking about visiting a pick-your-own farm this summer? The rules during COVID-19 have changed. Read up on what the experience looks like right now, then head into the fields to collect your own blueberries, raspberries, wild flowers, and more.
Will Gilson was supposed to open three new restaurants at Cambridge Crossing last month. Instead, he's offering a sort-of test run with the opening of The Lexington at the Picnic Grove, a seasonal restaurant bringing lobster rolls and patio vibes to East Cambridge.
Here are all the places Boston youth can pick up free breakfast and lunch this summer, including sites run by the annual Boston Summer Eats program.
Seis Pies, a burrito pop-up, landed in Somerville this week. It'll be back next week before turning into a ghost kitchen — be sure to pre-order before you stop by!
Restaurants continue to close at a startling rate. Recently, Craigie Burger at Time Out Market announced it would not be returning when the food hall reopens, Love Art Udon closed up shop, and Les Zygomates ended its 26-year run.
New patios to check out this weekend:
As Phase 3 chugs along and indoor dining resumes at some restaurants, patios are continuing to pop up across the city. This week is no different — here are five recently-opened outdoor dining spaces to lounge on this weekend.
Bully Boy Distillers: Cool off with boozy popsicles and craft cocktails at the Roxbury distillery's new outdoor cocktail garden. Open Saturdays from noon to 8 p.m., the garden offers hand sanitizer made in-house, and has invited food trucks to post up outside the garden for premium noshing — catch The Bacon Truck at Bully Boy this weekend. Reservations are highly encouraged.
Darryl's Corner Bar & Kitchen: After taking a brief break to recharge, Darryl's is back with a brand new patio open Thursdays through Sundays from 3 p.m. to 10 p.m. Make a reservation at the South End spot for plates of country fried wings, salmon burgers, and catfish strips.
Spoke Wine Bar: On Wednesday, Somerville's Spoke Wine Bar debuted its brand new parklet — with a few rules, of course. Guests must make a reservation (time slots are for 1.5 hours max), digital menus are used, and masks must be worn when not consuming food or beverage. Stop by Wednesdays through Saturdays from 5 p.m. to 10 p.m. for a glass of wine and some bites.
Tuscan Kitchen: Could this be one of the biggest patios in Boston? Tuscan Kitchen in the Seaport opened "Il Giardino" this week, a 22,000-square-foot outdoor space complete with a tented area, a raw bar, a gelato cart, and more within the garden-inspired destination. Guests are encouraged to call ahead for seating (617-303-7300), though walk-ins are also accepted.
Uni Clam Shack: Uni may be known for its upscale izakaya fare, but the Back Bay hangout is adding a decidedly more casual concept with the introduction of its clam shake, open from noon to 4 p.m. daily. Order fried clams and lobster rolls at the makeshift takeout window, then settle into a table on Uni's outdoor patio.
Eating and cooking alone, together:
Boston's JerkFest is back! Virtually, of course, but this year's iteration is still jam-packed with cooking classes and demos highlighting food and drink from the Caribbean. From Friday to Sunday, the 8th annual festival will include both free classes (including Friday's rum and brew tasting) along with $35 Zoom cooking classes featuring chefs Nadine Nelson, Tamika Francis, and others. If you're unfamiliar with Caribbean cuisine and are hoping to learn a few things this weekend, now's your chance. Sign up for classes here.
For all the cooking I've done at home in the past few months, pastries are not an area that I am ready to tackle. And with a sweet tooth that has regularly convinced me that, yes, it's totally fine to have dessert for dinner, I miss sitting down at a cafe to leisurely enjoy a tart or eclair. So it was with pure joy that I picked up a few outstanding pastries last week at Colette Bakery in Medford, where baker Noé Doucet is making some truly exceptional treats. The small, bright shop opened in mid-April and serves beautiful croissants, brioche, turnovers, choquettes, and more. I picked up a slice of the creamiest flan, along with an airy, crisp lemon meringue tart; I highly recommend you do the same.
Read this: As someone who is still deeply conflicted about dining out at the moment (I've ordered plenty of takeout and had a few patio meals, but still don't feel confident eating inside a restaurant), these two recent essays really helped suss out my current fears. Eater restaurant critic Ryan Sutton, who came down with COVID-19 in March, believes that dining out does not justify the health risks to workers; while Kat Kinsman, a senior editor at Food & Wine who has written extensively about anxiety and depression, writes about why she is far too anxious to eat at a restaurant right now. What is your stance on dining at restaurants during the pandemic, both on outdoor patios and within dining rooms? Let me know in the comments below!