Restaurants
Tatte employees went public with their grievances. The bakery's founder and CEO is stepping back.
The shake-up comes amid an outpouring of stories alleging discrimination and mismanagement at the Tatte bakery chain.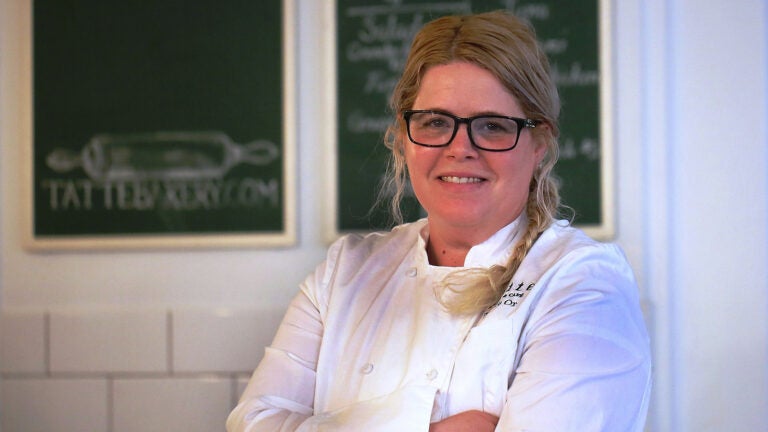 The founder of a rapidly expanding Boston bakery chain is stepping down from her role as CEO amid calls from current and former employees for her resignation, ignited by the Black Lives Matter movement.
In an e-mail to Boston.com on Wednesday, Tatte Bakery & Café founder and CEO Tzurit Or said that she had informed the team a month ago of her plans to move away from the day-to-day management of the business — and away from the role of CEO — to concentrate on "the creative aspects of Tatte that I so love (food, bakery and café design). This is something that I have been considering for some time, but the timing obviously changed as we focus on helping the cafés reopen."
Boston.com obtained two internal company e-mails that discussed Or's transition. In an e-mail sent from Or to the Tatte staff on June 21, she stated that she was excited at the prospect of shifting out of her daily management role and into a more creative one. A second company e-mail on July 21 confirmed this transition, and also revealed that a new CEO would be announced but did not indicate when.
It's an abrupt departure for Or, who started selling baked goods at local farmers' markets in 2007 before opening her first brick-and-mortar bakery in Brookline in 2008. Since then, the company has quickly expanded to 15 locations in the Boston area, with two new Washington, D.C., outposts scheduled to open this fall. 
But for nearly two months, current and former employees have publicly aired their grievances with the company, first in a June 5 petition following Tatte's response to the Black Lives Matter protests, then in a July 13 open letter calling for Or to step down. Boston.com spoke with seven former employees who described workplace issues including alleged racist and derogatory remarks made by Or. Additionally, the company's HR operation remains in need of leadership, "professionalizing," and stronger "personnel systems, procedures, and policies," according to the July 21 memo. 
Employees demand change
On July 13, seven current and former Tatte employees under the name "Employees for Change" published an open letter addressed to "Tzurit Or, Tatte Bakery, and Boston hospitality." 
"Since Tatte's inception in 2007, Tzurit Or has built her empire around herself and her ego, while claiming to support her workers wholeheartedly," the letter states. "With Tatte boasting 16 local cafes in 2020 spanning across Boston (with one permanently closed store on Broadway in Kendall Square) and now branching into the Washington D.C. area, it is more apparent than ever that the CEO has been using the optics of her successful business to overshadow the injustices of the company against its staff, mainly BIPOC employees."
The letter went on to share 14 anonymous testimonials describing alleged discriminatory, sexist, and racist incidents involving Or and other Tatte managers. Some of the published examples include:
One testimonial detailed "Tzurit Or mistook 2 Black FOH workers on a shift for each other" and that this went unnoticed by other management and shift workers.

One employee of Hispanic and white descent stated that a manager "made many racist, sexist, queerphobic, and ableist comments" on their shifts and after "past and present coworkers compiled our stories about them and presented them to higher management" that they have not received further information on what is being done to train Tatte management on diversity, equity, and inclusion.

"I know that several of my coworkers experienced racism from customers and were not supported by management to stand up for themselves or remove customers that made them feel unsafe," another testimonial stated.
Employees for Change demanded nine action items, including the removal of Or, the addition of two Black and one non-Black POC employees to the executive team, a companywide pay increase, and bi-weekly meetings so that employees could share their opinions on how Tatte can move forward.  
As of publication, the letter had garnered more than 210 signatures from current and former employees, as well as those identifying themselves as allies. 
In an e-mail to Boston.com addressing the open letter, Or wrote, "The entire Tatte leadership team is focused on fully living up to our values and being part of the changes that are needed within our society to combat racism and social injustice. Like many companies, the events of the past several months have informed our perspectives on how best to do that. We want to be an outstanding employer who embraces diversity, advances social justice, and addresses challenges as they arise."
She addressed a previous Change.org petition that Tatte employees published in early June, which asked the company to match all Tatte donations to Black Lives Matter funds, commit to diversifying the company's executive team, and donate leftover food and beverages to frontline protestors and BLM-affiliated shelters. Or stated that, in response to the petition, Tatte contributed $25,000 to the Tatte Family for Black Lives Matter" fundraiser, which donated funds to the ACLU, BLM of Boston, and The Boston Mutual Aid Fund; and is currently donating end-of-day food to Violence in Boston's Social Impact Center, Sojourner House, and Middlesex Human Services Agency – Roxbury. Or also shared that Tatte has hired a law firm to investigate allegations of discrimination, hired diversity and inclusion consultants to conduct listening sessions with current and former employees, and launched an effort to expand diversity throughout the management team.
"While we continue to follow the external conversation, our focus at this time is on continuing to learn and moving forward with actions based on the recommendations of our diversity consulting team," Or wrote. "Part of that commitment to continue learning most certainly includes investigating issues that are brought to our attention. However, it is nearly impossible to investigate and learn in a meaningful way when allegations are anonymous and lacking in detail (time frame, location, etc.)."
In response to Or stepping down, Employees for Change shared the following:
"In regard to the news that Tzurit is stepping down as CEO of Tatte, our response is that this is long overdue and a good first step toward becoming a company that is actively anti-racist. However, Tzurit stepping down was only the first point on our list of demands. And along with her stepping down, many more actions must now be taken. We sincerely hope that the executive board has hired a professional human resources manager who will work with Tatte's hired diversity, equity, and inclusion team to appoint a new CEO. In addition, the announcement of a new CEO now carries more weight, as the executive board has not appointed new members to help them make this decision, specifically Black and POC employees promoted from within the company. We would like to see proof that the decision of who is appointed as Tatte's new CEO is backed by the BIPOC employees of Tatte, and at the very least, that they were included in this process."
The group also asked for a public statement and apology to be made by Or, and for the new CEO to address the future of the company. 
'We all kind of looked at her in amazement'
In both the original petition and the open letter, Tatte employees shared dismay at the lack of representation and diversity within the company's management staff, as well as the alleged mistreatment of employees who are people of color. The employees who spoke with Boston.com echoed that sentiment, with many sharing that they rarely saw Black employees working in customer-facing positions, and that the majority of employees in the back of house were people of color. 
Mike Geldart started as a pastry chef at Tatte in June 2013. He worked in the kitchen at the 318 Third St. location in Cambridge before being promoted to director of baking operations, where he oversaw the bread and breakfast pastry production at various locations. Geldart said that he witnessed multiple instances of discrimination while working at Tatte.
In the summer of 2013, Geldart said that Or had locked herself out of her Third Street office, which was located inside the branch's dry storage area. In front of Geldart and several other employees, she approached a dishwasher, who is Black, and asked, "Can you break into the office? You know how to do that, right?" Geldart said that there were multiple employees who witnessed the incident, including a chef and a couple of managers, and that, "we all kind of looked at her in amazement." 
A former chef who worked at Tatte from 2011 to 2013, and who asked to remain anonymous, said that he witnessed the interaction and confirmed the account. 
In response, Or told Boston.com: "That story is categorically false. The statement is completely inconsistent with facts, my own beliefs, and my approach as a business owner."
Geldart also shared an Instagram photo with Boston.com that depicts three former employees laughing together. Or sent him the photo via Instagram message in April 2016 with the caption, "Someone just forward me this pic and I am asking how many losers can fit in one pic," and "One mentally unstable, one is a complete lazy idiot and the last just lazy and like to party. We did a massive upgrade as soon as we could."
"As it relates to the image, the comments about former employees were unprofessional and inappropriate and I regret that, but they had nothing to do with race, gender, or ethnicity," Or told Boston.com.
Elle Marston, an Employees for Change member, joined Tatte as a baker at the original Brookline store in 2013 and left after six months.
"[Or] hired me at a certain rate and then she didn't pay me that rate the entire time I worked there," Marston said, sharing that she was told she would be paid $12 per hour for two weeks of training, then brought up to $14 per hour. Marston said she never received that pay increase. 
Or told Boston.com that "Tatte did have both a training wage and a permanent wage for bakers during that period (though our policies have since changed). I have no knowledge of this issue (I didn't manage or oversee the individual). If there was an error, it was inadvertent and an administrative mistake."
The root of the problem
The July 21 staff letter stated that over the next 90 days, the company will be reviewing the diversity, inclusion, and belonging consultants' findings and developing a plan to implement their recommendations, as well as bringing in outside experts to help implement that plan.
"As it relates to me, personally, I have reflected on my actions as a leader — ultimately, I am accountable for what happens at Tatte and I take that seriously," Or shared in her e-mail to Boston.com. "I see today how impactful, and at times hurtful, my management style has been to some of the people around me and for that I apologize. I strongly believe in principles of fairness, equity and respect for all. I pledge to be both an advocate for Tatte doing more and better as it relates to creating an equitable environment and to continued self-learning."
For the Employees for Change, this pledge might not be enough: The group plans to protest on Sunday from 11 a.m. to 1 p.m. at the 1003 Beacon St. location in Brookline. In an e-mail sent to Boston.com, Employees for Change said the protest's goal is "holding Tzurit accountable for racism against BIPOC employees (and beyond)," and asks protestors to wear all black, bring a mask, and practice safe social distancing.
"We are going to the root of the problem," the e-mail declared, "choosing Tatte's first location as the place to spread awareness of these injustices."
Get Boston.com's browser alerts:
Enable breaking news notifications straight to your internet browser.