Restaurants
This weekend: 5 to-go cocktails that caught our eye
Plus, the food news you may have missed this week.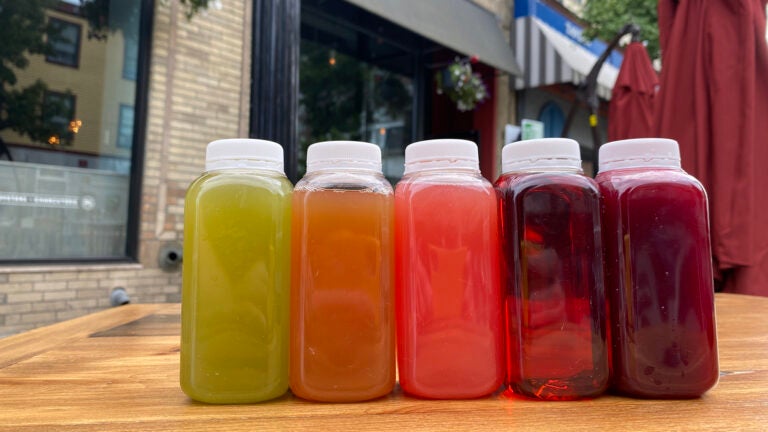 We're all eating a little differently these days: Cooking at home more. Ordering takeout. Now that Phase 3 is well underway, though, some of us are starting to sip cocktails on patios and enjoy indoor dining again. Whatever your comfort level, here's what's been going on in Boston's restaurant world recently, plus a few ways to enjoy some of our region's best restaurants and bars from both the comfort of your own home and out in the world.
Here's what you may have missed this week:
Cheers, Massachusetts! The big news this week is that Mass. restaurants and bars are now allowed to sell to-go cocktails, with a limit of two drinks per person sold alongside a mandatory food purchase. Find a few recommendations on where to pick up a drink this weekend below.
The coronavirus health crisis has undoubtedly changed the way we eat and drink. Could some of it be for the better? Here are 5 things we hope stick around in restaurants after the pandemic.
Yikes: The lead attorney in the class-action lawsuit against Whole Foods over the grocery store's decision to discipline employees who wore Black Lives Matter face masks ripped the company for "falsely attacking" one of the plaintiffs in the case.
A couple of closings were announced earlier this week, including Regina Pizzeria in Allston and Adventure Pub in East Arlington. Over in Cambridge, a collective gasp went out as the legendary Cantab Lounge revealed that it was up for sale. Any takers?
New patios to check out this weekend:
As Phase 3 chugs along and indoor dining resumes at some restaurants, patios are continuing to pop up across the city. This week is no different — here are five recently-opened outdoor dining spaces to lounge on this weekend.
50Kitchen: Chef Anthony Caldwell's Dorchester destination is now offering patio seating, with reservations available online. So what'll you be having once you score a spot? I recommend the chicken satay, brisket sliders, quinoa bowls, and kimchi and collard greens — a perfect medley of Caldwell's Asian-Southern fusion cooking.
Krasi: The Back Bay newcomer swung its doors open on Thursday, welcoming diners back inside and onto its 16-seat outdoor patio. Here you'll find a Greek wine program that's one of the largest in the country (more than 180 bottles!), and a new summer menu featuring crab salad, Greek fried bread, and sea bass crudo. Message Krasi through its website for same-day seating.
Mahaniyom: This small but mighty Thai restaurant and cocktail bar in Brookline opened just weeks before the pandemic hit and was finally able to debut a patio this week. Raised platforms hold sets of tables and chairs both in front and around the corner from Mahaniyom, where you can post up with a bowl of salt and pepper pork cheek, batter-fried soft shell crab, chicken ka-praw, and a Malai daiquiri.
Piattini: For your next Newbury Street stroll, consider stopping off at Piattini, which opened its patio on Tuesday. The Italian restaurant's garden patio offers a sizable 80 seats, along with a menu that features paninis, lobster-filled ravioli, grilled lamb rack, and plenty of wine.
Under the Green Monster: Friday is opening day at Fenway, and a new pop-up restaurant called "Under the Green Monster" will debut, um, under the Green Monster between Game On! and Bleacher Bar. You know the spot. From the patio, you'll be able to order cocktails from an airstream offering Sam Adams and Truly, as well as food from ES Provisions — a pretzel or two, perhaps?
Eating and cooking alone, together:
https://www.instagram.com/p/CC_pCclg8Xd/
Now that Massachusetts has allowed us to tack on a cocktail with our food order, where are we all picking up drinks this weekend? Here are five cocktails that I have my eyes on:
Sun Tea at Spoke Wine Bar: Not only does this drink sound wildly delicious — it's made with cognac, lapsang souchong (smoked black tea), vanilla, and oat milk — but Spoke has drawn up some eye-catching labels for their bottles. (89 Holland St., Somerville)
Frozen margaritas at The Quiet Few: The Eastie bar's owner, Josh Weinstein, was a major advocate in pushing for the cocktail bill to pass. And the frozen margaritas that the bar starts selling on Friday sound like the perfect respite during this scorcher of a weekend. (331 Sumner St., Boston)
Piña colada at Drink: Barbara Lynch's famed Seaport cocktail bar teamed up with Plantation Rum to concoct five cocktails, and the piña colada, made with Plantation 3 Stars white rum, has my attention. If you can't make it to Drink, the cocktails are also available at Sportello and The Butcher Shop. (348 Congress St., Boston)
Raspberry Fizz at Trina's Starlite Lounge: Trina's experienced a bit of a setback earlier this week when their property was vandalized and a window was shattered. Let's show them some love and stop by for a bottle of Raspberry Fizz made with raspberry-infused vodka, lime, and soda — and maybe a Somerville Speedball shooter while we're at it. (3 Beacon St., Somerville)
Uncle Steve at Puritan & Co.: Over in Cambridge, Puritan & Co. has bottled up some fun drink options, including Uncle Steve, a summery mix made with tequila, cucumber, lime, Aquavit, and soda. (1166 Cambridge St., Cambridge)
The Nu Do Society was supposed to open in the old River Gods space sometime this spring, but the pandemic had other plans. In June, the noodle centric concept started working out of a temporary kitchen as they launched delivery. The catch? They only deliver on Sundays. With a menu that changes every week, guests are asked to place an order anytime from Tuesday to Friday at noon, which will then be delivered on Sunday between 12:30 p.m. and 2:15 p.m. This week, the concept is bringing back its coveted satay bánh mì, along with gai pad king and yum samunprai — a Thai-style ceviche.
Read this: Not that I need another cookbook right now (my bookshelf is already sagging), but Eventide's recently-released cookbook, "Eventide: Recipes for Clambakes, Oysters, Lobster Rolls, and More from a Modern Maine Seafood Shack," is worth adding to the collection. Within its pages are 120 recipes for the seafood enthusiast, including the brown butter lobster roll on a bao bun, its own riff on clam chowder, and a step-by-step guide on perfecting a family-style Maine clambake. Who's up for a clambake?
Get Boston.com's browser alerts:
Enable breaking news notifications straight to your internet browser.