Restaurants
Senses brings creative Mediterranean fare to Cambridge
The Kendall Square restaurant's takeout menu launches this week.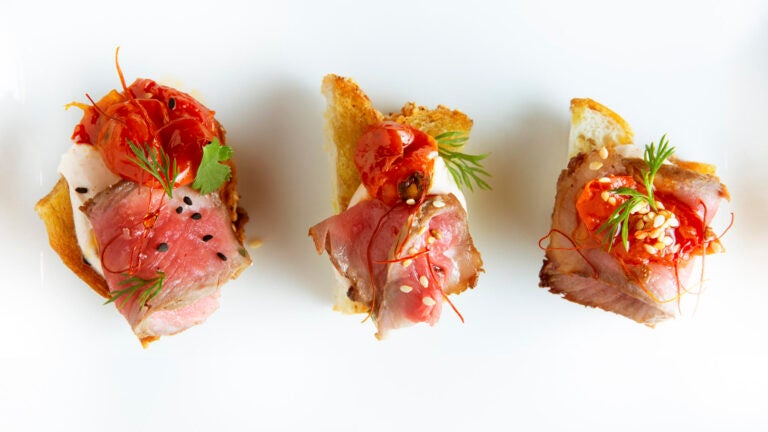 At the end of 2019, Kendall Square saw the closure of Café ArtScience, David Edwards's acclaimed restaurant and bar that embraced boundary-pushing food and drink — think inhalable cocktails and ice cream covered in edible, flavored skin. Now Edwards, a Harvard University professor, inventor, and entrepreneur, is embarking on a new challenge: opening a restaurant during a pandemic.
Senses, which Edwards will launch with chef Nadia Michaud in the old Café ArtScience space at 650 E. Kendall St., is scheduled to open on September 17, operating a couple of nights per week and "probably Sunday brunch" to start, Edwards told Boston.com. Diners who were familiar with Café ArtScience will find a more intimate, colorful vibe within the new venture, with wood from Mozambique and plenty of plants. A grand piano will anchor the space, and live music will be offered at least one night per week. On Wednesday, the restaurant will start offering its takeout menu, a Mediterranean-inspired lineup with a keen focus on regenerative food and farming.
Michaud, who hails from Paris and Athens, was introduced to Edwards through Boston culinary doyenne Jody Adams (Porto, Saloniki, Trade), and the two bonded over a shared interest in regenerative agriculture — an approach to food and farming that employs methods like topsoil regeneration, composting, and aquaculture.
"The ethos of regenerative food is that the growing and consuming of food from the earth actually makes the earth more capable of growing more," Edwards said. "We need to recognize that we have [almost] eight billion people on the planet, and so the challenge is how do we get everyone eating regeneratively, not only those in East Cambridge, but around the world?"
In designing her menu, Michaud has formed connections with farms in New England that practice regenerative agriculture, like Misty Brook Farm in Albion, Maine.
"We're really working with very local [farms] and what's available right now," Michaud said. "If they have turnips and carrots, we just build the menu around that. The same for fish. I only do wild-caught fish and line-caught."
While the menu will change based on the season, Michaud's current takeout menu features dishes like baked vegetarian moussaka, a steamed catch of the day with kalamata olives and sautéed zucchini, hand-rolled cannelloni with summer greens and pine nuts, and black-eyed pea salad with watermelon and barrel-aged feta cheese. A list of to-go cocktails, each one serving two people, includes the Organic Bramble (gin, organic berries, honey, lemon), Captain Lockwood's Punch (white rum, pineapple, coffee, cardamom, lime), and a Fleur de la Seine (mezcal, elderflower, agave, lemon).
"We've tended to have bars that had their own life," Edwards said, referencing the imaginative bar program run by the late Tenzin Samdo at Café ArtScience, "and the food program here is so special that we want to make sure that the bar is a complement to Nadia's cooking."
Michaud said the wine list is currently being devised. It will highlight biodynamic and organic wines sourced from Greece, France, and Italy, and, domestically, Oregon and California.
The new restaurant isn't abandoning the kind of experimentation that its predecessor employed, but the times have influenced what kind of experimentation takes place.
"One of the things I've learned over the last several years is that there's nothing more important [regarding] the future of food than meeting people where they're at today," Edwards said.
To that end, Edwards plans to introduce the FEND Mist Maker, a product he invented that aims to further reduce infected air droplets from spreading viruses like COVID-19, as an option for diners at the restaurant. The product, which Edwards developed with his company Sensory Cloud, is comprised of two parts: the Nimbus, an aerosol squirter that converts liquid into a vapor which can then be inhaled; and FEND (Fast Emergency Nasal Defense), a mix of calcium and sodium salts that is placed inside the Nimbus. A recent study including 10 participants and conducted by 15 researchers, including Edwards, found that inhaling FEND can reduce the exhalation of particles too small to be filtered by face masks, an effect that lasted over six hours. According to Fast Company, Edwards has licensed the FEND saline solution from Pulmatrix, a pharmaceutical company, and launched pilot studies with Beth Israel Hospital.
"This is totally the moment to create the restaurant of tomorrow," Edwards said. "That's always happened in crises. You kind of discover the new conditions and you figure out what grows in this environment. You've got to be experimental about it."
The restaurant's takeout menu will launch on July 29 starting at 4:30 p.m., and will be available Mondays through Fridays from 4:30 p.m. to 10 p.m.. Check out the full menu here.
Get Boston.com's browser alerts:
Enable breaking news notifications straight to your internet browser.