Restaurants
Bars and restaurants react to Gov. Baker's new COVID-19 restaurant rules
Owners are left with more questions than answers after Baker's latest announcement.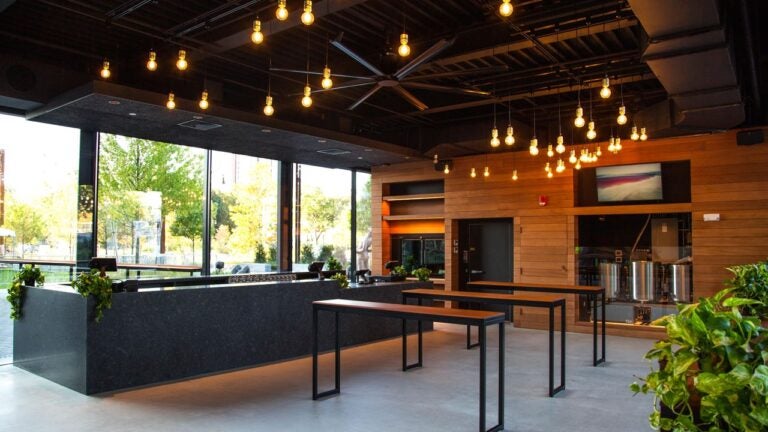 After a new pandemic-related safety standard was issued last week, restaurant and bar owners are left wondering whether they'll have to close again.
On Friday, Gov. Charlie Baker announced new COVID-19 gathering and restaurant rules, including a rule that alcoholic beverages will only be served at restaurants if accompanied by food prepared on-site. The new measure goes into effect on Tuesday, and is in response to a recent uptick in COVID-19 cases in Massachusetts.
"Bars are closed in Massachusetts," Baker said in Friday's press conference. "And bars masquerading as restaurants also need to be closed."
The Massachusetts safety standards and checklist for restaurants was updated to reflect the latest amendment, clarifying that "'Restaurant' means an establishment that provides seated food service that is prepared on-site and under a retail food permit issued by a municipal authority pursuant to 105 CMR 590.000."
Under the staffing and operations section of the checklist, the following rule regarding alcohol was also added:
"Alcoholic beverages may only be served for on-site consumption if accompanied by food prepared on-site. Potato chips, pretzels, and other pre-packaged or manufactured foods do not constitute food 'prepared on-site.' For each customer, an item of prepared food must be ordered at the same time as an initial alcoholic beverage(s) order. One or more shareable food item(s) may be ordered, as long as it/they would sufficiently serve the number of people at the table."
For some establishments, the late Friday announcement has resulted in more questions than answers. 
Ryan Shocklee, vice president of operations at Trillium Brewing, said the company was left scrambling late last week while trying to figure out whether the brewery's Fenway location was in compliance with the state's order. 
"Obviously we have the restaurant at Fort Point, so we're not concerned about that," Shocklee said. "Canton as well — we have the proper permit issued to the town pursuant to that order, so that's fine. The wild card is our Fenway location. We're part of 401 Park, which has Time Out Market that recently opened. …We could easily have Time Out Market run food to our tables. But would that qualify as food prepared on site for Trillium? We don't know the answer to that question yet."
Shocklee said that Trillium is working with its lawyers and the licensing board to get answers, but, as of Monday afternoon, they haven't received a response yet as to whether their health permit, which would allow the brewery to serve food, is issued in accordance with the state sanitary code 105 CMR 590.000. 
"We just want to be able to communicate to our guests what to expect," Shocklee said.
Time Out Market, which reopened to the public on July 29, is adjusting its own operations as well. Guests at the market's bars will be required to show a receipt from a food purchase, which includes food ordered directly at the market's vendors or online orders from the Time Out Market app.
"Time Out Market's two bars complement the unique culinary offerings from our eateries, and in response to Governor Baker's announcement, we ask that all guests kindly show a receipt from one of our eateries when placing an order at the bar," Josh Hubbard, Time Out Market Boston general manager, shared in a statement with Boston.com. "This extra measure is one more small step we can take to make guests feel as comfortable as possible when they visit Time Out Market."
The state's updated rules prompted at least one bar to close. Pratty's CAV, a sports bar in Gloucester, shuttered over the weekend in response to the new rule.
"In light of the Governor's announcement today, Pratty's last day will be this Saturday, August 8th," the bar shared in a Facebook post. "So sad."
In the comments, Pratty's clarified that the bar would be closed "until there is a cure, vaccine, or significant treatment to move us to phase 4."
Some establishments that also operate pop-ups are facing additional confusion over best practices when offering their food at other locations. Jonathan Gilman, owner of Brato Brewhouse & Kitchen in Brighton, said that he doesn't yet know how Brato will ring up sales when selling sausages and grilled cheese sandwiches at other breweries.
"There's the question for us, when we're doing pop-ups [and] providing food for places that need to have food: Does that mean we have to run our sales through their point of sales system in order for it to count as being on the same transaction?" he asked. "There's just a lot of refiguring out what exactly they want us to do."