Restaurants
Brato Brewhouse + Kitchen will launch a microbakery and pantry next week
"It's hopefully another step with helping us figure out how we're going to survive the winter," Jonathan Gilman, owner of Brato, said.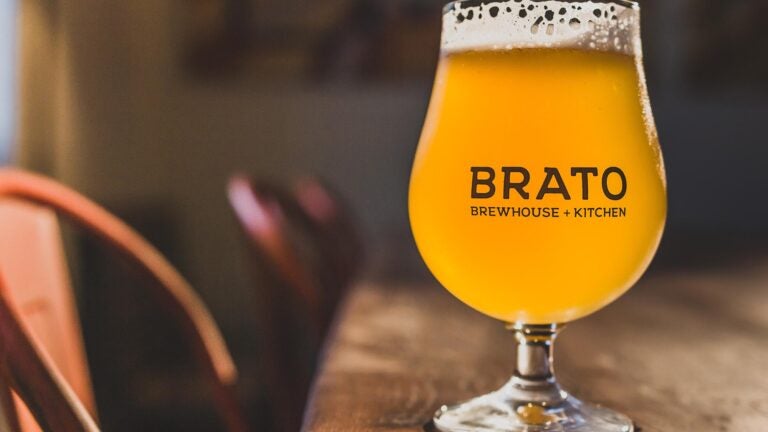 Since the pandemic began, Brato Brewhouse + Kitchen has adapted to the changing times as swiftly as possible. The Brighton newcomer, which opened in late October, launched takeout meal kits and virtual beer pairing dinners. It debuted a spacious new patio, complete with a charcoal grill. And on August 17, it will introduce its newest project: Brato Microbakery and Pantry.
From 8 a.m. to 3 p.m. daily, Brato will turn into a pseudo-bake sale, serving muffins, breakfast sandwiches, and loaves and baguettes of sourdough made with fresh beer grain, along with hot and cold coffee options from Night Shift Coffee. Bakery items will be available until they run out each day, while a separate pantry section will be available throughout the day, and will include a display case with items like pickles from Maitland Mountain Farm, handmade pierogies from Jaju Pierogi, cheeses, local miso, brewer's crackers, and more.
"Since we've been open with the outdoor and indoor dining, we've seen a pretty good rebound from lockdown levels, but we're not quite all the way there yet," Jonathan Gilman, owner of Brato, told Boston.com. "Especially heading towards the winter and the not-so-distant future, the idea is trying to figure out how we can better diversify what we're doing."
Gilman said that the introduction of the microbakery and pantry helps to utilize the building, for which they pay full rent, throughout the day. On weekdays, the brewhouse opens at 4 p.m.; with this new concept, guests can now use both the outdoor patio and indoor dining space starting at 8 a.m.
"It's hopefully another step with helping us figure out how we're going to survive the winter," Gilman said. "Everyone sort of has their mind on it now, and I think the more you can do in the next three months to set up going into November and, really, beyond Thanksgiving, the better. Hopefully this will help us diversify. The other beauty of this model is that if we go into a full state of lockdown that we had in March, the bakery option would be something that we could be able to operate in that essential [business] bubble."
While a website is still in the works, guests can follow @bratobakes on Instagram to keep tabs on upcoming bakery and pantry items. The microbakery and pantry will officially launch at 190 N. Beacon St. in Brighton on August 17 at 8 a.m.
Get Boston.com's browser alerts:
Enable breaking news notifications straight to your internet browser.