Restaurants
The Boston Licensing Board will host four emergency hearings this week. Here are the complaints.
The hearings are targeted at Allston/Brighton, the Seaport, South Boston, and beer gardens.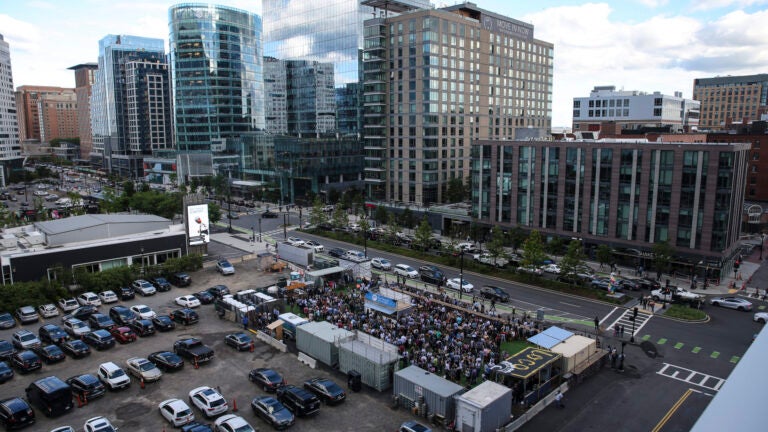 The North End isn't the only neighborhood being called out for not following social distancing rules.
In June, the city's Licensing Board held a mandatory meeting for all North End businesses in possession of food and/or alcohol licenses, which resulted in the implementation of random inspections conducted by the board's Licensing Premise Unit and the city's Inspectional Services Department.
Now, the Licensing Board is meeting with business owners from additional neighborhoods. The board will host four emergency informational hearings on Thursday and Friday, addressing complaints about alleged COVID-19 rule violations in the neighborhoods of Allston/Brighton, the Seaport, and South Boston. There will also be a separate hearing that focuses on beer gardens and large extensions.
The virtual meetings, which will be hosted on Zoom, are mandatory for all establishments holding a liquor license in those neighborhoods, as well any businesses "operating on a series of Special One Day Licenses (commonly referred to as beer gardens) and those operating on a temporary extension with a significant capacity." Any licensee that fails to attend risks having their temporary extension of an outdoor space revoked, along with potential additional disciplinary action.
The meetings will address the numerous complaints filed with the board and the Inspectional Services Department. Those complaints include three primary themes, according to the board:
Failure to adhere to the guidance issued by the state regarding social distancing and mandatory operational requirements and the board's various advisories regarding the same;
Failure to properly monitor patrons waiting in line for admission to the premise;
Failure to adhere to city, state, and federal laws, codes, and ordinances regarding tobacco use and the presence of animals in food service establishments, including outdoor patios.
A number of complaints submitted to the BOS:311 online reporting service detail some of these violations across the three neighborhoods and beer gardens.
"Little to no social distancing on the back patio," read a complaint lodged at The Draft Bar & Grille in Allston. "None of the staff reportedly wearing masks."
The outdoor beer garden at Cisco Brewers Seaport garnered multiple complaints over the past month.
"Cisco Brewery is not enforcing social distancing while people wait to enter the area," one complaint alleged. "People are not wearing masks while waiting in line or when entering the restaurant. There is no social distancing inside eating area."
"Zero social distancing at the line outside of the beer garden," said another. "At least 100 people crowded together."
Another complaint posted a photo of a crowded line outside of the beer garden, writing, "Hi, this problem is not just with the Barking Crab but also a few hot spots like the Cisco Beer Garden in the Seaport. The places themselves appear to be adhering to the social distancing guidelines inside their establishments and operating at a reduced capacity. But one of the unintended consequences is that this creates a line to get in — sometime 50-150 people — all jammed up on one another with no social distancing. Please issue a guidance not to allow lines to form at bars/restaurants."
Lolita Fort Point also received a complaint.
"Outdoor patio at Lolita is not enforcing social distancing, there is no signage, customers waiting are not wearing masks," the complaint read. "They always have a large crowd gathered around the hostess stand, lined up + down the harbor walk, and blocking safe pedestrian access to the stairwell. They need a better system to keep customers + neighbors safe."
In Southie, several BOS:311 grievances were filed against Lincoln Tavern, Capo, and Loco, which are all part of the Broadway Restaurant Group.
"Lincoln Tavern, Capo, and others are not adhering to the CDC guidelines, tables are not 6 feet apart, lines forming outside to get in, no social distancing, people smoking, absolutely no masks at all, ubers stopping in middle of Broadway picking up and dropping off, about ready to contact state health dept or cdc, this is dangerous and out of control, please address, ty!" wrote one user.
Another posted a photo of Loco's outdoor patio and stated: "There is no room to walk down the sidewalk. Loco has taken over with many picnic tables and waitstaff. No one wearing masks. No social distancing. How is this good for the community? I can't see my Dr because the Drs office isn't open but I can get drunk across the street at Loco? City of Boston has their priorities all wrong."
One complaint within South Boston encouraged the city to "Check for social distancing and following regulations. People drinking over barriers."
The hearings follow new rules announced by Gov. Charlie Baker last week and implemented Tuesday, which include decreasing the limit on outdoor gatherings from 100 people to 50 and mandating that alcohol can only be served at restaurants when accompanied by food prepared on site. As a result, several breweries have temporarily closed their taprooms while they work to find a solution that will allow them to reopen under the governor's order.