Restaurants
5 takeaways from the Boston Licensing Board's emergency hearings this week
"We want to be as helpful as possible, but at the end of the day, it is your liquor license that's on the line," said Lesley Delaney Hawkins, Boston Licensing Board executive secretary.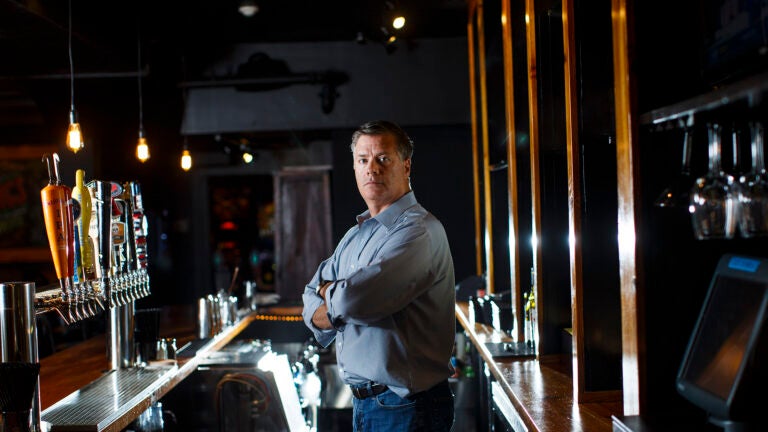 In an effort to address public complaints and field questions related to Gov. Charlie Baker's new restaurant rules announced last week, the Boston Licensing Board held four virtual emergency hearings on Thursday and Friday. Three were directed at specific neighborhoods — Allston/Brighton, the Seaport, and South Boston — while an additional hearing focused on beer gardens and large extensions.
Led by the board's chairwoman Kathleen Joyce and executive secretary Lesley Delaney Hawkins, the hearings touched on common grievances filed with the city, including a lack of social distancing at restaurants, restaurants acting as dance clubs, sidewalk seating blocking pedestrian access, and tables hosting more than six guests. But the board also acknowledged that, when addressed, businesses had readily complied and adjusted their operations.
The board also acknowledged that it is working to find clarification on many of the governor's new regulations, which state that alcohol may only be served at restaurants if accompanied by food prepared on-site, and that one item of prepared food must be ordered at the same time as an initial alcoholic beverage order.
Here are five takeaways from this week's hearings, which range from preparing for an influx of students to what a shareable food portion actually means.
1. Lines are an issue — and it's up to the restaurants to control them.
During each hearing, the Licensing Board emphasized that numerous complaints had been filed due to crowded lines outside of  restaurants and beer gardens, as well as patrons not wearing masks in line. A number of licensees, including Doug Bacon (Harry's Bar and Grill, Hopewell Bar & Kitchen, The Avenue), requested assistance on how they could enforce safer crowd control.
"We can't legally control people outside," Bacon said. "If there's a group of people congregating outside, we can tell them we're not going to let [them] in — but it's just a bit of a balancing act, and I'm hoping you can give us a little guidance."
Delaney Hawkins shared that the board has heard similar concerns from other licensees, but that the message was clear: If you're not wearing a mask or abiding by social distancing rules, you're not getting in.
"We understand this is difficult, but it is on you, to a certain extent, to be able to police those lines and disperse those lines to ensure that they are adhering to all of the requirements," she said. "We want to be as helpful as possible, but at the end of the day, it is your liquor license that's on the line."
Dan Manning, assistant commissioner of the city's health division of the Inspectional Services Department, suggested that the licensees look at how coffee shops are handling lines.
"We're not getting calls about the lines outside of Starbucks because they've marked out six foot separations on the sidewalk outside between patrons and are able to control the flow," he said. "Obviously a coffee shop is a lot different than a restaurant, however it does give that image of folks giving each other six feet and wearing masks."
2. Restaurants in Allston/Brighton need to keep an eye on the neighborhood's student population.
Among the four meetings, the tone during the Allston/Brighton hearing was the most stern. Complaints included patrons standing around tables and at the bar, as well as restaurants allowing dancing, including adult dancers.
"Let me begin by saying I was asked by the mayor's office to conduct this hearing with the Allston/Brighton licensees because of the number of complaints," Joyce said. "The number of complaints from this neighborhood has been unacceptable."
The Licensing Board also expressed the need for the licensees to lock down their safety measures before students return to the neighborhood.
"We're trying to prevent gathering and clustering of people," Joyce said. "Your neighborhood especially is going to be impacted by college students returning. You have to keep that in mind. … There's no clubs, no shows, no dancing."
Bacon pointed out that restaurants provide a supervised space for students to congregate.
"We are accountable and responsible operators," he said, "and there is a history of bad behavior by 21-year-olds and older in unsupervised environments. I'm anticipating that when the students and young people come back, there may be a very large number of neighborhood parties and group gatherings. … We are offering a supervised environment. If we all close down, and if we can't operate in the winter under the existing conditions, the problem may get worse."
3. What are shareable portions? The Licensing Board isn't sure.
As part of the governor's new restaurant rules, "one or more shareable food item(s) may be ordered, as long as it/they would sufficiently serve the number of people at the table."
What constitutes a dish as shareable isn't yet clear.
During the Seaport hearing, Jason Sandoval from the Rockland Trust Bank Pavilion wondered if there were guidelines on sharing food.
"Are we saying a slice of pizza is enough for two people?," he questioned.
Joyce said she doesn't have an answer.
"We weren't given explicit portions and stuff like that," she said. "The reason why we're having this [hearing] today is that it's our understanding the state has a task force going out and doing inspections. So they are looking at what you are serving. I don't know what kind of guidelines they use to see if the food is sufficient. … If you're questioning whether a slice of pizza is enough of a portion, I don't know."
4. Whether diners should order drinks or food first is still being clarified.
The new guidelines state that an item of prepared food must be ordered at the same time as the initial alcoholic beverage order, a departure from the usual sequence of events at a restaurant when guests typically order a drink first while looking over the menu.
But during the Allston/Brighton meeting, Bob Luz, president and CEO at the Massachusetts Restaurant Association, stated that, in a meeting with the ABCC on Tuesday afternoon, they were told that the ABCC would be speaking with public health departments across the state to clarify that as long as guests intend to order food, they can order a drink first.
"The intent is to order food, and food has to be required, but [the state] wasn't trying to reinvent the steps of service," Luz said. "And so they changed that and just said the intent is that everybody has to order food, but it doesn't have to be the first step as soon as you walk through the door. That is my understanding."
In subsequent hearings, Joyce shared Luz's information with the neighborhood licensees, but encouraged them to read and follow the updated guidelines and to communicate to staff that patrons shouldn't just be sitting and drinking.
5. Restaurants are encouraged to keep diners seated.
In order to prevent lines and clusters of diners from forming, the Licensing Board recommended that all servers should bring food to and from the table instead of having guests retrieve or discard their own food, including at food trucks.
During the beer gardens hearing, Ryan Shocklee, vice president of operations at Trillium Brewing, asked for clarification on whether it is acceptable for guests to retrieve their own food.
"That's something we're looking for clarification on as well," Delaney Hawkins said. "The governor's executive order very specifically stated it must be seated table service. I think our interpretation has been that it is strongly recommended that you provide table service. We're just trying to get to the intent of this executive order."
Joyce agreed.
"They don't want lines forming, and they don't want clustering," she reiterated. "So if you could ensure that people could get their own food and there's no line forming or clustering, then I think you're safe. But I think the safest thing to do would be to have a food server bring the food to the table so that people aren't walking around."