Restaurants
What is a 'bar masquerading as a restaurant'? It's complicated.
Gov. Baker's new restaurant rules require that alcohol must be served with food prepared on-site. But the details aren't so clear.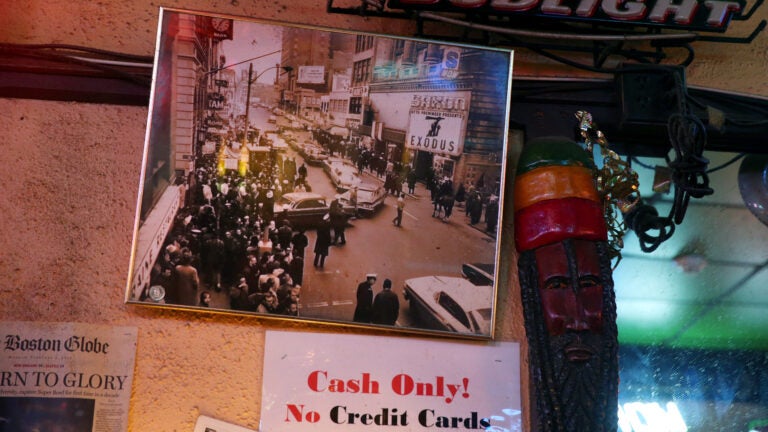 A week has passed since Gov. Charlie Baker announced another set of rules for restaurants to follow in order to stay open. On August 7, the governor stated that alcohol may only be served at restaurants if accompanied by food prepared on-site, and, more specifically, one item of prepared food must be ordered at the same time as an initial alcoholic beverage(s) order.
"Bars are closed in Massachusetts," Baker said. "And bars masquerading as restaurants also need to be closed."
The news sent many bars — and breweries — scrambling. Part of the state's updated guidelines clarified that "potato chips, pretzels, and other similar pre-packaged, shelf stable foods, or other food prepared off-site, do not constitute food 'prepared on-site,'" prompting breweries like Turtle Swamp Brewing to beg the question: What does constitute food "prepared on-site?"
"Is the hot dog guy going to satisfy it?" John Lincecum, co-founder of Turtle Swamp, asked me earlier this week, after he shut down the brewery's Jamaica Plain patio. "Is a food truck going to satisfy it? If I'm making sandwiches on site — I don't really want to, but I'm happy to do it if that's the requirement — everybody that comes in would have to get a sandwich. But what a waste! 'But I don't eat sandwiches.' Well, I have to sell you one at my cost. 'Here's your $2 sandwich, throw it away.'"
Neither the Boston Licensing Board nor Baker's office have responded to questions from Boston.com regarding Baker's new rules, including which equipment and food items will allow bars, breweries, and restaurants to operate within the new guidelines. But in an emergency hearing Thursday that focused on beer gardens and large extensions, the board confirmed that a food truck will meet the on-site requirement. As for the hot dog rollers? They still don't know. 
"Will the food service [permit] be satisfactory if we were to, say, instead of sandwiches, get a hot dog machine and provide hot dogs to every guest?" Lincecum asked the board on Thursday. "Would it be satisfactory if we were to make paninis or some sort of cheese sandwich and provide those to every guest?"
Kathleen Joyce, chairwoman of the Licensing Board, said the board is still figuring out the answer to these questions as well.
"We could say yes to you today," Joyce said, "and then the state could say 'that's not what our interpretation was,' so I would hate to say this is a yes — and then you get inspected tonight and get written up."
Dan Manning, assistant commissioner of the city's health division of the Inspectional Services Department, was also unable to answer, stating that one could even argue microwave pizza is created on-site. 
"We're just waiting for a little more clarity and guidance from the state's interpretation on that," he said.
During Baker's coronavirus update on Friday, the governor answered a question clarifying what "bars masquerading as restaurants" means.
"In our conversations with the ABCC [Alcoholic Beverages Control Commission] and some of our colleagues in local government, one of the things that's come up a number of times is that pretzels and potato chips 'meets the food service requirement,'" he said, using air quotes. "It clearly doesn't. And what we tried to do with the amendment of the order is make absolutely clear that you need to be serving food that's prepared on-site, and the people who are in your venue need to order and eat food if they're going to order a drink. [Pretzels and potato chips are] clearly not consistent with either the spirit or the intent of what we put in place when we authorized outdoor dining and indoor dining."
Bob Luz, president of the Massachusetts Restaurant Association, believes that Baker's updated guidelines are necessary.
"Bars outside of Massachusetts are open across the country, and that's where the problem has existed," Luz said. "That's why I think he's trying to rope that in and make sure it doesn't happen here. He has gone out of his way to say restaurants are not causing the problem. Restaurants are not super spreaders, restaurants are responsibly following the protocols that are there. …Any restaurant operator will tell you that if there's a bad actor out there, they should be dealt with and dealt with significantly, because there's no room for us to move an entire industry back because of a handful of bad operators."
Bars that are blatantly disregarding COVID-19 regulations — adding packaged chips to the menu so they can pack bodies into their bar while crowded lines form outside — have no business being open amid a pandemic. But some of Baker's new rules don't seem to be consistent with social distancing measures, which only adds to the confusion. Under the latest guidance, one or more shareable dishes may be ordered with alcohol, as long as it sufficiently serves the number of people at the table. Shouldn't we be avoiding communal dishes?
On Monday, I stopped by The Tam, the theater district's hallmark dive bar that most certainly would not be considered a restaurant. The bar had reopened in July after obtaining a food permit, selling sandwiches made off-site. But those sandwiches no longer fit within the state's guidelines, and so they had installed a popcorn machine at one end of the bar. I asked the bartender if that counted as food prepared on-site, he shrugged and said the owners were looking into it. (The owners did not respond to Boston.com's request for comment.)
The Tam had pushed high-top tables against the bar for patrons to sit at — a maneuver that's allowed, though according to the Massachusetts Restaurant Association, food must be served from the dining room side and not from behind the bar. Each of the high tops were spaced at least six feet apart, and I watched as the bartender methodically wiped down the bar top multiple times throughout my visit. The smell of cleaning solution hung in the air. I wondered if eating a sandwich alongside my High Life would make me feel even safer (it would not), or if selling popcorn would prevent the virus from hopping from one person to another (highly doubtful).
Bars — ones without a kitchen or food permit, ones that don't serve food prepared on site — are scheduled to reopen in Phase 4, when a vaccine or treatment allows us to return to a "new normal." Many won't be able to hang on for that long.
Unless, it seems, they're prepared to get into the sandwich making business.