Restaurants
Restaurants have joined local initiative Beirut Box to raise money for relief efforts in Lebanon
"We hope that this is not just about food and not just about money, but also about starting a conversation," Habib Haddad said.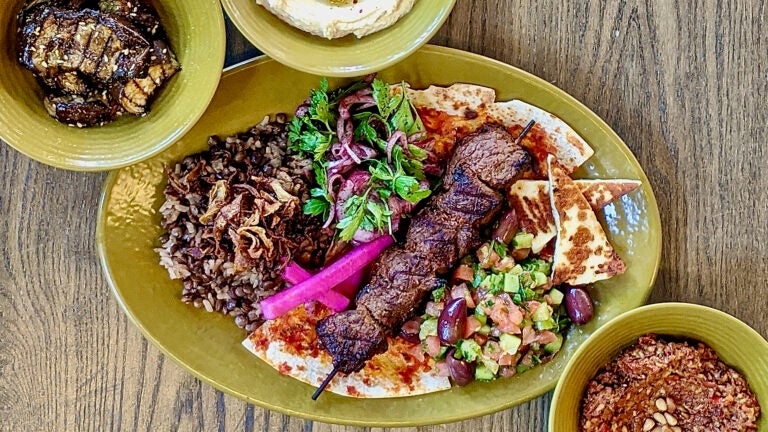 On August 4, a massive explosion caused by the detonation of a cache of ammonium nitrate rocked Lebanon's capital, Beirut, causing devastation in a city already suffering from the global pandemic. Thousands of people were injured and close to 200 people have died, prompting protests and the resignation of Prime Minister Hassan Diab and his entire cabinet.
In response to the tragedy, four Greater Boston residents and friends with Lebanese roots banned together to form Beirut Box, a local restaurant initiative that aims to raise money for relief efforts in Beirut.
"When something this cataclysmic happens, it cannot be just about the place where it happens," said Diala Ezzeddine, one of the founders. "It has to be about the whole world coming together."
Ezzeddine, Habib Haddad, Hala Hanna, and Hashim Sarkis are not chefs or restaurateurs. Ezzeddine is the CEO of Airbase Breathing Co., Haddad is a managing partner at E14 Fund, Hanna is the managing director of MIT Solve, and Sarkis is the dean of MIT's School of Architecture and Planning. But they used their networks to reach out to restaurants with Lebanese connections, asking each establishment to create dishes designated as "Beirut Box" items. Proceeds from the dishes, which can be ordered directly from the restaurants, will go to the Beirut Emergency Fund, providing relief assistance on the ground in Beirut through local non-governmental organizations.
The initiative launched last weekend, and currently includes eight restaurants — Al Wadi Boston, Anoush'ella, Fairouz, Moona, Nu Burger, Oleana, Sarma, and Sofra. Each restaurant has identified a select number of dishes as "Beirut Box" items on their menu (at some places, these dishes will frequently rotate): a beef kebab or lamb kofta dinner at Anoush'ella, mezza and moajanet samplers at Fairouz, lamb burgers at NuBurger, a box of baklava and date rose iced tea at Sofra. Haddad said the number of interested restaurants is growing, and includes inquiries from places in Boston, Seattle, and London.
Nina and Raffi Festekjian, owners of Anoush'ella and Time Out Market newcomer Nu Burger, were in the midst of discussing their own Beirut fundraiser when they were contacted by the Beirut Box team. They immediately agreed to participate, and now offer a selection of dishes at both restaurants that are part of the initiative.
"It's horrible what happened," Nina told Boston.com, sharing that they have friends and family who were directly affected by the tragedy. "I hope more restaurants will eventually join [Beirut Box]. Lebanese people need all the help they can have."
"It's been interesting times," Raffi said. "During COVID-19, we've contributed a lot to the frontline workers, provided a lot of free food to Boston Medical, Tufts, a lot of the hospitals around here. The last thing we had expected [would be that] we would be helping people in Lebanon."
Ana Sortun, owner at Oleana, Sarma, and Sofra, also jumped on board the project. Sortun and her restaurant partners visited Beirut prior to the opening of Sarma, taking cooking classes and forging relationships with its residents. When the Beirut Box founders, some of whom are regulars at her restaurants, approached her, she said that getting involved "was a no-brainer."
"A lot of our ingredients come from [Lebanon]," Sortun said. "We have purveyors and vendors and restaurateurs that we know [there]. It wasn't just a tragedy from a distance, it was being very connected to people that have gone through a lot."
She said she hopes diners might spend some time picking up different Beirut Boxes from around the city, or even donating directly to the Beirut Emergency Fund.
The current plan is for Beirut Box to run throughout the month of September, though the founders said if all goes well, it could continue after that. They also hope its effects reverberate beyond a plate of kebab or fattoush salad.
"We hope that this is not just about food and not just about money, but also about starting a conversation," Haddad said. "[It's about] people trying to create that empathy connection that, at the end of the day, all humans are longing for."
Beirut Box items can be purchased online or in-store at each participating restaurant.
Get Boston.com's browser alerts:
Enable breaking news notifications straight to your internet browser.