Restaurants
Mr. Roni Cups debuts in Chestnut Hill with pizza by the cut
From pizza to crispy nori tacos, the new eatery from Tim and Nancy Cushman looks to shake up the quarantine routine.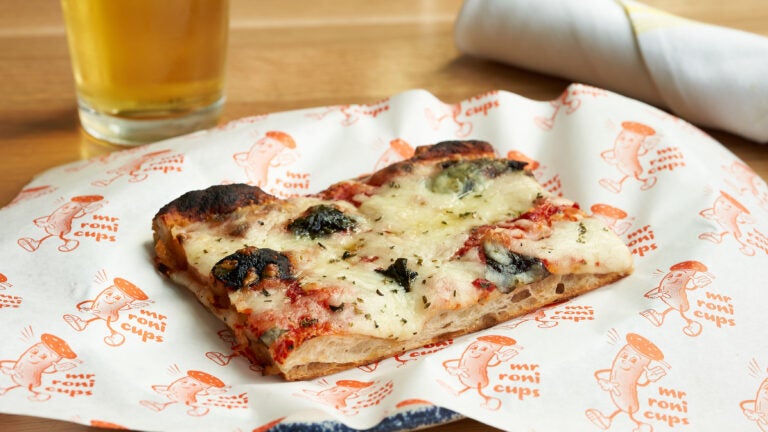 With the opening of Mr. Roni Cups on Thursday evening at the Street Chestnut Hill, Tim and Nancy Cushman aren't cutting any corners — literally — as they dish out square, Roman-style pizza along with rotisserie chicken, sushi, and more.
They're also banking on the fact that most of us could use a laugh. Just take a look at the Mr. Roni mascot: a smiling pepperoni flashing a jaunty wave like you just bumped into him mid-stroll. At once retro and timeless, he's a wink to a menu that blends creativity and comfort with a dash of kitsch.
"We're in a not fun time right now, so we're just excited to bring some smiles and fun and good food to people," Nancy told Boston.com.
The Cushmans, the culinary creative forces behind O Ya, Hojoko, Gogo Ya, and Ms. Cluck's Deluxe Chicken & Dumplings, planned Mr. Roni Cups as a sibling takeout spot within their forthcoming full-service neighborhood eatery, Bianca, since late 2018. Then the coronavirus pandemic panned the March opening of both concepts.
"We were essentially five days from opening," Tim said. "We were ready to go. And then it just all shut down."
While Bianca plans to open its doors in the coming weeks, Mr. Roni Cups is debuting Roman-style square slices made with a combination of local whole wheat and imported Italian flour. The pies are crafted in rectangular pans from Italy and baked in a gas oven tailored for the particular style of pie. Tim and three of their chefs studied and staged with Italian pizza maestros, which influenced Mr. Roni's airy, binge-able dough.
"It eats very light," Tim said of the dough, which has a 48-hour fermentation period. "It's almost like a focaccia in a way."
Pastry chef Nik Mastalerz serves as the "doughmaster." He taps his mother's recipe for the opening menu's singular dessert of carrot cake, and will whip up homemade doughnuts on Fridays and Saturdays. More desserts are forthcoming, and he'll also bake all of Bianca's breads in-house as well.
Diners can order pizza by the slice, half pan, or whole pan for take-out, delivery, or socially distanced indoor and outdoor eating. The opening menu features three pizzas: margherita, cheese and seasonal mushroom, and the namesake roni cups with Ezzo and Molinari pepperoni. While Molinari pepperoni stays flat, the Ezzo variety curls up and crisps during cooking, leading to a pool of savory pepperoni oil within the "cup."
Other offerings include rotisserie chicken, salads, meatballs, house-made hummus and local crudité, with shawarma coming soon.
The spotlight may be on accessible, crave-able comfort food and family-style meal packs, but that's not to say the menu doesn't pack some unexpected pizazz. Pizza meets pampering for the Mr. Roni deluxe combo, at $309.99, which pairs a half-pan chanterelle, shiitake and shaved black truffle pizza with a bottle of fine wine from a rotating selection.
"There's such austerity going on right now but I also think people have not been able to get an experience and have luxury ingredients with restaurants being closed," Nancy said. "So we're doing the high-low thing and adding a little bit of luxe to some pizza."
The eatery also fills a hole created when local favorite Oishii Sushi Bar shut down its original Chestnut Hill spot in September 2018. O Ya and Hojoko-inspired sushi join crispy nori tacos, made with seaweed "shells" fried in tempura batter and stuffed with sushi rice, fish, and garnishes. The sushi and pizza combo — three rolls, edamame, and a half-pan pizza — nods to the one of the couple's favorite meals of choice.
"Nancy and I like to go and get sushi and then get pizza for dessert somewhere," Tim said.
The broad menu also owes to the fact that diners are hungry to shake up their quarantine routine as they slowly start to venture out.
"People are emerging out of the cocoons that we've been in the last few months," Nancy said. "We just hope that more people will venture out and take advantage of the open-air space of where we are, and hopefully we can bring them something new."
47 Boylston St., Chestnut Hill, biancachestnuthill.com/mr-roni-cups-menu/
Get Boston.com's browser alerts:
Enable breaking news notifications straight to your internet browser.